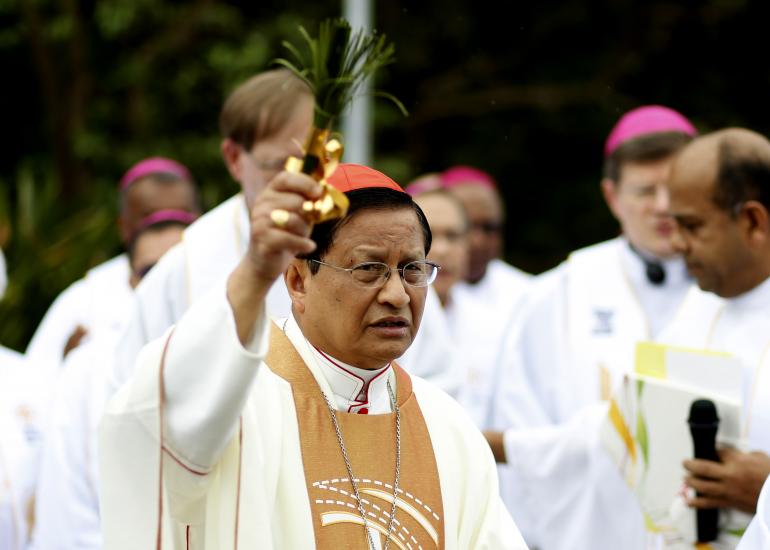 Myanmar's top Catholic prelate blamed "greed" and "injustice" for the landslide that killed almost 200 people at a jade mine in the country's northern Kachin State on July 2.
"Those who died were not only buried under a landslide of the mountain but by the landslide of injustice," said Cardinal Charles Maung Bo of Yangon in a statement on Saturday, June 4.
"Those who perished were sacrificed on the altar of greed, by utter negligence, and arrogance of companies that continue to dehumanize the poor of this land," said the prelate.
Cardinal Bo, who is president of the Federation of Asian Bishops' Conferences, noted the earlier warning of Pope Francis over the "never-ending tsunami of economic and environmental injustice against the poor all over the world."
"In these tragic times of [coronavirus] lockdown, there cannot be a lockdown of the fire of hunger," said the cardinal, adding that the poor were forced "to seek the crumbs of jade that fall from mega companies."
The prelate said that as people lost their livelihood due to the pandemic, "this mine tragedy is a grim reminder of the need for sharing God given natural treasures."
"The treasures of Myanmar belong to the people of Myanmar," he said.
Cardinal Bo said it was not the first time the "this merciless tragedy" happened.
"If the relevant stakeholders do not respond with compassion and justice, this will not be the last time of this inhuman tragedy," he said.
As he commended the "prompt response of authorities" to the disaster, Cardinal Bo called on the government and other stakeholders "to ensure that such tragedies do not repeat."
"This land is blessed with natural resources to provide for all. Let this be the last tragedy," he said.
He also called on the people to "strengthen our resolve to bring economic and ecological justice" to everyone.
Bishop Francis Daw Tang of the Diocese of Myitkyina also expressed his "heartfelt condolences" to the victims of the tragedy.
"We hope a better ecological justice will be done to the poor and the most vulnerable of our society in this region," he said.
Myanmar leader Aung San Suu Kyi has also expressed her condolence over the tragedy, blaming it on joblessness. She said the victims were illegal miners.
The United Nations has already expressed "readiness" to contribute to ongoing efforts to address the needs of the affected population. - LiCAS.news