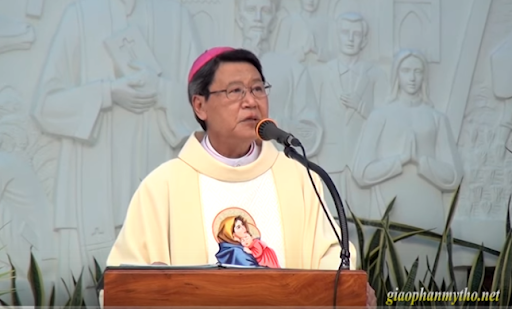 Bishop Peter Kham of My Tho in Vietnam warned against what he described as the "viruses" of lies and violence that threaten the world amid the coronavirus pandemic.
In a message for World Communications Day on May 24, the prelate linked the threat of the deadly disease with "viruses in social communication" that also threaten the world.
He said "lies and violence" are the most dangerous virus against communication that aims to strengthen mutual understanding and build a more joyful and harmonious world.
"Fake news is one of the concrete samples of this virus," he said, adding that fake news are filling social media with violent words.
He said those who are behind these "viruses" are not only individuals but also "hidden forces" that are doing a "systematic and powerful deception" campaign to manipulate public opinion.
Bishop Kham, however, said Catholic communicators will continue to "stand firm with the conviction in God's cause and the truth of the Good News." 
The prelate, who is also general secretary of the Catholic Bishops' Conferences of Vietnam, said that like the situation during the pandemic, social distancing is also needed in communication.
 
"To look at an object, we need distance between the eyes and that object," he said
"In the same way, communicators need to create a distance with the different sources of news in order to receive it with an active, positive, and helpful approach," said the prelate.
He said communicators need not only create "distancing," but also need to increase their immune system.
"The best way to increase our immunity is to increase the elements of truth and love," he said. 
"Instead of broadcasting the news without verifying, or responding to criticism with violent words, we should enter the virtual world with the spirit of 'that where there is hatred, I may bring love.'"
"That where there is wrong, I may bring the spirit of forgiveness. That where there is discord, I may bring harmony. That where there is error, I may bring truth," added Bishop Kham.
 
He said that in the community level, Catholic communicators need to collaborate with each other closely. 
"Catholic communicators need to consciously make use of modern technologies to fulfill the sublime and yet challenging mission, which is proclaiming the Good News of the Kingdom to people," he said.
He said the mission of the Church will only be successful if all are united, instead of acting with one's own interest.
Collaboration can also be shown through the sharing of ideas, initiatives and experiences, he added.
On May 24, Sunday, the Catholic Church marked the 54th World Communications Day. 
Pope Francis released his message for the day titled "That you may tell your children and grandchildren" January 24, the memorial of St. Francis de Sales, the patron saint of journalists. - Fr. John the Baptist Trần Thanh Thế, O.P.