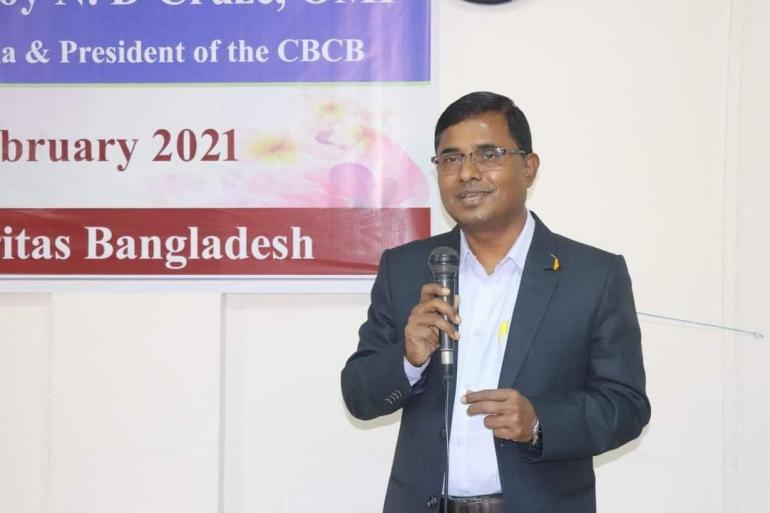 The social action arm of the Catholic Church in Bangladesh named a new executive director in the person of Mr. Sebastian Rozario.
The Catholic Bishops' Conference of Bangladesh and Caritas appointed Mr. Rozario on June 28, 2021, following the retirement of Mr. Ronjon Francis Rozario on June 30.
Mr. Rozario expressed his gratitude for his appointment, especially to those "who have hugely contributed in my formation."
"Caritas Bangladesh is place of team work," he said, adding that nobody runs it alone.
"It is my wish and dream that we, altogether, will run the organization faithfully," he added.
"I believe that together we will be able to formulate plans and accomplish the mission of Caritas through appropriate coordination, collaboration, and team work," said Mr. Rozario.
He said his primary concern the sustainability of the services of Caritas Bangladesh and how to address immediate needs, especially during the pandemic.
Among the programs that Mr. Rozario plans to implement are:
- continue health and education projects and integrated projects for Adivasi community
- formation of staff and leadership development especially for women
He also plans to continue programs on the "care for creation ... and enhance team-building initiatives."
Mr. Rozario was born on April 12, 1966, at Mothurapur Parish under Pabna district in Rajshahi diocese. He is the second child of four brothers and four sisters. 
He has a degree in Commerce (Business Studies) from Notre Dame College, Dhaka, and a Masters degree in Accounting from Dhaka University through Jagannath College. 
He did his post-graduate diploma in Business Management from Bangladesh Institute of Management and a four-month diploma course in Pastoral Renewal for Discipleship from the East Asian Pastoral Institute in the Philippines. 
He trained in Institutional Development and Organizational Strengthening (ID/OS) in Sri Lanka; Result Based Management Training in India; Caritas Internationalis Management Standards Coordinators and Assessors Training in Bangkok and the Philippines, respectively.
He started working in Caritas Bangladesh in 1992 as accountant for Formal Education Program. From April 2014 unti June 2021, he was the administration and finance director of Caritas Bangladesh. - Nikhil Gomez / RVA News