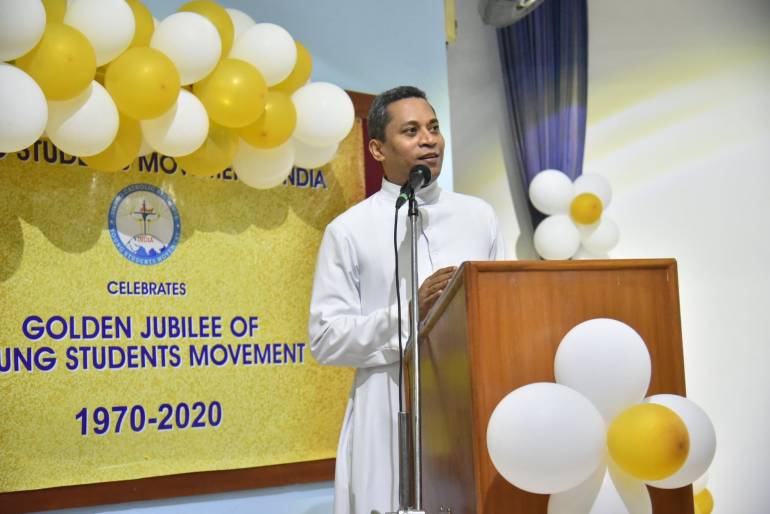 A Catholic youth group that marks its 50 years of existence in India has enabled its members to be "better persons."
The Young Students Movement (YSM) completed 50 years of its existence (1970-2020). On November 6, the golden jubilee celebration was held at National Biblical, Catechetical and Liturgical Centre, Bangalore of the south Indian state of Karnataka, during the Annual National Students Leadership Training Programme.
Several former members of YSM joined the programme from across the country and shared their experiences and how they have lived the methodology of the movement in their life, said Father Chetan Machado, national chaplain of YSM India.
According to him, the youth shared that YSM has helped them become better people, even as better Christians, Hindus, or Muslims. They urged that the movement should not be restricted to religion as they are the agents of change who make a difference.
YCS/YSM (Young Catholic Students /Young Students Movement) is a students' movement following the methodology of "See, Judge, and Act" (Awareness-Reflection-Action-Evaluation).
YCS began as a Christian Social Action Movement for students and YSM was added for the students of all faiths.
On August 4, 1970, YCS/YSM was affiliated with IYCS (International Young Catholic Students). YCS/YSM was recognized officially by CBCI (Catholic Bishops' Conference of India) in 1981 as Service of Young and Humanity and later came under CCBI (Conference of Catholic Bishops of India) in 2018.
CCBI is the national body of the bishops of the Latin Church in India.
At present, the movement has over a hundred thousand student members and more than 1000 dedicated animators, and youth workers spread out in 14 regions of the country.
The movement has formed active and dynamic leaders, social workers, and liberators involved in the socio-economic-political-spiritual welfare of the people all over the country.
Several church dignitaries and youth leaders attended the celebration and 75 delegates, including animators, chaplains, and students from six regions across India.
The jubilee celebration concluded with an inter-religious prayer.
"l was a YCS member at its inception in 1969 and attended a YCS camp in Bangalore in 1970 at the Good Shepherd Convent there. It was such a wonderful experience meeting the young boys and girls from all over India," recalled Maria Xavier, a former member of YCS.
For many years, she was the YCS animator as a teacher at St. Bede's Anglo Indian Higher Secondary School, Bangalore.
"Congratulations to all who strove to help the youth through this organization," said Xavier, who hails from Tamil Nadu, a south Indian state.
"I wish all the leaders, coordinators and animators all success in their efforts to help the youth in these difficult times," she said.