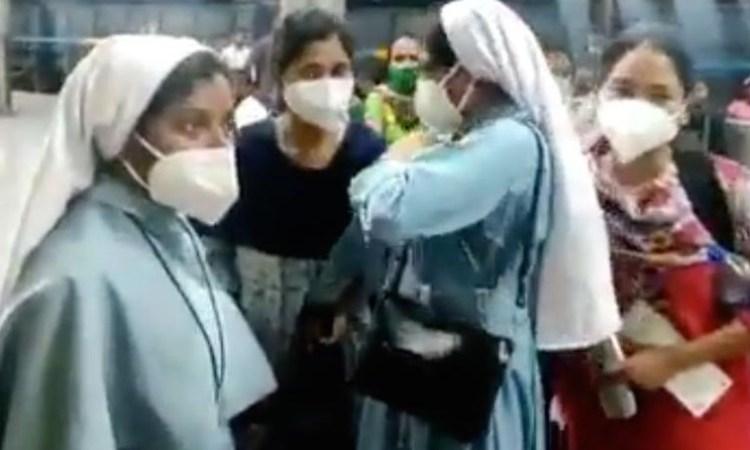 The harassment of two Catholic nuns on a train in India has spiraled into a major issue that has cut across religious and political lines. 
Two Catholic nuns accompanying two postulants were accosted by right-wing activists, were accused of "fraudulent conversion," were forced off a train moving through Jhansi town in Uttar Pradesh, and were marched off to a police station.
The two nuns, Livia Thomas and Hemlata from the Sacred Heart congregation, along with postulants Shweta and Bitrang from Odisha State, were traveling to Rourkela from Delhi when the incident happened.
On Good Friday, newspapers reported that the Jhansi Railway Police in Uttar Pradesh have arrested two youths for their involvement in the incident.
The incident, which took place ahead of polls in Kerala, generated outrage from various sectors.
Congress politician Priyanka Gandhi even called out Indian Prime Minister Narendra Modi for "quoting the Holy Bible" in a political rally while remaining silent on the incident.
Kerala Chief Minister Pinarayi Vijayan demanded strict action against the accused in a letter to Home Minister Amit Shah.
"I want to assure the people of Kerala that the culprits behind this incident will be brought to justice at the earliest," said Mr Amit Shah at an election rally in Kerala.
Union Railway Minister Piyush Goyal, however, dismissed the allegations that the nuns were attacked and alleged that Chief Minister Pinarayi Vijayan was "making false statements."
Several citizens' groups denounced the alleged harassment and media portals reported what they termed a the "repeated attempts to instill fear into India's minorities." - Frank Krishner