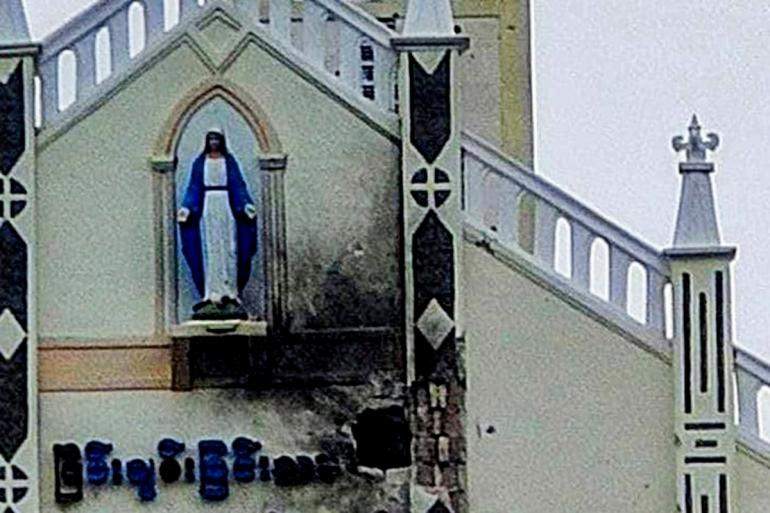 A Catholic priest in Myanmar's Diocese of Loikaw called for an end to attacks on churches and other places of worship.
In a letter released on June 8, Father Celso Ba Shwe, apostolic administrator of Loikaw, appealed to all armed groups not to deploy troops and attack and burn down places of worship."
The priest said thousands of displaced people who could not hide in the jungles to escape the fighting between government forces and the insurgents seek shelter in churches.
Father Ba Shwe, however, said Buddhist monasteries and Christian churches are being attacked by the military.
On Corpus Christi Sunday, June 6, the Mary Queen of Peace church in Daw Ngan Kha, Demoso town, in Kayah State, was repeatedly hit by artillery shells.
There were no casualties or injuries reported but the church suffered serious damage and several houses in the vicinity were also hit.
It was the sixth time in two weeks that Catholic churches in the region came under military attack, a local priest who asked not to be named for security reasons told LiCAS.news.
On Tuesday, Pope Francis invited believers of all faiths to set aside a minute to pray for peace, especially for Myanmar and the Holy Land.
In a tweet, the pontiff joined the call of the International Catholic Action for a "one minute for peace" prayer according to one's own religious tradition.
"Let us pray in particular for the Holy Land and for Myanmar," the pope posted on Twitter. - RVA News with a report from LiCAS.news