Faith leaders in Bangladesh stress need to work together to protect creation and children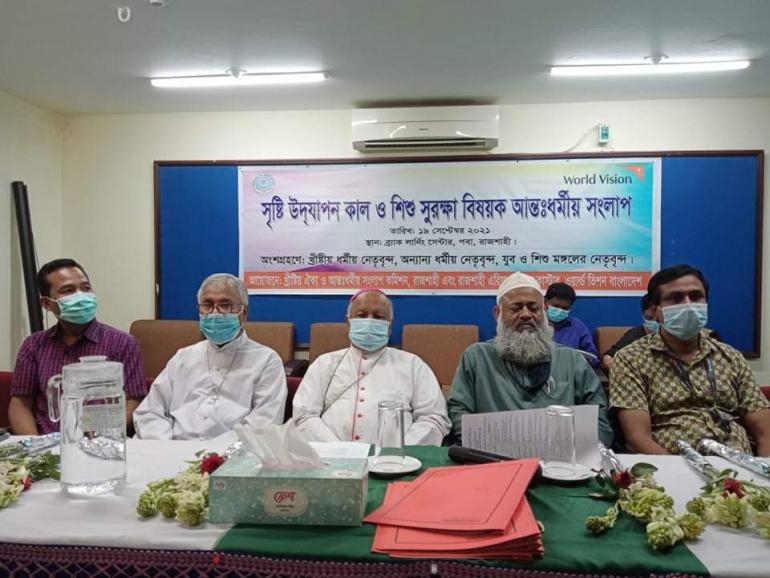 Rajshahi diocesan Commission for Christian Unity and Interreligious Dialogue organized a seminar on the "Season of Creation and Child Protection" on September 19. 
Bishop Gervas Rozario of Rajshahi called to close the gap between the rich and the poor. "The big gap between the few rich and the vast majority of poor and the destitute need to be filled up," the prelate said.
Father Patrick Gomes, secretary of the Diocesan Commission for Interreligious Dialogue, spoke about the human responsibilities towards creation, pointing to prevailing pollution. Father Gomes listed out immediate action plans like tree plantation, cleanliness, simpler life and peaceful living. 
"We need to work together for the common good of the people," said Father Gomes.
Mr. Suklesh George Costa, regional director of Rajshahi Caritas, stated that there is an immediate need to have dialogue and development planning at various levels, making it inclusive and integral. The result will be sustainable development in human social and ecological progress."
Muhammad Maksudullah, imam of a mosque, stated that one has to care for creation and human society to achieve peaceful living here on earth and reach the goal of life.  
Dr. Horiprosad Singha, the Deputy Controller of the Examination of Rajshahi University, shared his thoughts on the care of creation in the light of the Hindu religion. "Each religion shows the way to good and healthy living," he said.
"If everyone lives according to his religious morals and ideals, like love and peace, then there is peace and harmony in human society and in God's creation which the Hindu religion respects as God's divine manifestation," said Dr. Singha. 
Mr. Sebastian Purification, Manager of Rajshahi Area Project Coordinator for Vision Bangladesh, and Mr. Mridul Tozu, National Coordinator of Faith and Development, stressed the need for child protection using creative expressions like "Yes to Child Protection and No to early child marriage." – Nikhil Gomez, RVA News