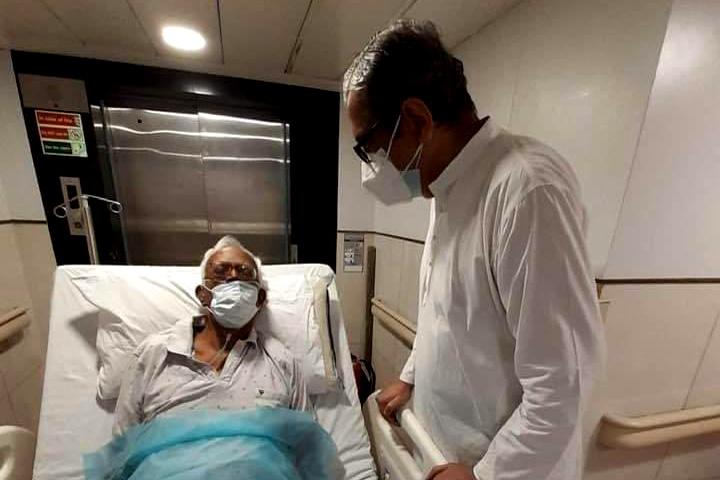 Detained Jesuit priest Stanislaus Lourduswamy, known as Stan Swamy, has tested positive for COVID-19 on Sunday, May 30.
"We appeal to everyone to pray for the speedy recovery of Father Swamy, who is now suffering from COVID-19 apart from other sicknesses," said Father A. Santhanam, a Jesuit priest in Tamil Nadu.
"We are informed that Father Swamy is now a COVID-19 patient, but no other details of his health are disclosed. We can now only pray for his speedy recovery and good health."
Media reports quoting prison officials said Father Swamy was vaccinated in Taloja Central Jail on May 18 against the disease.
Father Swamy also suffers from Parkinson's disease, hearing impairment, and other age-related ailments.
The Bombay High Court has ordered the immediate transfer of Father Swamy to a private hospital on Friday, May 28.
Reports said Father Swamy was brought to the hospital later on Friday.
On Friday, senior counsel Mihir Desai, representing Father Swamy, told that court that the priest was ready to undergo treatment at Holy Family Hospital and will himself bear the cost.
"The health of the appellant is deteriorating and it is necessary to admit him so that he gets proper treatment," said the counsel.
In its order, the court noted that the priest "can be given a choice of Holy Family Hospital for his treatment for 15 days."
"The appellant will bear the expenses. We request that the administration of the said hospital provide one attendant keeping in view the age of the appellant," read the court order. - Frank Krishner/RVA News