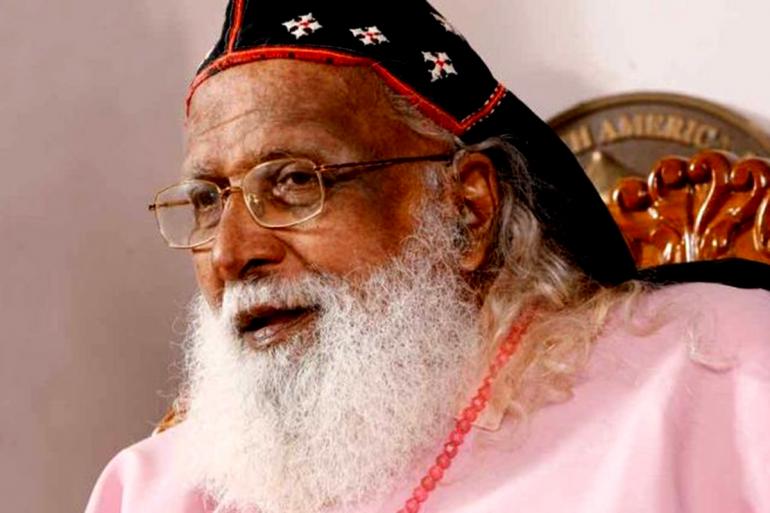 India's longest serving bishop, Philipose Mar Christostom, bishop emeritus of the Malankara Mar Thoma Syrian Church, passed away on May 5. He was 103 years old on April 27.
He was laid to rest on Thursday, May 6.
The prelate was ailing for a while and passed away at a private hospital in Kumaband, Kerala state.
Regarded as the world's longest serving bishop who served for about 68 years, he was called the man with the golden tongue and was well-known for his friendship with people of other religions and his sense of humor.
He attended the Second Vatican Council as the official observer of the Mar Thoma Church.
The Mar Thoma Church sees itself as continuation of the "Saint Thomas Christians," a community traditionally believed to have been founded in the first century by Thomas the Apostle, who is known as Mar Thoma (Saint Thomas) in Syriac.
The Church describes itself as "Apostolic in origin, Universal in nature, Biblical in faith, Evangelical in principle, Ecumenical in outlook, Oriental in worship, Democratic in function, and Episcopal in character."
Mar Philipose was awarded the Padma Bhushan, India's highest civilian honor in 2018.
The was known as "humor king" and often interacted with political leaders like Prime Minister Narendra Modi, Sonia Gandhi, Sitaram Yechury, and Pinarayi Vijayan.
 
Cardinal George Alencherry, president of the Kerala Catholic Bishops' Council and major archbishop of the Syro-Malabar Church, said the late prelate had "a full measure of divinity and humanity."
"Through his scriptural appeals, he led thousands to God and to the service of humanity," said the cardinal.
"His kindness and generosity provided solace to thousands and through the Maramon Convention, he strengthened the working of the Church in the State," added Cardinal Alencherry.
His sense of humor and humility endeared him to people from all walks of life. He worked for the unity of the Church and provided a sense of direction to the Church," said the cardinal, adding that the late bishop was an inspiration.
Kerala Chief Minister Pinarayi Vijayan said the bishop emeritus "was with the people in their times of pain and distress."
"The bishop used his long life for the betterment of society. His refined sense of humor brightened Kerala's cultural life," said Vijayan.
Born in Karthikappally on April 27, 1918, as Philip Oomen, he earned a graduate degree from the Union Christian College in Kerala, before going for theological studies in Bengaluru in 1940.
In the early 1950s, he did advanced theological studies at St. Augustine's College, Canterbury. He was consecrated as a bishop in 1953.
The Mar Thoma Church's website noted that Philipose Mar Chrysostom "was exalted to the positions of Suffragan Metropolitan in May 1978, Officiating Metropolitan on 15th March 1999 and Metropolitan on 23rd October 1999."
In October 2007, having attained the age of 89, the Metropolitan handed over the administrative responsibilities to his successor, the late Joseph Mar Thoma Metropolitan, and moved to the Maramon Aramana (Jubilee Home). - Frank Krishner/RVA News