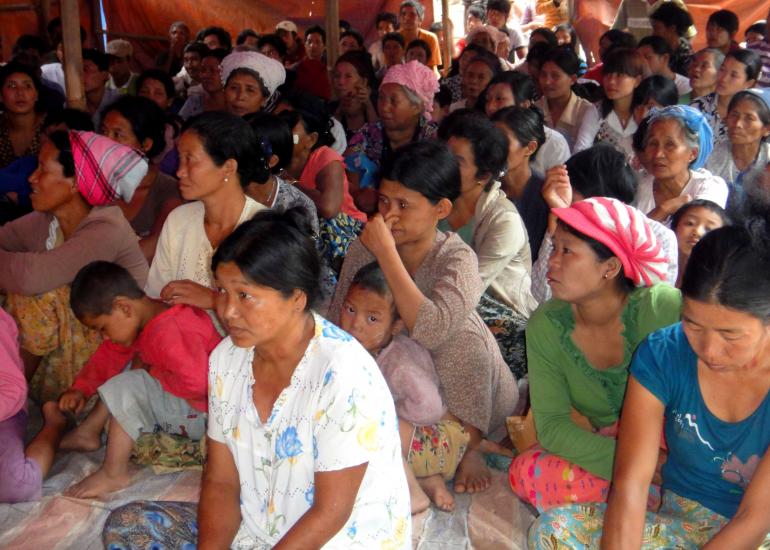 The Catholic Bishops Conference of Malaysia (CBCM) has called on the government to not continue with the deportation of Myanmar nationals, saying the move could endanger their lives.
"We call on the Malaysian government to not subject these Myanmar nationals into an uncertain and unknown fate by simply repatriating them in these uncertain times," read the CBCM statement.
"We also ask the that an international organization as the [United Nations High Commissioner for Refugees] be allowed to verify these individuals so that that their personal security can be guaranteed," added the bishops.
"As caring Malaysians, we should not be subject anyone to situations that are marked by fear, uncertainty and unease," read the statement.
On Tuesday, February 23, a Malaysian court has allowed a temporary stay of deportation of 1,200 Myanmar nationals scheduled to be sent back to their strife-torn homeland.
The 1,200 detainees were set to leave on Feb. 23 in three navy ships sent by Myanmar's military, which seized power in a Feb. 1 coup, sparking weeks of protests from pro-democracy activists.
Refugee groups said asylum seekers from the minority Chin, Kachin and non-Rohingya Muslim communities fleeing conflict and persecution at home are among those being deported.
Amnesty International, which along with Asylum Access had asked the courts to stop the deportation, said the high court granted a stay until 10 a.m. Feb. 24, when it will hear the groups' application for judicial review to suspend the deportation.
Amnesty has said among the deportees were three people registered with the United Nations High Commissioner for Refugees (UNHCR) and 17 minors who have at least one parent in Malaysia.
Rights groups Fortify Rights and Human Rights Watch (HRW) said in a media release last week Malaysian authorities have denied UNHCR access to immigration detention centers since August 2019.
"The authorities need to let the UN refugee agency do its job by assessing asylum claims at immigration centers, so that the international community can be assured that Malaysia is not sending people into harm's way," said Phil Robertson, HRW's deputy Asia director.
Malaysia has said it would not deport Rohingya Muslims or refugees registered with the UNHCR.
But the UN refugee agency has said there are at least six people registered with it that are also set to be deported and that there could be more. It has not been allowed access to the deportees.
Human Rights Watch said as of December, more than 178,000 refugees were registered with UNHCR in Malaysia. 
More than 86 percent are from Myanmar, including more than 100,000 Rohingya, 22,000 Chin, and 29,000 from other ethnic communities. 
The total number of refugees in Malaysia, including those from Myanmar, is most likely much higher, the rights groups said. - RVA News