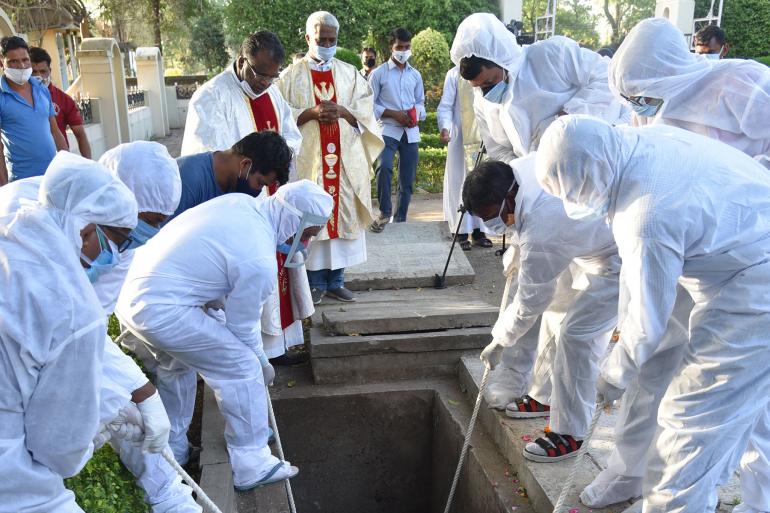 At least 400 Catholic priests and nuns died in India due to COVID-19 in the past two months, a Vatican report said.
The report cited data compiled by the Church-run Indian Currents magazine, which listed 205 priests and 210 who succumbed to the disease as of May 29.
The report said the number could be higher as some casualties have not been reported.
The list includes three bishops: retired archbishop Antony Anandarayar of Pondicherry-Cuddalore, Bishop Basil Bhuriya of Jhabua, and retired Bishop Joseph Pastor Neelankavil of Sagar of the Syro-Malabar rite.
"The high rate of casualties among priests and nuns is due to them working in remote areas where medical facilities are rare," the report quoted Capuchin priest Suresh Mathew, editor of the magazine.
The priest said most of those who died "risked their lives to serve the Church and society."
"The nation lacks infrastructure in the health sector. They lived and worked in rural areas and died amidst them," Father Mathew told Vatican News.
Those who died came from 98 dioceses and 106 religious congregations, said the report.
Several dioceses and congregations have offered their facilities for the treatment of COVID-19 patients while many church groups offered meals for patients and their families.
Father Mathew said the number of casualties went up "due to asymptotic conditions and late access to hospitals that resulted in late diagnosis."
He said some of those infected went about doing their normal duties, attending gatherings, retreats, and meetings.
"We should have set a model for others by avoiding unnecessary gathering of priests and religious," said Father Mathew, adding the death toll would have been much lower had there been enough vaccines and higher rate of inoculation. - LiCAS.news