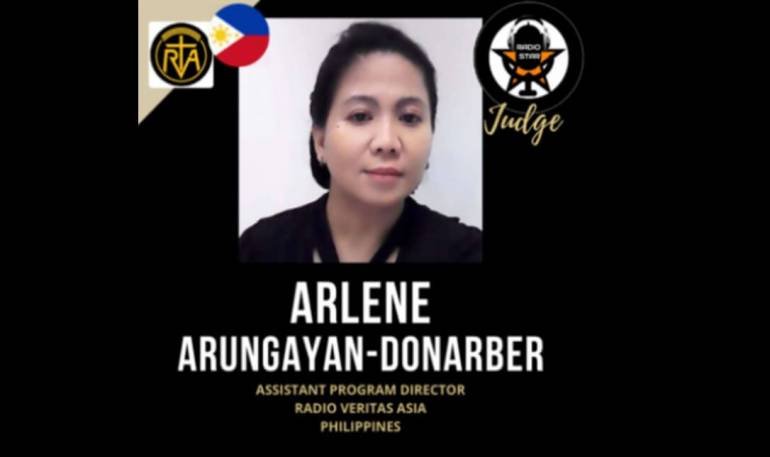 RadioStar, an international talent search,  has chosen Radio Veritas Asia (RVA) staff to be part of a judging panel to select the winner of RadioStar 2021.  
Arlene A. Donarber, Assistant Program Director of RVA, is among  ten professionals representing Middle East and Asia. Ms. Donarber was contacted via LinkedIn.
RadioStar is about connecting with great people from all over the world working in radio with a passion for finding future stars and nurturing upcoming talent. 
Ms. Donarber is representing radio (Radio Veritas Asia) in the Philippines.  Ms. Donarber is part of over 100 judges across Australia, Canada, India, Europe, UK, New Zealand, Africa, Asia, USA and South America.
RadioStar selected judges who are experts in the Radio stations and currently working as Program Director, Assistant Program Director, Content Director, or with allied experience.
The RadioStar '21 finalist are Vanessa Murphy (Canada), Lizzie Romain (UK), Dylan McKee (Northern Island), Rosa Serret (UK) and Sean Carey (Ireland).
The winner will get a Radio Show on Juice 1038, Belfast, United Kingdom. Nails and Tracey will coach the Radio Star 21 winner for free for a year.
Radio Star 2020 winner, Alice Vickery, fulfilled her dream to work on BBC Radio in her part of the UK. In 2020, the contest generated over half a million votes and presenter profiles were viewed over one million times.
Radio Star event is a part of On Air Coach to train and hire people for radio, podcast and voice over.