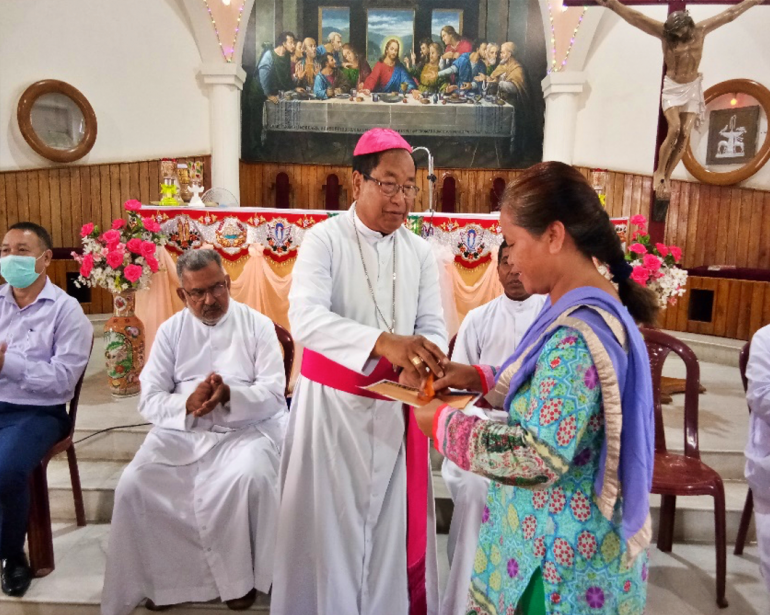 The Archdiocese of Imphal in India celebrated "Bible Sunday" at the Mary Immaculate Parish in Chingmeirong on August 29.
It was attended by Archbishop Dominic Lumon of Imphal, Father K.S Jose, SDB, parish priest and Bible Commission member, Father Rigi George, head of the Bible Commission, Father P.O Sebastian, SDB, and Father Mark Thang Khan Ai, director of the Commission for Social Communications.
The celebration was part of the North East Dioceses' Bible Sunday celebration and is part of the diocese's effort to bring the Word of God to the faithful through Bible reading, Bible competitions, and Eucharistic celebrations. 
Several circulars were earlier handed out to parishes and institutions to stress the importance of the Bible in the life of Catholics. 
A Bible competition, which was held all over the diocese, was met with an overwhelming response despite the health restrictions during the pandemic.
In his homily, Archbishop Lumon highlighted the Word of God as received by the prophets in the Old Testament. He stressed the invitation of God to be close to his people and how God expected the people to respond. He said that in the New Testament, the Word itself "was made flesh and dwelt among us."
The prelate said the Bible should be the constant companion and guide in Christian life. - Mark Thang Khan Ai / Radio Veritas Asia