Bangladesh Church holds Inter-religious dialogue for unity and solidarity in the light of different religions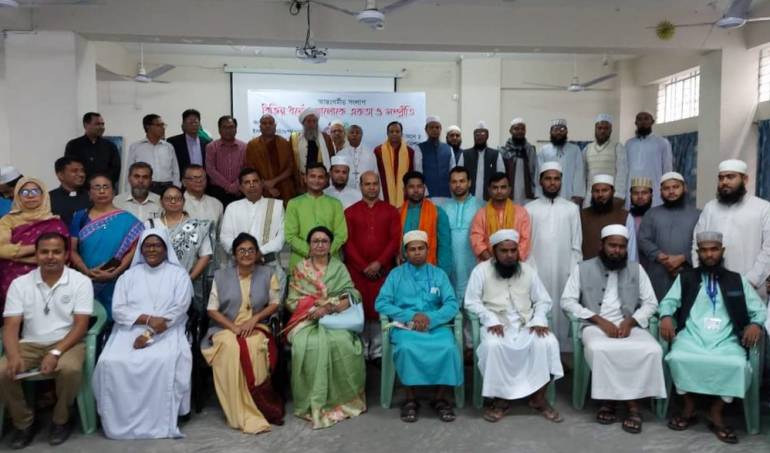 Dhaka archdiocesan Commission for Christian Unity and Interreligious Dialogue organized a seminar on unity and solidarity in the light of different religions at St. Mary's Cathedral in Ramna on November 9.  
Selected religious leaders and students of different religions participated in the Inter-religious dialogue seminar, arranged by the Dhaka archdiocese Christian Unity and Interfaith Dialogue Commission.
The theme of the seminar was "Interreligious dialogue for unity and solidarity in the light of different Religions."
Archbishop Bejoy D'Cruze of Dhaka was the Chairperson of this event and he delivered an enriching talk establishing the day's theme and goal of coming together from four major Religions.
He spoke inviting all participants in the light of the Christian Religion to focus on unity and solidarity. He also brought the connecting thoughts from different Religions on the theme.
Archbishop D'Cruze, "Emphasized on values of all religions. Solidarity is to live in love, respect, trust, understanding, support, goodness and good relationship, dialogue, to learn from one another."
"Dialogue is not trying to bring others to my religion but the dialogue is a science. It teaches us to reach out to others, respect others, can speak about the good things in all religions. None of us knows everything and all truth. We know something and we can learn something else from other religions," said Archbishop Bejoy.
He added, "Mother Teresa served all people, the poor and destitute, seeing the face of God in them. She said only in serving humanity we can serve God. We need to be humble people to enter into dialogue, and to be spiritual persons. We are all seeking Creator God because we are created in the image of God. We can create unity through dialogue. He highlighted this truth from all religions."
Bangladesh is a multireligious country and here, people of different faiths have been living in peace and harmony for decades. So, it is our moral duty to respect all religions and make a dialogue to know each other's religions.
All the speakers emphasize the same realities of peace and solidarity
Mawlana Rahul Amin Sirajee spoke on unity and peace in the light of Islam. He emphasized the life of the Prophet Hazrat Mohammad and the Holy Quran on human beings as God's highest creation.  All human life deserves peace, respect and unity.
"Islam is peace. He also connected with the Archbishop's thoughts. Not only Islam but all religions speak of peace and goodness among all people. Wherever one lives, one must be aware that Allah created him or her to live for Allah and to love all people which Allah created to live in peace. He clearly spoke that all religions speak of peace, truth, unity, love and forgiveness. 'Din' is to do good to others, because we are servants of Allah who created us all," said Mawlana.
Sreemot Shrodhananda Thero said, "We need to respect our life and spirit.  Every human and even animal has life. Humans as highest beings need to care for one another and all creation."
"Buddhist religion is a religion of humanity. This religion is not for one particular group of people, but Buddhism is for all people," said Thero.
He added, "Buddhist religion teaches humans to be peaceful, respectful, lover of harmony, peace respecting other religions. These are enough to establish peace in our world today. When the heart is pure action is just when action is just peace will flow."
Dr. Dilip Kumar Ghosh, Secretary of Hindu Religious Welfare Trust spoke in light of the Hindu religion's importance of Peace and Solidarity and our role as human beings.
"Hindus believe that we all believe in the same God but call him by different names.  The deep knowledge of the Hindu religion teaches us to respect another's wife as one's own mother, another person's son as one's own son, and to throw out hatred and greed like an arrow from one's heart, only then we can have deep peace and live in peace," said Dr. Ghosh.
He added, "The Hindus not only respect all religions but accept them as truth. All life comes from God. The only desire and prayer are to lead us from death to life, from darkness to light, and from falsehood to truth. Then they sang this theme song as a group for all."
All the speakers emphasized the same realities of peace and solidarity touching and reemphasizing what their own religion and other religions spoke. A strong thread of unity was formed by all the speakers on developing and continuing this kind of Interreligious dialogue forum.
As religious leaders, we have to carry out an essential role in creating faith, respect and love for the creator and humanity. It is urgent to share religious values with various sectors, such as political leaders, official leaders, and economists and in families to create religious morals and human dignity so that we create a peaceful world, a beautiful Bangladesh.   
One of the participants Sister Reba Veronica D'Costa, RNDM said, "All religions are like salt to taste. As religious leaders, we are called to be the salt and light of the world, as Jesus told us. Religious leaders can share the values and morals like salt in society at all levels. We have to be more careful of what we preach about our own religion and how we respect other religions."
At the end of the event, Nirmal Rozario, Secretary of Christian religious welfare Trust thanked the participants expressing that this Seminar was a success. He clarified some important issues regarding Hindu, Buddhist, and Christian Welfare trusts.
At this moment, inter-religious dialogue is very important for the country and the whole world to maintain peace and harmony. So, let the leaders of different faiths think of peace and unity in the country.
There were about 72 participants from Islam, Hindu, Buddhist and Christian religions.  - Sister Mary Anna Gomes, RVA Bengali service 
---
Radio Veritas Asia (RVA), a media platform of the Catholic Church, aims to share Christ. RVA started in 1969 as a continental Catholic radio station to serve Asian countries in their respective local language, thus earning the tag "the Voice of Asian Christianity."  Responding to the emerging context, RVA embraced media platforms to connect with the global Asian audience via its 21 language websites and various social media platforms.