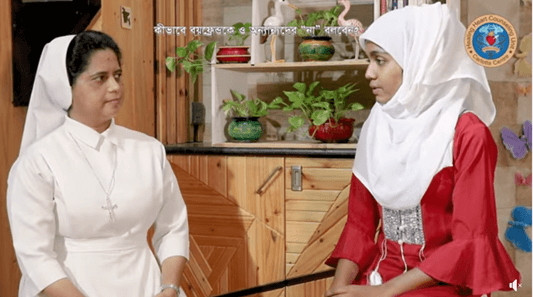 A professionally certified Bangladeshi nun launched online classes during the pandemic to train mental health professionals, clients and provides tools and techniques for counselling services through YouTube and social media like Facebook.
Sister Gloria Lipy Rozario, Sisters of Our Lady of Sorrows (OLS), has been a psychological counsellor for ten years. The nun is the director of the Healing Heart Counselling Unit in Dhaka, Bangladesh.
Day by day, the audience is increasing on Facebook, primarily people ages 18 to 24. One of the nun's videos, "How do you say no to your boyfriend and others?" has been watched 3 million times.
The nun produced approximately ten videos per month, and some have more than 1 million views.  Sister Lipy feels it as a "great achievement of the pastoral work in the Bangladesh Church."
Sister Lipy Facebook page, Healing Heart Counseling Unit has 86,000 followers. 
The catholic nun offers counseling services to individuals, couples and families. Sister Lipy enhances the skills of students, academics and professionals through awareness seminars, workshops and training.
Sister Lipy's vision "is to ensure mental health for all members of society through counseling, awareness programs and training."
"The main aim is to raise awareness among the public regarding psychological problems, stigma, discrimination and taboo in the society," the nun told Radio Veritas Asia.
After watching the videos, some viewers contact the nun via Facebook and YouTube.
The nun produces videos to discuss mental health problems and offer solutions in under ten minutes for children, youth and parents.
Nun shared her work experience about what kinds of mental problems people are facing in Bangladesh, she said.
Sister Lipy acknowledged different kinds of mental problems by children, young adults, and married couples.
"Children face stress from their parents. Some parents are too protective. They don't value children's words and don't take opinions from kids. They behave like autocrats with children. Parents say 'no' when their kids want to do anything. For better grades at school, some children face pressure from their parents," Sister Lipy said.
"The adolescents. They suffer from breakup problems. Many of them think, 'I am a failure, and I will kill myself.' Youths are emotional — their rate of suicide is higher than people of other ages. Youths are worried about getting better jobs," Sister Lipy added.
 "Couples face marital problems. In this modern era, many of them hide secret relationships. When the partner discovers it through social media apps such as WhatsApp or Facebook Messenger, then the relationship doesn't last," the nun said.
Sister Lipy said that fourteen percent of adolescents and 16.8% of adults suffer from mental problems in Bangladesh.
At the age of nineteen, Sister Lipy joined the Sisters of Our Lady of Sorrows (OLS) congregation in 1990.
She completed her graduate degree in Dhaka. She went to Italy for a two-year of novitiate.  
On returning to Bangladesh in 1995, she spent a year at a convent in Dhaka, the capital city of Bangladesh.  She was posted at the Vatican embassy for a secretarial role for five years.
While in Dhaka, Sister Lipy began visiting nearby slums and Christian families, who slowly shared their problems with her. 
Sister found her true calling after visiting slums and pursuit studying counseling psychology in Italy. She also studied Masters in spirituality and counseling at Santa Clara University, California.
Later, she set a new milestone among the nuns to become the first person in Bangladesh to earn a Ph.D. in counseling psychology.
Nun dedicated her life to serving God and healing people's hearts suffering various forms of psychological distress in this Muslim-majority South Asian nation.
The congregation of Sisters of Our Lady of Sorrows prioritizes serving the poor running schools and daycare centers for underprivileged children. The primary ministry of the nuns is to teach catechism and education.  The congregation also sponsors higher education for the underprivileged and deserving students.