Cardinal Cornelius Sim of Brunei dies of heart failure while undergoing treatment in Taiwan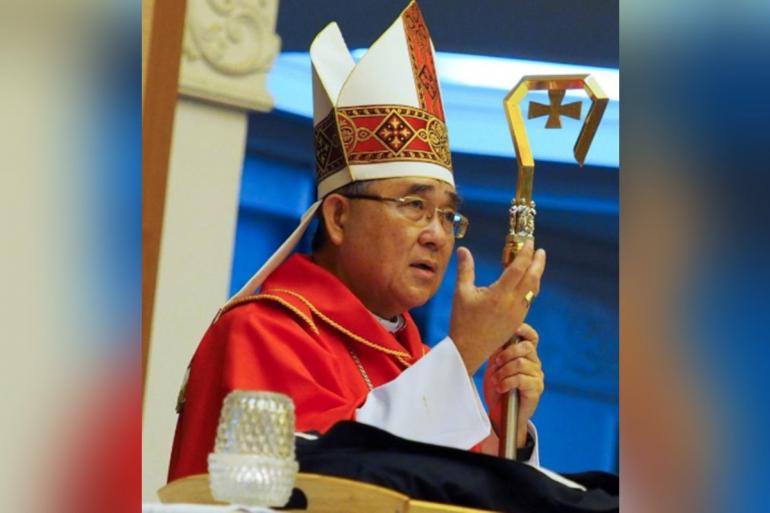 Cardinal Cornelius Sim, the first and only cardinal from Brunei, died while undergoing treatment in a hospital in Taipei, Taiwan, on Saturday, May 29.
The prelate reportedly suffered cardiac arrest while undergoing treatment for cancer.
"Let us be in communion with his family members, clergy, religious and all the faithful of Brunei in this moment of loss and bereavement," said Bishop Sebastian Francis, president of the Catholic Bishops' Conference of Malaysia-Singapore-Brunei in a statement issued shortly after Cardinal Sim's death.
Bishop Pablo Virgilio David of Kalookan in the Philippines said he was "deeply saddened by this news," adding that "Cardinal Cornelius was very close to the bishops of the Philippines."
Pope Francis raised Bishop Sim to the rank of cardinal at a consistory on Nov. 28, 2020, and was named cardinal-priest of San Giuda Taddeo Apostolo in Rome.
On Dec. 16, 2020, he was named a member of the Congregation for the Clergy.
In 2004, Pope St. John Paul II appointed then-Father Sim as apostolic vicar and the first local bishop of Brunei, a small Southeast Asian country that is predominantly Muslim.
A tiny but prosperous Southeast Asian nation on the northeast coast of Borneo, Brunei has a very generous welfare program with most of its wealth coming from petroleum and gas.
The vast majority of the country's over 460,000 people are Muslims. Only about 16,000 people are Catholics, mostly migrants or expatriates from the Philippines.
Aside from the 69-year-old Cardinal Sim, three other priests serve as pastors for the Catholic community.
Cardinal Sim is an electrical engineer with a diploma from Dundee University in the United Kingdom.
After working for about ten years with the British–Dutch multinational oil and gas company Shell in Brunei and Europe, he decided to study for the priesthood. He was ordained in 1989.
When Pope St. John Paul II separated Brunei from the Diocese of Miri-Brunei and established the Apostolic Prefecture of Brunei in 1998, he appointed Father Sim as its prefect.
When Brunei was raised to the rank of apostolic vicariate in October 2004, he was appointed its first apostolic vicar. His episcopal ordination took place in January 2005. - LiCAS.news