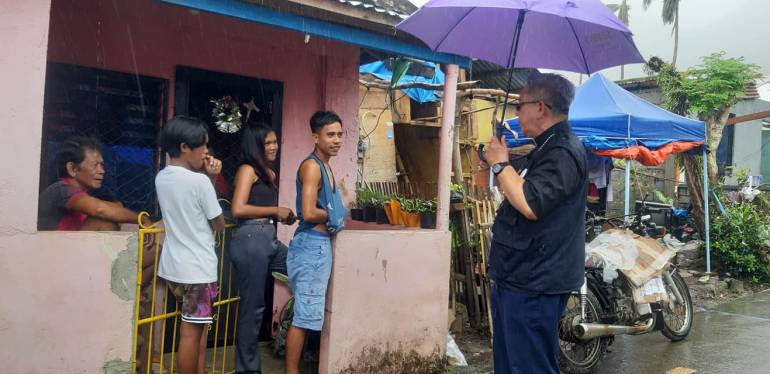 Caritas Philippines aids to rebuild lives of typhoon Odette victims.
Caritas Philippines is helping the people affected by the recent Typhoon Rai (better known in the Philippines as Typhoon Odette) as they begin to rebuild their lives, says a bishop from the southern Philippines.
"People are starting to pick up the shattered pieces of their lives with our help," said Bishop Socrates Calamba Mesiona, Vicar Apostolic of Puerto Princesa, Philippines.
The prelate and the Caritas team led the distribution of shelter repair materials in one of the Odette affected communities on January 8. 
Meanwhile, Bishop Jose Colin Bagaforo, the national director at Caritas Philippines, together with Father Antonio Labiao, Caritas Philippines executive secretary, are doing solidarity visits starting January 5 to the 11 dioceses badly-hit by Typhoon Odette: Maasin, Cebu, Tagbilaran, Talibon, Bacolod, Kabakalan, San Carlos, Dumaguete, Surigao, Taytay and Puerto Princesa. 
"It is always heartbreaking to see not only houses being trampled to the ground but also our churches," said Bishop Bagaforo after visiting some affected areas.
The Catholic Church, through Caritas Philippines, is implementing a 30 million pesos (US$ 5,84,455.80) initial emergency response program to aid the families affected by the typhoon, according to Caritas Philippines post on its social media post.
As of December 8, "at least 42,000 families have received Caritas Philippines' emergency relief. This is just a fraction of more than 666,410 families severely affected by Odette," said Father Alex Cola, a Caritas staff.
Caritas Philippines is grateful to its partners at Caritas Internationalis and all the donors for their support for typhoon-affected communities.
Caritas Philippines is the humanitarian, development, and advocacy arm of the Catholic Bishops' Conference of the Philippines (CBCP).
CBCP created Caritas Philippines in 1966 as a response to the call of the Universal Church for renewal and social transformation.
Aside from being the secretariat to 85 diocesan social action centers in the country, Cartas Philippines represents the Philippines in Caritas Internationalis–a confederation of 165 Catholic relief, development, and social service organizations present in 201 countries around the world.
From December 12 to 22, Odette battered the country affecting 7.4 million people in 10 regions of Visayas and Mindanao Islands.
As of January 6, as many as 459,837 people are still displaced. It claimed many as 410 lives and 80 missings. Its estimated damage includes US$794.72 million and this is reportedly said to be the third-costliest in Philippine history.
Besides, infrastructure damage such as power, water, transport communication and telecommunication are greatly affected.