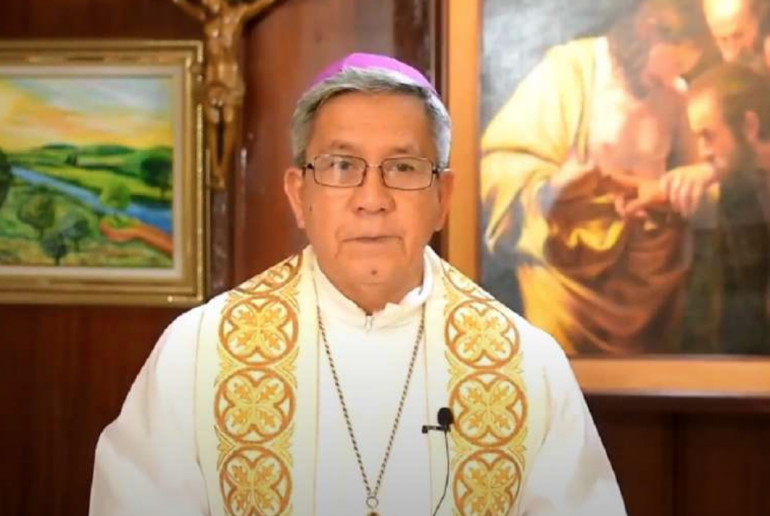 A bishop in the Philippines has challenged Catholics to vote responsibly in next year's presidential elections, saying the results would reveal the "true" identity of the Filipino people.
"Our votes reflect our values. It is an expression and affirmation of our human dignity, a foundational principle of Catholic social teaching," Bishop Colin Bagaforo of Kidapawan told Catholic-run Radyo Veritas on Sept 29.
Bishop Bagaforo warned parishioners to consider the moral implication of their votes.
"Our votes … are a mirror of our moral values, what we hold dear as a nation. If we love democracy and the rule of law, if they are valuable to us, it must be shown in our votes," he said.
The prelate, who is also national director of the Catholic Church's social arm Caritas, invited people to join a church-based coalition launched this week campaigning for clean elections.
"I invite everyone to join Halalang Marangal 2022 [Honorable election 2022]. The coalition's ideals are the antidote to the lies and dishonesty that many would attempt in the next elections," he said.
He also told young Catholics to keep their idealism and their mind pure for the common good.
"To all young voters, voting is a gift to the people and we need to use this as gift to the country," he added. "It is a fulfillment of one's responsibility to participate in and influence the social, political affairs of our nation."
Bishop Bagaforo gave several pointers to what Catholic voters should look for among candidates in next year's polls.
"The country deserves leaders with servants' hearts. We need a working servant leader with competence, experience, compassion, kindness, passion and perseverance," he said.
"A functioning leader provides direction and inspires God's family to work tirelessly to improve the condition of all Filipinos with preferential attention to the marginalized and excluded."
The bishop's comments were echoed by two church figures well known for fighting against corruption in government.
"We are looking for a leader who is competent and trustworthy. Honest and good governance makes a better country … We need to look for people who will serve the government with honesty and integrity," said Jesuit Father Albert Alejo in a video for 1Sambayan, an opposition group.
The group was expected to name the candidate it wishes to endorse on Sept. 30.
Another of the group's members, De La Salle Brother Armin Luistro, said voters should bear in mind the future of the next generation.
"It is difficult to lie to the younger generation. It is difficult to pretend that we can give them a better future," he said. - UCA News