An Interview with Bishop David of Caloocan, Philippines, Part 1: Life and Ministry of Bishop David in Caloocan Diocese. https://www.youtube.com/watch?v=V6jPO-vQ19E
Bishop Pablo Virgilio David said in an exclusive interview with Radio Veritas Asia that as a Bishop his "main task in the Church is really to evangelize; it is really to engage in mission." He added that  "to evangelize is to bring people to Christ, to make Christ personally known to people."
Going a step further he said, "I do not think we have achieved the work of evangelization if people only get to know Christ. I say to be a Christian is not just to follow Christ, isn't just to be acquainted with Christ, isn't just to know Christ, but to be Christ."
Fondly called Bishop Ambo, Bishop David is a Bible scholar, mission-minded pastor, and good preacher, popular in his diocese, in the nation and on social media. Currently, he is also the President of the Episcopal Conference of the Philippines.
The diocese of Kalookan, where he is the bishop, has a population of 1.2 million Catholics, in Metro Manila. The diocese has 24 parishes and 17 missions and 73 clergies serving in them.
Regarding his episcopal motto "Kenosis", Bishop said that his models are Maximilian Kolbe and Oscar Romero, two martyrs, who emptied themselves for the love of Christ and fellow humans who are suffering.
Asked about the most challenging work he has done, he said it was standing for the victims of the drug war and drug addiction, even daring the drug mafia and the Government itself, which felt like "putting your life on the line because you're taking risks."
The first part of the interview, talking about his life and ministry in the diocese is published on YouTube: https://www.youtube.com/watch?v=k0Jhp_Sc59g
In the second part of the Interview (to be published next week), Bishop Ambo speaks about the Filipino Church of the Post-Colonial and Post-Conciliar Period and about the Federation of Asian Bishops Conferences.
Read the full transcript of the First part of the Interview below.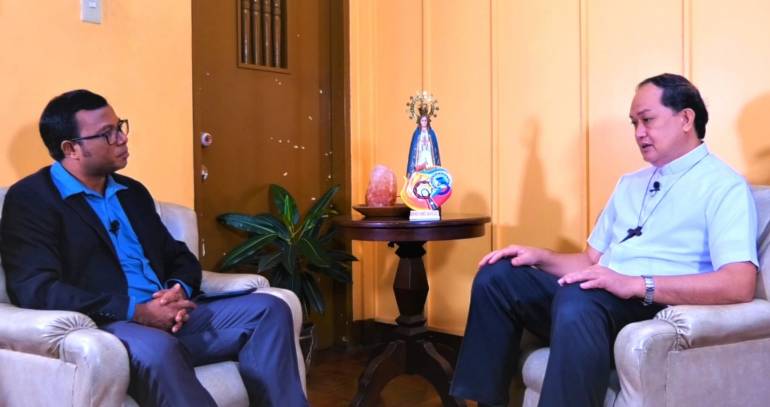 VOICE OF ASIAN BISHOPS
RVA Interview with Bishop Pablo Virgilio David of Caloocan, Philippines, by Kasmir Nema from Radio Veritas Asia
Part 1: "My main task in the Church is to Evangelize," Bishop David of Caloocan
Kasmir Nema: Do you know? Most Filipinos normally call you, Bishop Ambo. Is it okay if I call you?
Bishop David:
That's Perfectly okay. You know what it means, of course.
Well, in the Philippines, if you're a Pablo, you are usually given the nickname Ambo. But I started to like my nickname because it is associated with the stance from which the word of God is proclaiming the ambo of the church.
Kasmir Nema: Can you give us the general picture of your diocese?
Bishop David:
Okay, so, this is a relatively small diocese by Philippine standards. About the population of the diocese is around 1.5 million people, and it comprises three cities the north of Caloocan, the city of Malabon, and the city of Navotas. But of the 1.5 million, I'd safely say 85% would be Catholics. So that would be around 1.2 million.
So, my diocese has also very few parishes. When the diocese was established, we had only 24 parishes and 25 diocesan clergies. Now at least we have 37 diocesan clergies, but six of them are still deacons waiting to be ordained. I have partnered with religious congregations also. So, I have around 36 religious priests working also in the diocese, and that makes around 73. 73 clergy, both diocesan and religious. That doesn't include yet the missionaries who are working in our mission stations, because we have about 17 mission stations.
And the ones who are working as chaplains in our mission stations are not necessarily always priests. Some deacons, some are male or female religious or even lay missionaries, as long as they're willing to stay full time as inserted communities among the poorest of the poor.
Kasmir Nema: Your diocese has offered a lot of programs or ministries. Among these many programs, Bishop, what is the most beneficial for the people, do you think? Which one?
Bishop David:
Yeah, that's relative you might call beneficial. But I'd say in the context of the social issues that we are dealing with, the ones that are most recently established ministries that are very relevant to current issues are number one, our community-based drug rehabilitation program that has led to the formation of what we call Kaagapay. And these are nonprofessional mental health workers. So mental health care has become a ministry in the diocese. It's actually nonprofessional counselling with guidance from psychiatrists and psychologists.
Well, we have also established the social communications ministry, and much of that was really because of the pandemic. We had to be able to reach our people who are not allowed to come to our church. If people could come to church, the church could enter their homes through social communications.
Kasmir Nema: Your diocese chose the motto Duc in Altum, and your Episcopal motto is Kenosis. My simple question is, how have these two mottos guided you in your ministry and your mission?
Bishop David:
Well, I keep saying that our main task is the Church, and I agree with Pope Francis on this. Now, it's really to evangelize. It's really to engage in mission. And to evangelize is to bring people to Christ, to make Christ personally known to people. But that's still not enough, because I do not think we have achieved the work of evangelization if people only get to know Christ. I say to be a Christian isn't just to follow Christ, isn't just to be acquainted with Christ, isn't just to know Christ, but to be Christ. And by that, I mean to participate, to enter deeply into communion with Christ and to participate in the life and mission of Christ through the Church. And that is not possible without the Holy Spirit. But in 2006, when I became a bishop, the most important text in my life was Philippians, chapter two, verses one to eleven, the Kenosis hymn of passage, St. Paul. You know, though he was in the form of God, he did not deem equality with God something to be grasped, but rather he emptied himself.
Bishop David:
The self-emptying act of Christ is essential in our own emulation of Christ because one of our most common problems is ourselves. We are usually so full of ourselves. I do not believe that we can be empowered to participate in the life of Christ, in the mission of Christ, if we're full of ourselves. One of the essential things that are necessary to make it possible for us to participate in the life and mission of Christ is really self-emptying, Kenosis. Now, Duc in Altum, that's about the mission, going out to the deep, and now we're preoccupied with that, how to transform our parishes from maintenance to mission because we get so used to just maintaining our parishes the way we've gotten used to them. Our parishes are okay, they're still effective, but they're all the entire institutions that also need renewing. And I agree with Pope Francis to a great extent that we have tended to be very parochial in the negative sense of the word. We tended to be self-referential, and very churchy in our languages. Even our ministries are all very churchy and we invite people to serve the church. And I find that very funny.
Bishop David:
I don't think the mission is about asking people to serve the church. No, I think it is asking the faithful to serve society, to serve the world as part of a servant church, because you are part of the church, you participate in the servanthood of Christ to the world as the salt of the earth, as the light of the world as a little bit of yeast in a massive dough, making that little presence in society.
And yeah, Duc in Altum is really an invitation to go with Christ to the deep and not just to stay on shallow waters and to what we have gotten so used to dare to allow the Spirit to renew us so that we can confront the more profound issues that people are dealing with.
Kasmir Nema: If I'm not mistaken, in 2017, you were interviewed by Rappler Media, and I noticed I read there you mentioned two important figures, perhaps your models, Maximilian Kolbe and Oscar Romero. Yeah, I guess my question is, what is the spirit from these two important figures that you have carried you in your ministry or in your mission?
Bishop David:
Well, first of all, Archbishop Oscar Romero, now Saint Oscar Romero, I think the pastoral setting of the Church, to which he belongs, is very close to ours. So, I could relate with him very closely because they have to do with tensions that can be political as well.
In fact, I couldn't believe it when the process of colonization of Saint Oscar Romero prospered, because in general, before, when politics was an aspect or a factor in the Martyrdom of a person, sometimes it would be difficult to expect it to prosper, but not with Oscar Romero.
And I think we attribute that to Pope Francis mainly. Now, with regard to Maximilian Kolbe, I think what touches me most deeply about Maximilian Kolbe is that he exchanged his life for the salvation of somebody.
It's that concrete. I've often quoted the Talmud saying, "To save one person is to save the whole world." So, I have no illusion about being instrumental salvation for the whole world. I'm not the Messiah. Only Christ is the Messiah. I can only participate in the redemptive work of the Lord. And I really believe that very deeply. To save one human being is to save the whole world.
And you know that at the height of the drug war, a lot of people came to us in the diocese, most of them widows and orphans of the drug war. And I felt so helpless about it. And to be able to respond to it, you have to put your life on the line because you're taking risks. And sure enough, I wasn't surprised when the government started threatening me personally.
Even the Department of Justice threatened to sue me for obstruction of justice. And then, later on, I received five criminal charges from the Philippine National Police, and I sort of expected it. It's like part of the consequences of being prophetic, of holding on to our spiritual and moral stand as a church in defending human life. And I keep saying, if I could save just one human being, it's already well worth it.
Save one, you save the whole world. That's the reason why we put up a community-based drug rehab program and our drug rehab because they were killing addicts. I said addiction is a disease. These people need help, not judgment, not condemnation. That's why I felt really overwhelmed and disappointed when I heard Catholics agree that extrajudicial killing was okay. How can you be a Christian? How can you be a Catholic and claim that killing is the right way of solving the problem of drugs? So, I pleaded with the government and I kept saying, I'm not an enemy of the government. Hum, we acknowledge the fact that we do have a problem with illegal drugs. But please, if you're waging a war, let it be a war against drugs, not against its victims. Save the victims. And that's what we try to do. And I think I emulate Maximilian Kolbe for that.
[End of Part 1: Life and Ministry of Bishop David in Caloocan Diocese]
Part 2: The Filipino Church of the Post-Colonial and Post-Conciliar Period.
---
Radio Veritas Asia (RVA), a media platform of the Catholic Church, aims to share Christ. RVA started in 1969 as a continental Catholic radio station to serve Asian countries in their respective local language, thus earning the tag "the Voice of Asian Christianity."  Responding to the emerging context, RVA embraced media platforms to connect with the global Asian audience via its 21 language websites and various social media platforms.