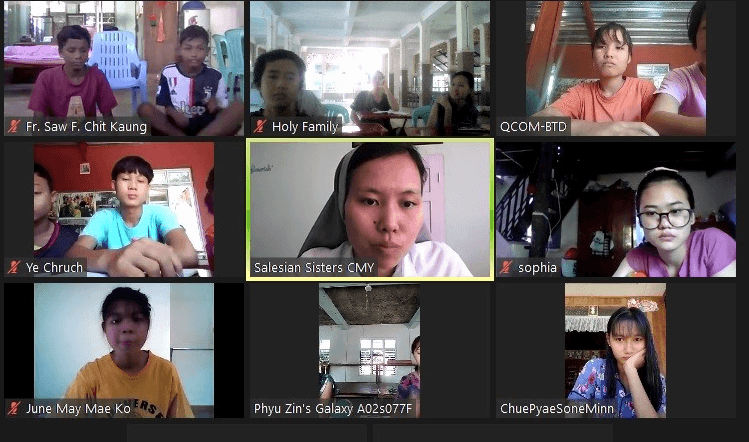 Salesians Sisters in Myanmar's  Mawlamyaine diocese are organizing a three-month online catechism to reach out to children between 10 to 14 years old.
The church officials are braving the challenge of political turmoil and covid crisis. The online catechism started on September 20 and will run till December 31, 2021.
The Salesian Sisters are leading 96 children on a catechetical journey.  The project of the diocese continues despite participants' inconveniences like the affordability of cellphone, lack of computers, power cuts, and irregular internet connectivity.
"It is the first time of teaching catechism online. It is like a special opportunity for those children and young people who can afford for phone, computers and mobile internet access," said Salesian Sister Roselyn Pho Mu.
Sister Roselyn Pho Mu admitted that there are plans to reach out to those who cannot afford the needed equipment.
"This is a new way of gift of God given to us to teach catechism in time of crisis. We are so happy to reach out to the children and help them with their faith formation," the nun said.
"We appreciate the program very much which is conducted by the sisters for the children because left to ourselves we cannot do it effectively in a time of Covid-19 and present political crisis," said Father George Ei Kant, Associate Pastor of Myeik Parish, Mawlamyine Diocese.
Parents of the participants show appreciation to the church for running the online catechism classes.
"It is a cause of joy to be able to take part in Catechism class. My son can acquire more religious knowledge. We are grateful to the sisters who help our children to know and love God," said a mother of a 13 years old boy.
Fifteen-year-old, Marina Chit Su, stated that "there is no school and we are grateful to fathers and sisters who make it possible for us to have the Catechism class. I am delighted to have come to know more about the word of God and for having no time to distract and being idle."
"We thank God for this opportunity. So that the young people may not be wavering and to be civilized and polite, fathers and sisters make efforts much and for this, we are grateful to them," said Christine Daw Than Chit, a mother of one of the participants.
Bishop Raymond Saw Po Ray is encouraging the participants to pursue the online catechism classes.
"We like to express gratitude to the Salesian sisters, children and young people who take part in the online class actively and to all the priests, deacons, sisters, and parents who give their time to support the Catechism Class amid different sorts of difficulties," said Bishop Raymond Saw Po Ray of Mawlamyine Diocese
Since the children are away from school, the church official hopes that the program will impart necessary religious knowledge till December 31.
The diocese is exploring the option to extend the online catechism to young people with the help of the Salesian Sisters.