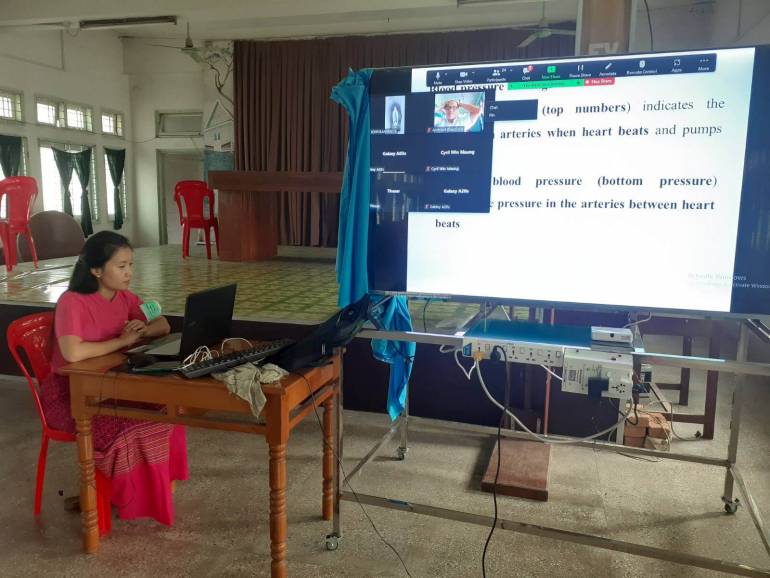 Myanmar' Pathein diocese organized a webinar on health care awareness for priests in the Ayeyarwaddy Region on November 13. Doctor Nant Thin Thiri Mon led the webinar with a theme, "Diabetes and hypertension."
Pope Francis marked "World Diabetes Day," celebrated annually on November 14.
Noting that it is a chronic disease that afflicts many people, including young people and children, the Pope said, "I pray for all of them and for those who share their difficulties every day, as well as for the health care workers and volunteers who assist them."
Father Henry Eikhlein, the diocesan administrator, said that priests need to know how to take care of their health during the Covid-19 pandemic and post-pandemic period.
The webinar brought together priests in the Pathein diocese to focus on health-related issues. The first such webinar was conducted for the nuns in the diocese.
"We will continue to offer this kind of talk on healthcare awareness for the religious brothers and sisters in the future, and he continues," Father Eikhlein said.
The diocesan administrator said that "priests, brothers, and sisters must have medical knowledge on health to be able to prevent themselves from these health problems and to be able to cure oneself, to get proper treatment."
"This healthcare knowledge is not just for oneself, but we also need to share this with the people in our surroundings, with whom we are working," Father Eikhlein said.
Father Eikhlein stressed that organizing the webinar is part of the diocesan program, as health is one of the top priorities as underlined by WHO.
Father Columban Saw Tun Lin, the assistant to the diocesan administrator, admitted that the webinar deepened the knowledge and awareness of health concerns.
Around 28 priests and two deacons participated in the webinar via zoom. 
Deacon Simon Ye Yint Naing recalled that the webinar on diabetes was enlightening – who are prone to get affected, and how.
The key learning of the participants was that diabetes is not epidemic; it is common among people above 65 and people who are overweight. Although it cannot be cured, there are means and ways to control it.
"Before, I knew a little about diabetes, but now I came to know more about it, the dos and don'ts. This talk benefits me. Although I am still young, I can take care of how to avoid sickness. It is good for me to learn to know more about diabetes," the deacon said.
Pathein diocese lost its Bishop and three priests, three men religious, two women religious, one catechist, and over 20 of its lay peoples in the diocese during the pandemic.