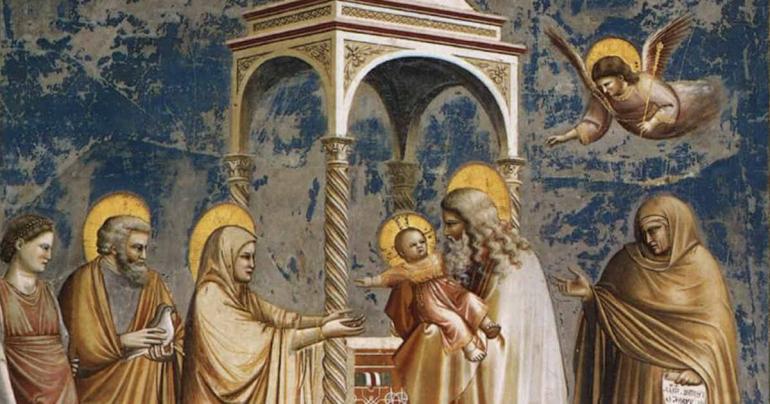 December 29 , Wednesday, Octave of Christmas
Daily Readings: 1 John 2:3-11 & Luke 2: 22 – 35
Known originally as the Feast of the Purification of the Blessed Virgin, the Feast of the Presentation of the Lord is a relatively ancient celebration. The Church at Jerusalem observed the feast as early as the first half of the fourth century and likely earlier.
Nunc Dimittis (Canticle of Simeon; Luke 2: 29-32): "Now thou dost dismiss thy servant, O Lord, according to thy word in peace; because my eyes have seen thy salvation, which thou hast prepared before the face of all peoples: a light to the revelation of the Gentiles, and the glory of thy people Israel."
Other Names for the Feast: Candlemas, the Feast of the Purification of the Virgin, the Meeting of the Lord, the Presentation of Jesus in the Temple.
The gospel text of the day consists of the presentation of Jesus in the Temple, the purification of Mary and the Song of Simeon. Simeon's point is that not everyone will recognize God's coming in Jesus. Jesus will be rejected and treated as someone to be opposed.
Even His mother will have to share in His sufferings. Jesus came not to make us comfortable but to wake us up from our sleep and this is what Simeon had prophesied. He came to challenge our way of looking at the world. This challenge is not easy to accept because it means that many of our preconceived ideas and notions will have to be given up and we will have to start anew. It is easier and more comfortable to live the selfish and self-centered lives that we are used to rather than be concerned about others.
Let us reveal that the presence of Jesus has changed our lives for the better.