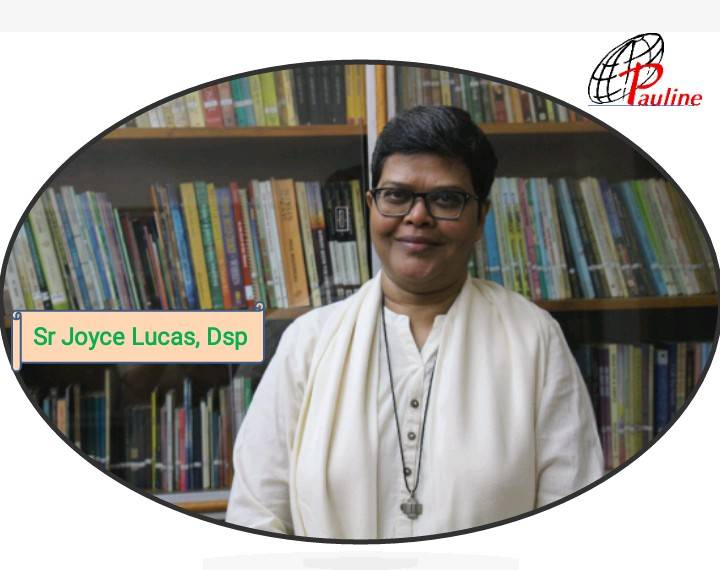 Saint Louis de Montfort was spot on when he used the phrase "To Jesus through Mary" in his book True Devotion to Mary to highlight that Marian's devotion is the best way to grow closer to Jesus.
Mary and Jesus are so closely united that giving ourselves to Mary ultimately brings us to Jesus. Yet, little did young Joyce Lucas of Orlem, Malad West in Mumbai, know where being an active member of the Legion of Mary would ultimately lead her. Mary's embrace willy-nilly drew her to the heart of her loving Son, to be his instrument of communication in the media world.
Marian injunction
Having entered the Convent of the Daughters of Saint Paul [DSP] at Bandra West, in 1991 after her graduation, the Year 2020 marked the Silver Jubilee of her First Profession (20 February 1995) – a milestone of such significance to her that she restructures her email ID as [email protected], clearly emphasizing her commitment to abiding by Mary's injunction: "Do whatever He tells you" (John 2:5).
While her parents John and Kitty have already gone to their reward, her siblings, Grace, Sophia and Rupert, all elder to her, are well settled in life with families of their own. Joyce makes no bones of the fact that her vocation was inspired by the sight of the throngs of people at her father's funeral consequent to a motorbike accident having snatched him away, leaving the young family stunned with grief.
The event remains indelibly etched in her memory. She reminisces: "I would always ask what made so many people show up at Dad's funeral, in time learning that it was part of a legacy he had left behind, that of immense goodwill coupled with good work silently done."
Long story cut short: deeply desiring to emulate Dad's example Joyce joined the Legion at Our Lady of Lourdes Church, Orlem. And then there was no turning back, for, as she herself attests, "Here is where my intense journey towards life began—it was the commencement of my search for meaning and purpose, the Legion showing the way."
"…rooted and grounded in love" (Ephesians 3:17a)
Joyce recalls how the weekly chalked out Legion meeting that included praying the Rosary and listening to the Allocutio (spiritual talk), challenged the group into "a kind of healthy competition to do more than the other for Jesus."
Legion activity involved visiting the sick and the aged in their homes as well as in old age facilities and hospitals, interacting with inmates of orphanages and prisons, distributing Christian literature, etc., all of which brought boundless joy and fulfilment.
The subsequent sharing of accomplishments big and small of the preceding week, the significance of dropping one's own copper coin into the 'secret bag' and responding to the need to work as a team, constituted apt groundwork for a disciplined life. 
In retrospect, Joyce sees her over-a-decade long Legion stint during teenage as the sowing of the seed of a vocation to religious life, her deepening love for the Church and the Eucharist putting everything into perspective.
The root of conscience
A vivacious girl who was extremely fond of wearing jeans and immensely enjoyed picnics and parties, music, dancing, long bike rides and the like, her circle of friends included both boys and girls who remain friends till date though each walks a different path.
However, what she credits with for the quality of these friendships is her home environment. "Remember, Joyce," Kitty had once said, "you don't have Daddy around. So make sure you take care of yourself. If ever anything goes wrong, I want to hear it straight from your mouth and not through anybody else" - words which challenged her to always make responsible choices and wise decisions in life, and which she carried in her heart well into adulthood, ensuring that she never brought pain upon her dear Mum.
Any wonder then that when asked why, with the kind of freedom she evidently enjoyed, she chose the consecrated life over any other, she quickly retorts: "It was the total trust I experienced at home that helped me make this choice freely. Indeed! What would I not give up keeping the pearl of great price that I have found, viz JESUS!"
Joyce consciously ignored the pull she felt towards religious life during the latter part of her schooling. Ever the naughty type, she was very much into sports and athletics which she dreamed of taking up as a career but gradually realized that there was no mistaking the deep voice within that had captured her whole being. 
The litmus test came when, whilst in college, she used to tutor children, though more as a hobby, admitting that the money she earned being quite a bit in the mid-eighties, helped finance her studies.
But, having lost her father at the tender age of ten, she chose to give her earnings to her mother, keeping barely a couple of hundred rupees or so to spend on 'chaat-ing' and 'snacking' with friends. Like Paul, nothing held value for her before the one and only pearl that had become her prized treasure (Philippians 3:7-8)—for indeed, the harvest beckoned.
A world family with no strings attached
True to her name, Joyce obviously relishes life's freedom with an inner joy as a religious as she declares with Pistol to Falstaff in the Shakespearean comedy The Merry Wives of Windsor, "The world is mine Oyster, which with sword I will open!"
With the razor-sharp fervour imbibed as Mary's faithful Legionary, Joyce strives to bring the Good News of the pearl in the Oyster to all and sundry through her multifaceted media apostolate.
Naturally then, the month of Consecrated Life 2022 cannot but make her marvel at how fantastic her life's journey has been. A life enriched over the years, having found her soul's purpose: to run the race for Jesus—and Him alone —carrying his baton, and to thus win the coveted crown of salvation. A reward so unlike her numberless medals, trophies and certificates bagged in sports and athletics academically, making the lyrics of He Abides by Henry Francis Lyte (1793-1847) her own:
"The reason of my bliss, 
yes the secret all is this -                                                                     
that the comforter abides in me!"
That bliss is evident from the magnanimous use she puts her PG in Applied Psychology and PG Diploma in Counselling and Psychotherapy to: ministering as Counsellor and Psychotherapist at Holy Cross High School, Kurla West in Mumbai (India) as well as counselling persons of all age groups and from all walks of life, even at her convent, teaching degree students the faith; conducting workshops and various animation programs on personality development, life skills, value education, parenting and suchlike in schools, colleges and seminaries.
In the Master's footsteps
Like Blessed James Alberione, the Founder of her congregation, Joyce is alert to reading the signs of the times. Resultantly, guided by the Spirit and urged by Mary, Queen of Apostles (remember Cana?), Joyce, through what she refers to as the 'compassion ministry of the Divine Master', comes across as a healing balm to those trusting her with their life stories.
"When you are connected to your spiritual purpose, life becomes easier and more satisfying, the rewards of living your soul's purpose going far beyond monetary considerations" – sage words from a youthful woman of religion whose personal mission statement encompasses Luke 4:18-20 no less:
"The Spirit of the Lord is upon me, because He has anointed me to proclaim Good News to the poor. He has sent me to proclaim freedom for the prisoners and recovery of sight for the blind, to set the oppressed free."
 "Yes!" she exults, "What joy is mine to share the love of Jesus with those He sends my way—whether children, teens or youth, adults, couples, parents, even whole families including the old, the sick and the infirm in need of listening, confidentiality, understanding and guidance. I strive to bring them due consolation, restoring lost dignity, non-judgmentally conscientizing them about their identity as children of a loving God, created in His image, praying with those who struggle through trying life situations like the pandemic-lockdown circumstance…."
And this, one can safely say, is Joyce's diligent way of putting into effect the maxim given by Alberione, the "First Apostle of the New Evangelization" (cf. Pope Saint John Paul II) to her congregation (and to 9 other entities that together make up the Pauline Family): "Live and Give to the world Jesus, Master—the Way, the Truth and the Life!"
How she revels in responding with her fulfilling way of life to the challenge her congregation's patron, Saint Paul, voices: "Woe to me if I do not proclaim the Gospel" (1 Corinthians 9:16c).
"A tree is known by its fruit" (Luke 6:44a)
Joyce firmly believes that a tree laden with fruit receives the most stones. She avers that when the Lord invites a young person to follow Him, saying "Take up your cross and follow me...." he is implicitly saying be strong and trust me as you face the challenges of life. Therein lay the fulfilment of His promise to those who give up the comfort of home and hearth, leaving parents and siblings for His sake: the inheritance of eternal life.
Indeed, the one thing that Joyce claims gives her reason to cling to the Lord as she faces a variety of challenges in life's journey is best expressed in a verse from An Essay on Man by Alexander Pope (1688-1744):
Hope springs eternal in the human breast:        
Man never is, but always to be blest.
The soul, uneasy and confined from home,
Rests and expatiates in a life to come.
"God loves a cheerful giver" (2 Corinthians 9:7c)
The message Sister Joyce Lucas DSP has for youngsters this month of Consecrated Life is: "O that today, you would listen to His voice. Harden not your hearts (Psalm 95:7b,8).
If you but feel the Lord nudging you in any way, do take a chance on Him, it is worth your life." And to Parents and other elders: "Sow seeds of vocation in your families by encouraging the young to respond positively to God's invitation to strengthen His army. Believe me, the joy they will experience in ambitiously making God's business their own and the blessings resulting thereof on the family can have no parallel when done with the right intention."
---
Radio Veritas Asia (RVA), a media platform of the Catholic Church, aims to share Christ. RVA started in 1969 as a continental Catholic radio station to serve Asian countries in their respective local language, thus earning the tag "the Voice of Asian Christianity."  Responding to the emerging context, RVA embraced media platforms to connect with the global Asian audience via its 21 language websites and various social media platforms.