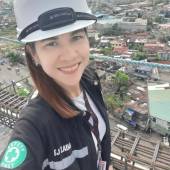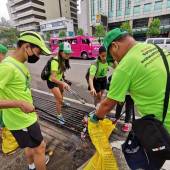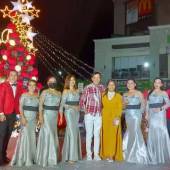 A Filipina woman engineer inspires to care for the environment by advocating against single-use plastic.
 
Born in Cebu City, Central Visayas region of the Philippines, Jennifer "EJ" Zabala is the youngest of three siblings.
 
She is a graduate with a Bachelor's Degree in Civil Engineering from Cebu Institute of Technology University. She has been working for 20 years in the construction industry.
 
Currently, she is operations in charge of a construction company in Cebu City.
 
Zabala supports her daughter as well as her parents. "What I am doing is all for them," she said.
 
However, she still manages to do her many passions like singing, sports (running, biking, swimming, fire hoop dancing), and being an environmental advocate.
 
Zabala was influenced by a Cebuano environmental advocate and fellow ultra-marathoner, Tony Galon, who founded the "5 Pieces Daily Habit." It is the advocacy of runners and of ordinary people that are looking forward to the future of the children by picking up five pieces of plastic daily and throwing them into the proper trash bin.
 
"Many of us were influenced by Tony's advocacy, supported his cause and a core group was formed which I am part of it," Zabala said.
 
Their team was able to recruit other members sharing the same desire of caring for the environment. "Before the Covid-19 pandemic, we also gave talks to children in public and private schools in Cebu on care for the environment," she added.
 
"What we are doing is not anymore for us, but the benefit of the future generation, our children, and our children's children. We believe that even if we are few, we can still help in our simple ways," she pointed out.
 
Zabala is the point person of the Cebu City chapter of Basura (garbage) Run, a baby project initiated by the 5 Pieces Daily Habit team. It is a community service present in different parts of the Philippines. Its main goal is to prompt awareness in the public of responsible garbage disposal and look after the future of the children by caring for the environment.
 
Every first Saturday of the month, together with the volunteers, they run and pick up plastic garbage around the city, bringing with them thongs and sacks.
 
"We run for a few rounds and after we pick plastic garbage we find it on the way. Sometimes we can pick up five sacks of plastic trash in just an hour. Imagine, that is the garbage in our place," said Zabala.
 
They have partners and contact persons in different places like Baybay City, San Carlos City, Davao, and many other places. They are mostly runners inviting their families, acquaintances, and also non-runners to join.
 
"We want to show that we must be aware of our garbage and that we shouldn't throw anywhere and minimize plastic waste. If one can avoid single-use plastic, the better," she said.
 
Zabala shared that their best practices include bringing their water tumblers instead of buying bottled water.
 
They also carry with them their utensils like spoons and forks instead of using plastic spoons and forks in establishments.
 
They use metal straws to avoid using plastic straws. When they go to dine in eateries, they request glasses instead of plastic cups. Bringing eco-bag with them is also their practice.
 
A Tumbler of Hope is another initiative of the 5 Pieces Daily Habit advocates in which tumblers will be given to children after educating them about caring for the environment and after they picked up five pieces of plastic trash. They were able to distribute free tumblers in different places and schools.
 
According to Zabala, it is a mortal sin for them if they buy bottled water.
 
"Plastic bottled water is the number one waste in the Philippines. If you notice, almost all liquid products are placed in plastic. Seldom it is placed in bottles or cans because it is expensive," she added.
 
She shared that plastic does not decompose. "It disintegrates but never decomposes, unlike cartons, leaves, and papers. It is dangerous when it goes into the sea because sea creatures feed on them like planktons and fish. It affects our health as we eat fish too. Time will come when there is more garbage in the seas than fishes."
 
Zabala continues to inspire others to do the same. Whenever she is with her friends, they also try to avoid plastic knowing she is against the use of plastic. She feels happy that she can influence others too.
 
"My friends also avoid using plastic when I am around. They say "Kapitana" (captain of the local village council) is here. Besides, they become conscious and careful to care for the environment," said Zabala.
 
They support environmental advocacies like no to coal-powered power plants. But they are more focused on the advocacy against single-use plastic.
 
According to Zabala, there are many challenges faced in their environmental advocacy.
 
"Bashers are always present. Negative people who always have complaints and negative reactions are not open to change. In every deviation from normal, there is always resistance," she explained.
 
Limited financial resources are another challenge, she mentioned. However, with social media, they continue to spread their advocacy with persistence.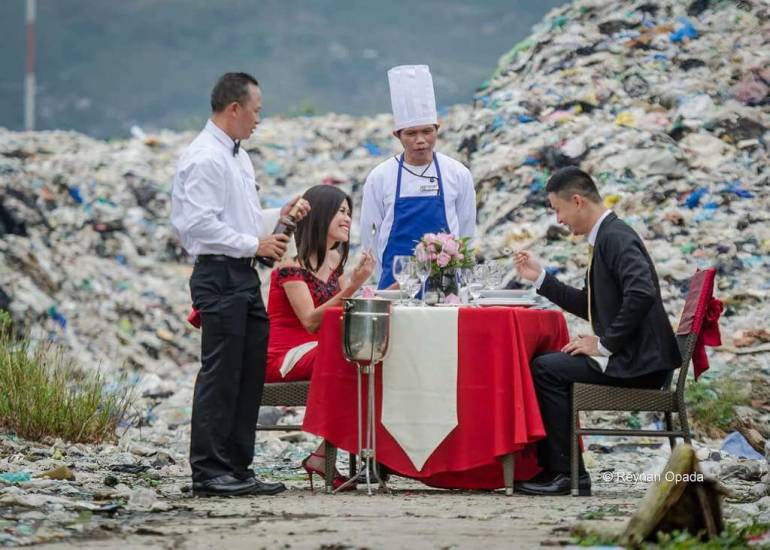 Their team conceptualized Valentine's Day photoshoot pre-pandemic with the caption "A Glimpse of the Future," which portrayed a couple on a date at a dumpsite. It showed a big pile of garbage background, showing the effects of continued excessive use of single-use plastic and throw-away habit.
 
"If everybody will pick even just five pieces of trash they see daily and if everyone will throw their trash properly, not in seas or canal, it is already a big help for Mother Earth," Zabala explained.
---
Radio Veritas Asia (RVA), a media platform of the Catholic Church, aims to share Christ. RVA started in 1969 as a continental Catholic radio station to serve Asian countries in their respective local language, thus earning the tag "the Voice of Asian Christianity."  Responding to the emerging context, RVA embraced media platforms to connect with the global Asian audience via its 21 language websites and various social media platforms.