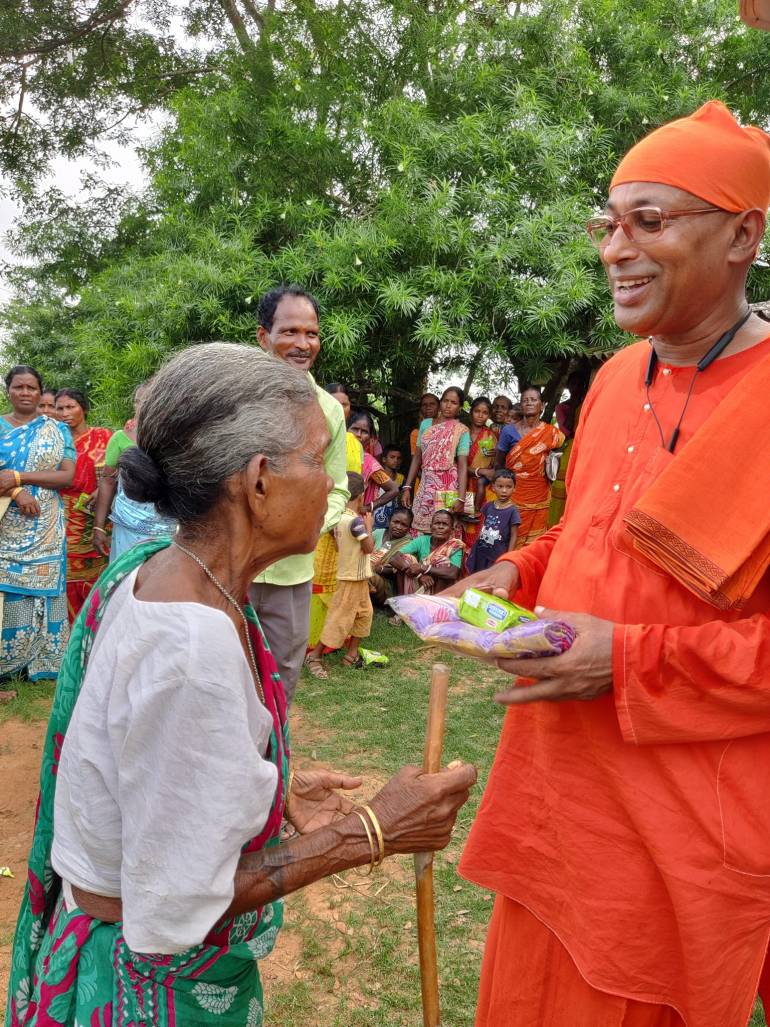 Anjali Mukhi, an elderly woman from Abdalipur village in the eastern Indian state of West Bengal had her bundle of joy on the eve of Durga Puja, a popular Hindu festival celebrated on October 5.
Her reason for being happy was that she was one of the beneficiaries of charity work carried out by a monk, Swami Jayananda Maharaj, a member of the Ramakrishna Movement, which is a Hindu religious and spiritual organization.
"After receiving the sari (cloth), we women in this village are happy. Whatever we earn with it, we try to buy new clothes for the children in our family, but this time we all have new clothes to wear during the Durga Puja festival time," Mukhi told RVA News.
Besides Mukhi, scenes of happy faces and bright eyes can be seen in these villages now. An air of positivity is now flowing throughout the village, and it will never be subdued.
Jayananda was initiated by Swami Bhutesanandaj Maharaj in 1994 at Ramakrishna Math (temple), Puri, a coastal town in the eastern Indian state of Odisha.
After he finished his undergraduate course majoring in Political Science, he joined the Ramakrishna Math, Chandipur, Purba Medinipur, West Bengal.
From a young age, Jayananda, who also has a Master's degree in Political Science with a background in rural administration, had an affinity for serving the poor and needy.
In 1994, as a young college student, he frequently went to Ramakrishna Math, Chandipur.
The president of that Math, Swami Bhaveswarananda Maharaj, asked him if Jayanandaj was interested in joining the Hindu religious order, to which the latter said, "Yes."
After the initial conversion with Bhaveswaranandaj, Jayanandaj went back home, only to return the very next morning in front of Bhaveswaranandaji and say, "I have come."
Fast forward, Jayananda's spiritual and monastic life developed under the guidance of Bhaveswaranandaj.
On March 12, 2002, Jayanandaj became a Hindu monk at the age of 28. After taking sannyasa (a form of asceticism), he set up a new organization by the name of "Ramkrishna Ashrama Tahkurbari' at Medinipur, in the district of Paschim Medinipur, West Bengal.
The main objective is the advancement of the philosophy of Swami Vivekananda (an Indian Hindu monk, philosopher, and religious teacher). The focus is "Shiva Jnane Jiva Seba" (serving all beings on earth, worshipping God).
Through his charity and service, Jayananda wants to inculcate the feeling of brotherhood and peace among all.
The activities of the Ashrama (monastery) concern a library, regular discussions on religion and dialogue, cultural programs, and the distribution of clothes, food, and medicine among the poor.
The major activities are the rehabilitation of distressed women, their education, food, accommodation, and clothing.
The monk and the 14 novitiate inmates sustain themselves by begging from door to door and on the little donations they receive from the common people.
As the COVID-19 lockdown started, a few poor women used to come to the Ashrama for alms.
Jayananda used to give them rice, pulses, and soybeans. They had lost their jobs due to the pandemic.
He then decided to give rations of rice, pulses, mustard oil, potatoes, soybeans, and soap. A month later, it rose to 200 people per day.
He continued this throughout the entire lockdown.
He used to tell them, "If you know anybody in your locality living without food, tell her to come tomorrow."
At regular intervals, he went to remote underprivileged 'Adivasis' and 'Dalits' villages and distributed clothes, face masks, potatoes, mustard oil, and soaps to each woman.
During the winter season, he distributed blankets to the poor. In this work, his associates are local disciple youths, and a few novitiate women of the Ashrama also volunteered to assist him.
With the onset of the major Hindu festival of worship of the goddess Durga starting from October 1 to 5, having a custom of wearing new clothes, he resumed moving to more underprivileged villages on September 17 to donate a sari (cloth) and ration to women in the village.
Jayananda said, "This is a little effort to generate smiles on the faces of these 'living mother goddess Durga.' This work will continue even after the festival."
When asked how this thought of helping developed in him, Jayananda quoted Swami Vivekananda and said, "One of the principles of Swami Vivekananda was 'Shiva Jnane Jiva Seba' (to serve God through human beings).
Since a human person is potentially divine; man's service is indeed service to God. Instead of looking upon a needy person as an object of pity, he is looked upon as an object of worship," Jayananda explained.
It was Swami Vivekananda who coined the word "daridrya-narayan" to refer to the downtrodden.
Vivekananda had meant "compassion for all beings as the service of God, who is manifest in all beings. To him, all service for all beings is the worship of the immanent God."
Over the years, Jayananda has done charity work in over 150 villages in the Paschim Medinipur district.
He has done charity work in the neighboring districts of Purba Medinipur, Jhargram, and Bankura in West Bengal.
"It is best to provide these needy mothers a few of their needs rather than spend a huge amount of money to worship by spending a lot pompously. This is the real worship of the Goddess Mother Durga; the worship of the real goddess," Jayananda said.
All those who have experienced the generosity of Jayananda are grateful to him for his kindness.
Shiuli Bera, a vegetable vendor at Medinipur market, said, "The cloth I received is not the main matter, but the love we received from Swami Jayananda is."
"Nobody loves us more than Jayananda does," Bera added.
Chapala Mahato, a vegetable vendor, said, "I never thought I would get so much love. During the Durga Puja festival, we cannot buy clothes. So, I feel Jayananda has done what a father needs to do. So, I do not feel that I am left out of society."
Another villager from Saranjya, Arun Kumar Das, said, "I feel grateful to be a part of this charity work. The happiness I feel brings tears to my eyes. The male members of all families are happy as they cannot provide new clothes for their wives to wear during the festival." - Atanu Das
---
Radio Veritas Asia (RVA), a media platform of the Catholic Church, aims to share Christ. RVA started in 1969 as a continental Catholic radio station to serve Asian countries in their respective local language, thus earning the tag "the Voice of Asian Christianity."  Responding to the emerging context, RVA embraced media platforms to connect with the global Asian audience via its 21 language websites and various social media platforms.