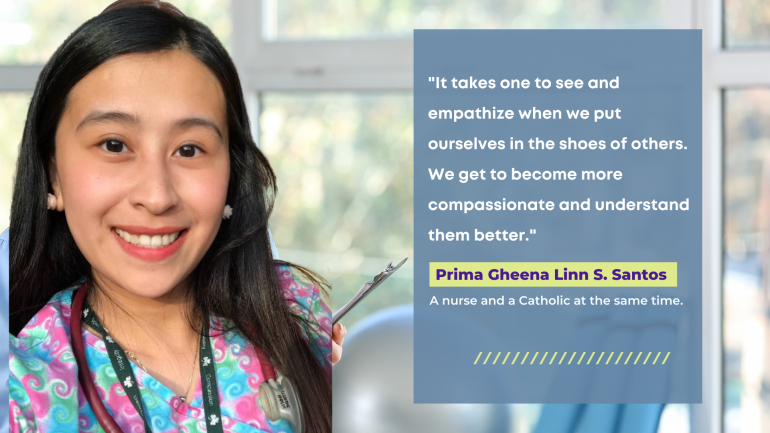 Whether in the onslaught of the COVID-19 pandemic or not, healthcare workers like doctors, nurses, and other ancillary personnel in healthcare services have been doing a significant service to society. 
Their contribution is invincible to saving the lives of others, even at the cost of their own and their loved ones.
In appreciation of nurses' contributions to society, RVA News features Prima Gheena Linn S. Santos, a Filipina nurse. 
Currently, she works in the USA. She shares her vocation as a nurse and the challenges she faces.
In her final year of high school, she decided to take a course related to medicine or healthcare. 
She applied for the University of the Philippines Common Admission Test and had three choices—one was the Bachelor of Science (B.S) in Biology, the second was accountancy, and the third one she does not recall. But she did not choose nursing as her option. She got the slot for the B.S. in Biology and was planning to take up medicine afterward.
She wanted to be a doctor because of the Filipino culture's thinking that nursing is just a second-rate job and that nurses are just here to follow the doctor's orders.
Due to financial constraints, her mother suggested that she look into taking another course at the University of the Philippines and see if there was a slot for nursing because what would happen if she did not finish? Or, she will end up as a teacher.
During that time, "nursing" was a high quota course because lots of students wanted to get into that program because of the promises of going abroad after. She tried and got a slot in nursing. I started and finished it after four years at the University of the Philippines, Manila.
She graduated from Roosevelt High Senior High College, Quezon City in 2002.
Her first job was at Cardinal Santos Medical Center, Manila. She was hoping to get into ICU or ER because she believed those are the two highest special units and most people who are placed there are good, but since she was so frail then, they decided to put her into ICU for neonatal (baby) care instead. 
Because of her frame, she was thinking that it would be impossible to do CPR on an adult during an emergency period. She was so thankful she got the ICU for babies, after which she grew to love nursing even more.
After that, she applied to Canada as an immigrant because it was a trend then. In 2012, I migrated, and later to the USA.
It took her a while to get her license since the school system was different. She did several jobs: office; a call center in Canada for six months; nursing aid (support worker) for less than a year, then got her license in 2014 in Canada.
She has been a nurse in the Philippines, Canada, and now in the USA.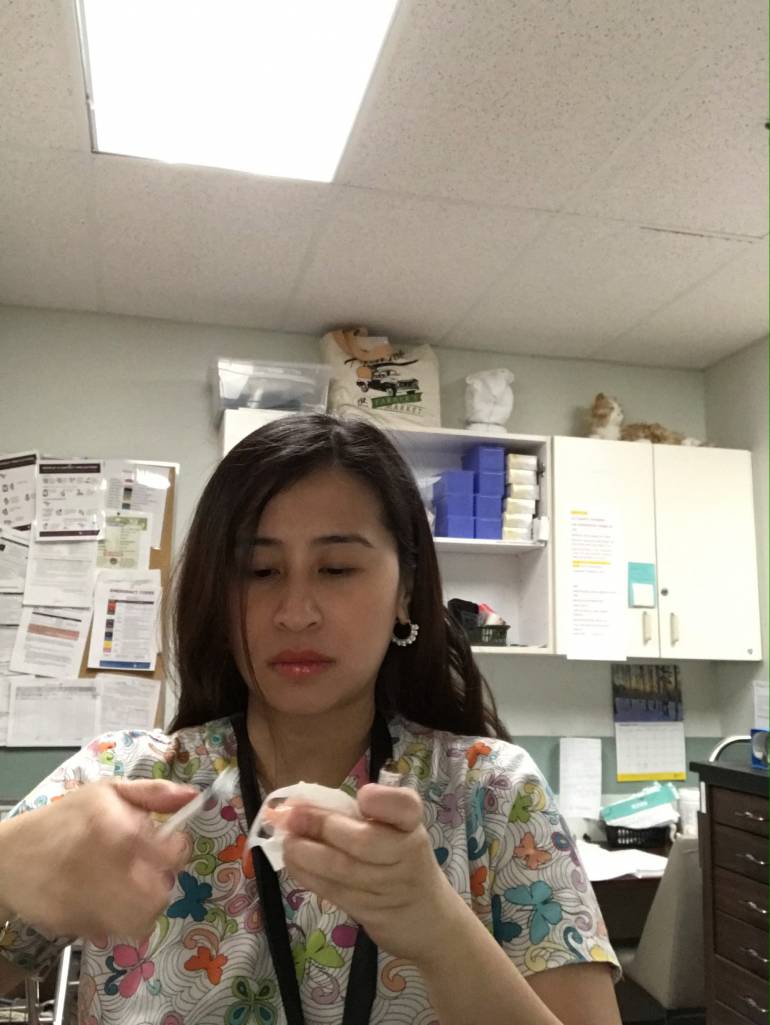 How do you reflect on your career as a nurse in your home country or abroad?
For me, it is different. In Canada, they give a certain amount of training and expect to get the job almost right away. The working culture is different, the equipment is far more advanced, and the benefits are different too. They give us compensation when we work extra. 
In the Philippines, the support system is good, there is more rigorous training, and there is 13-month pay.
What are the challenges you face as a nurse?  
In the Philippines, I was so pampered just being exposed to babies.
And I usually encountered happy parents and relatives because of the birth of a child. 
The most challenging part is dealing with the death of a baby and how to communicate with a grieving mother or father.
I am exposed to different population groups overseas. I deal with different people: adults who are complaining because of the cause and cost of their care. Children who are anxious and depressed because of their parents' parenting are dying. 
Patients complain about extreme pain. Psych patients can hurt us if we are not going to protect ourselves. People with dementia or Alzheimer's are not in their perfect state of mind. They become physically and mentally aggressive, and that almost reaches my breaking point. 
What are the qualities of a nurse that one should have?
In general, whether your education comes from a nursing background or experience, one thing that should always stand out for a nurse is your compassion and empathy for the people you care for. The rest will follow that. 
If you are in it for money, you will be disappointed as many think we are well paid off.
The risks, the dangers of being exposed to different illnesses, working late nights, being away from the family, and being prone to abuse in a toxic environment, won't compensate for the pay that we get. We are talking about life, so we have to be thorough about everything. It is really about caring and loving what we do.
How do you keep the values and principles in your life as you grow with your parents?
Most of my life has been raised by my mom as a single parent, and I get my qualities from her. She taught us that if we have time, we can always help other people.
She also showered us with her love despite all the difficulties and challenges she went through. She never left us because of her compassion for us as her own.
She did not choose to teach in a private school where rich people send their kids. She taught in schools where impoverished students go. She is my role model. 
My three sisters volunteer in the church or at events in which they can help the less fortunate people.  
What is the role of the Catholic faith in your life?
My faith has affected me largely in pursuing and sticking with this career. "Whatever you do to the least of my brothers, you do to me," Jesus says.
During the tough times in my life and career, when I am physically and mentally exhausted and emotionally drained, I always think of that, and that gets me through. 
How are you able to influence other people through your faith? 
I wish I could do more to propagate my faith. I just can't impose it on people, especially in Western countries, where some people have different beliefs and backgrounds.
Some do not even believe in God, which is a sad truth as much as possible whenever I come across patients who I believe would benefit from spiritual gains that would improve their physical health. I try to insert some of my beliefs and try to show them that there is a God and tell them, "God is not punishing or taking you, but because we are all human and we need to share some suffering."
In a way, I feel fortunate in my position to give them comfort and alleviate their pain in my little way and show them God is there in my little way.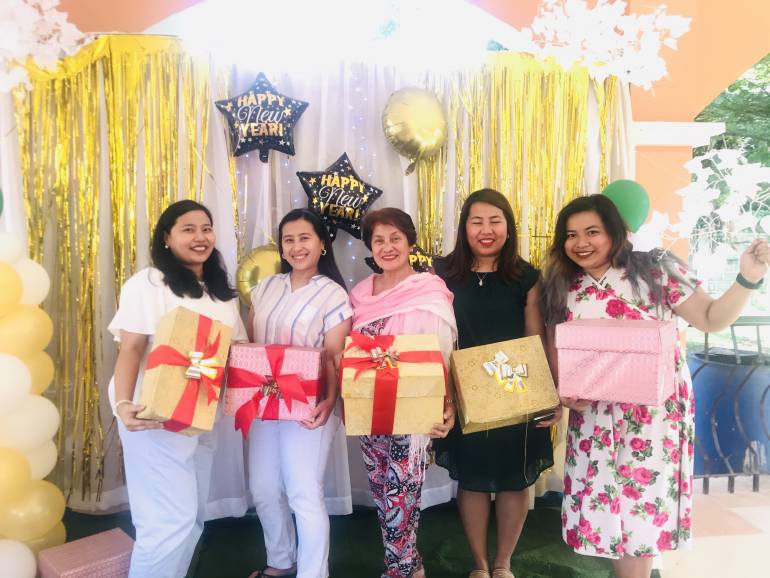 What does it mean to you as a Catholic nurse?
To be honest, I do not want to sound self-righteous because there are also good nurses who do not believe in God or do not practice any religion. Unfortunately, those who were not raised as Catholics or in Christian environments do their job well and they relate well with other human beings too.
As a Catholic nurse, I believe I have a unique opportunity to spread the Word of God and remind myself and others that God is present in every situation—good or bad, in health or illness. We are here to assist one another and alleviate one another's sufferings because no one is exempt from human suffering.
And as a Catholic nurse, I believe I am effective in helping alleviate the pain despite my sufferings and challenges.
How do you look at the healthcare profession as a nurse?
I feel proud and I think it is about time that society recognizes nurses and midwives as professions that will not just follow doctor's orders or become second-class health workers compared to doctors because the reality is that we are on the frontline of healthcare and we have first contact with patients.
Society needs to recognize the role and relevance of nurses, nursing aids, and midwives, especially amid the pandemic. 
There is a global shortage of nurses, particularly in Africa and Asia. What are your thoughts on this?
It is saddening that there is a shortage of nurses or healthcare workers in Asia and Africa. People's focus nowadays is to better their lives, and I cannot blame them. Most nurses go abroad and seek greener pastures.
My wish is that the governments in each country allot more funds for the education of nurses all over the world, with better opportunities and better salaries, so that they can serve their country and society.
Do you still have the desire to be a doctor?
If God wants, then I say 'yes', but for now, I am happy and taking it as a great sign that God is pleased with me, so I am sticking with it.
Do you pray as a nurse?
I do pray a lot. If I have a day off, I try to go to church and take an hour to just talk to God. I hope He can continue to bless me and do His will. Sometimes, I volunteered as a minister of Holy Communion in the diocese of Ottawa, Canada, and as a volunteer lector in a parish. 
Has the nursing profession changed over the years?
I think nothing much has changed when it comes to nurses, as they are expected to do much like doctors when they are not around.
When something happens, people condemn a nurse more than a doctor, but still, the recognition is sometimes lacking, and that is frustrating.
Nurses can do much, but their hands are tied because we make sure that we are not surprised by the judgment or the call of a doctor. The most difficult challenge would be that, unfortunately, there are cases of nurses being abused and overworked all over the world.
Most private and public institutions do not care for the health of their health workers. I am hoping that there will be an institution that protects people from abuse, trauma, and understaffing.
And lastly, your final word.
People are mostly the same in terms of behavior and reactions to suffering, death, happiness, and milestones in life.
It takes one to see and empathize when we put ourselves in the shoes of others. We get to become more compassionate and understand them better.
At times, we take a back seat, even focusing on our challenges and trials, but there are many sufferings all over the world. We have no right to complain. 
It is good to be a human being: a nurse and a Catholic at the same time. 
---
Radio Veritas Asia (RVA), a media platform of the Catholic Church, aims to share Christ. RVA started in 1969 as a continental Catholic radio station to serve Asian countries in their respective local language, thus earning the tag "the Voice of Asian Christianity."  Responding to the emerging context, RVA embraced media platforms to connect with the global Asian audience via its 21 language websites and various social media platforms.