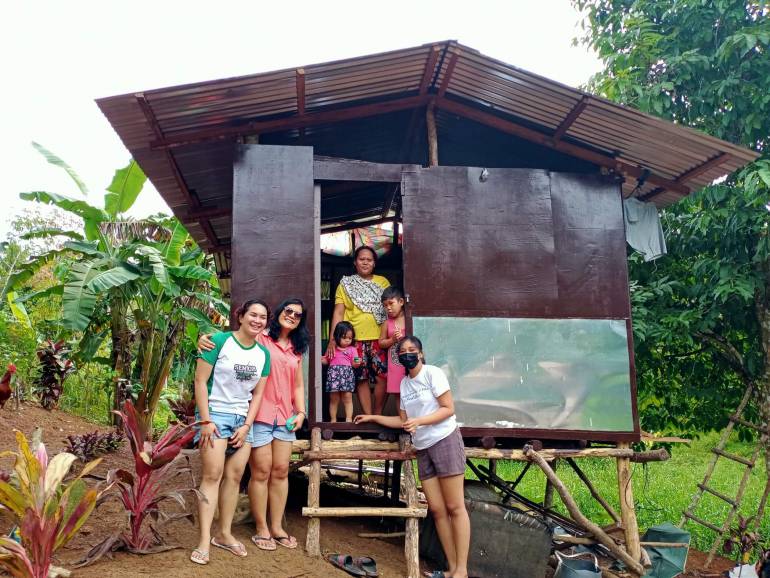 Elizabeth Eguia, a mother of two young children, would always have to run home to secure their few things or stay up at night each time it rained. But not anymore.
Eguia, a cook at a parish then, needed a safe roof over her family.
Thanks to "The Love the Poor House" project which is anchored on "For I am homeless, and you gave me home!" (Matthew 25), under which she got a new house built.
The whole project was started by Father Joel Jag Pacquiao Agad, the parish priest at Immaculate Heart of Mary Parish, Piñan of the Diocese of Dipolog in Zamboanga del Norte province, southern Philippines.          
His collaborator is Chrisma Bangaoil, a committed lay missionary, catechist and professor at the Dominican-run University of Santo Tomas, Manila.
Since the Covid-19 pandemic, both, along with others, have teamed up to start building houses for socially and economically backward communities in the Dipolog Diocese.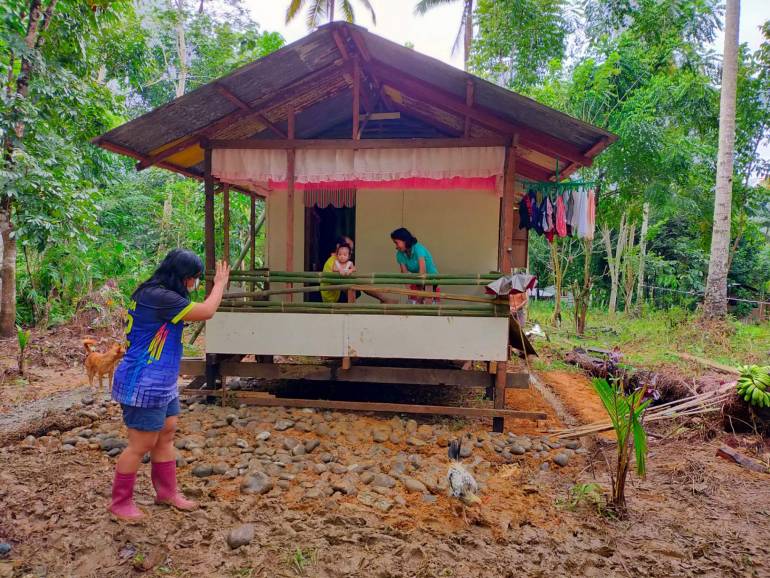 This is how the project for building houses for the poor began.
"I noticed that each time it rained, Eguia would always ask permission to go home. I asked her why. She said that she had to secure their things. Or she would say the following morning that she stayed up the whole night to make sure that their daughter gets to sleep," Bangaoil explained.
When she checked, Eguia and her family stayed in a 'barong-barong' (makeshift house) made of tarpaulin, old galvanized iron, old plywood-anything that they could use to have a place to live. 
Then Bangaoil volunteered to have the house fixed to make it livable. With two paid laborers and Archie, Elizabeth's husband who also worked for the parish, the house was completed in two weeks. A small kitchen was built attached to the house. Elizabeth used to cook outside the house making cooking impossible each time it rained.
Bangaoil shared that a week after the blessing, the six-year-old daughter of the Eguias told her that for the first time they did not have to wake up when it rained because 'naayo na ang balay' (our house has been fixed).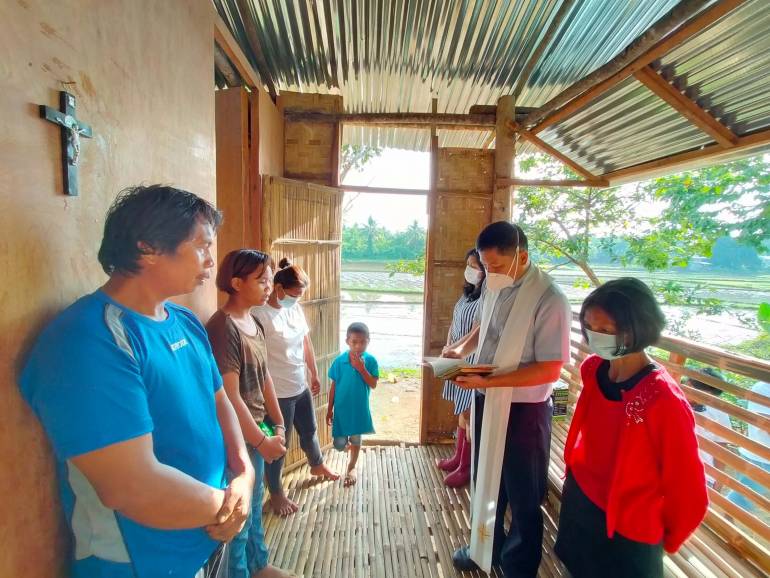 The second Love the Poor House was built about ten months after. During one of Fr. Joel's sick call in February 2021, he passed by several dilapidated houses. The house of the sick was also dilapidated, almost collapsing and Father Joel said he was cautious not to cause the collapse of the house.
Such a state moved Father Joel to include building houses as one of the Love the Poor Program activities he initiated in 2014.                               
Soon the second Love the Poor House was built. Reggie, his wife and two kids who lived in a dilapidated 2x2 square meter house owned by his mother-in-law were the recipients of Love the Poor House #2.
Reggie and his wife had to put plastic on top of our mosquito net so they did not get wet. But when it rained hard, they had no choice but to get soaked in the rain.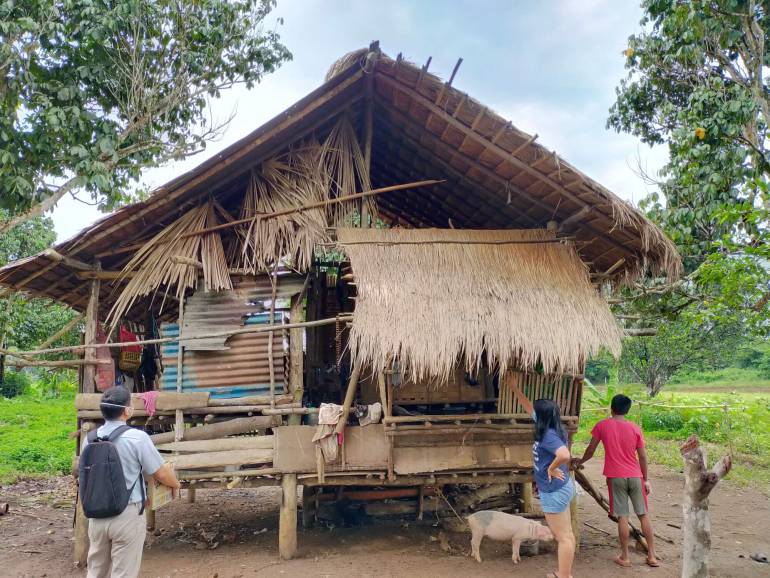 Love the Poor House # 3 recipient, Ronnie could not complete their house nor even repair the leaking roof or change their bamboo floor because they could not afford it. The Love the Poor House Program provided all materials needed while Ronnie and his son took care in building their house. 
Love the Poor House #4 recipient Marcela and her family lived in a 'payag,' a shelter for animals, rice grains and corn. She had been sick so the little money they had from charcoal went to her medicine. She was the person that Father Joel anointed that paved the way to the priest seeing the pitiable condition of the people in that part of the barrio.
Ronnie, his wife and son lived even in more pitiable 'payag,' with no walls except for one side that protected the animals from getting wet. They literally lived with the pigs. They are the recipients of Love the Poor House #5. 
All in all, the Love the Poor Program has been able to build 11 houses, two of which are concrete since that first house at the onset of the Covid-19 pandemic in 2020. 
"Our Love the Poor Program has grown. Thanks be to God. Thank you for His sustenance," says Bangaoil.
When asked what her experience has been carrying the project, she said, "The Lord sustains His mission. There have been many unsupportive comments from the clergy, saying it's not sustainable, it is not a good program but our success has proven otherwise."
She and her collaborators have always believed that it is not about them. It is not about her and the priest. "It is about Christ's mission, and we are just instruments. It is very tiring; it drains all our financial resources, but it is very rewarding. It is very fulfilling to be able to build a roof over a poor family. This is charity beyond words, beyond the pulpit," said Bangaoil.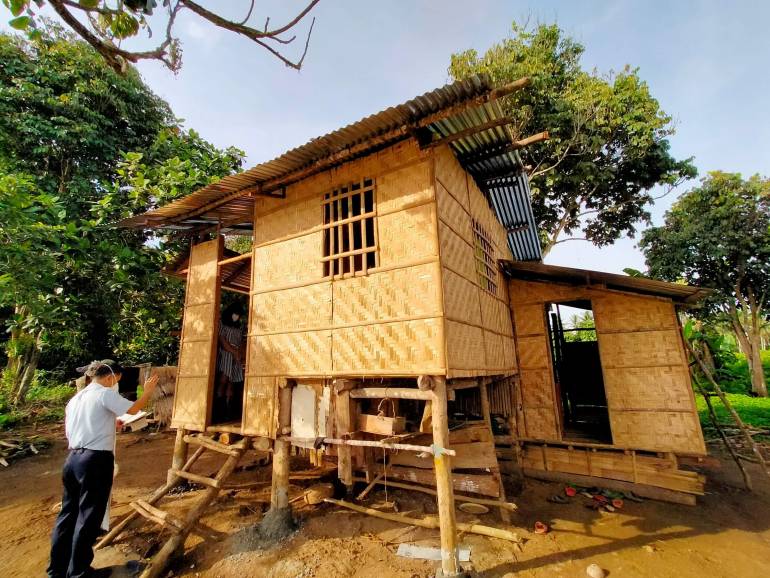 Father Joel shared that they have never solicited or done fundraising for the Love the Poor Program. "People just gave. When they saw what we were doing, people got inspired and started asking how they could be part of it. We just had to do it first, use our personal resources." 
According to Father Joel, through the Love the Poor Program, others who may also want to help but do not have the time or opportunity to do so are still able to help. They are pleased to help and see that their donations go a long way. 
"My relatives and friends have been very supportive. Even parishioners have started helping within their capacity. This is our way of synodality-walking with each other although we have different paths, we share the same mission, the same fervor for the poor," Bangaoil said.
The recipients of the other houses have their own stories too. But none of them came to ask for a house. Like they (Bangaoil and Agad) do not ask for donations, the recipients have not directly asked for a house. "We have relied on the call of the circumstances," Bangaoil pointed out. "We met the recipients during our mission journey, or we heard their stories from other people. Then we went to check."
"We are not rich. We do not have big benefactors. But we believe that one small house at a time when we can build one is a big help to poor families," Bangaoil said. 
Meanwhile, Father Joel said that the Love the Poor House is not just building a house for the poor.  
"It is one big way of telling them that the Lord has not forgotten them. While we were building the houses, we talked to them, invited them to prayer, invited them to Mass. Even after we have blessed the houses and turned in over to them, we make sure that we still get in touch with them through their chapel BECs (Basic Ecclesial Communities). This is how we journey with the poor," said the priest.
---
Radio Veritas Asia (RVA), a media platform of the Catholic Church, aims to share Christ. RVA started in 1969 as a continental Catholic radio station to serve Asian countries in their respective local language, thus earning the tag "the Voice of Asian Christianity."  Responding to the emerging context, RVA embraced media platforms to connect with the global Asian audience via its 21 language websites and various social media platforms.