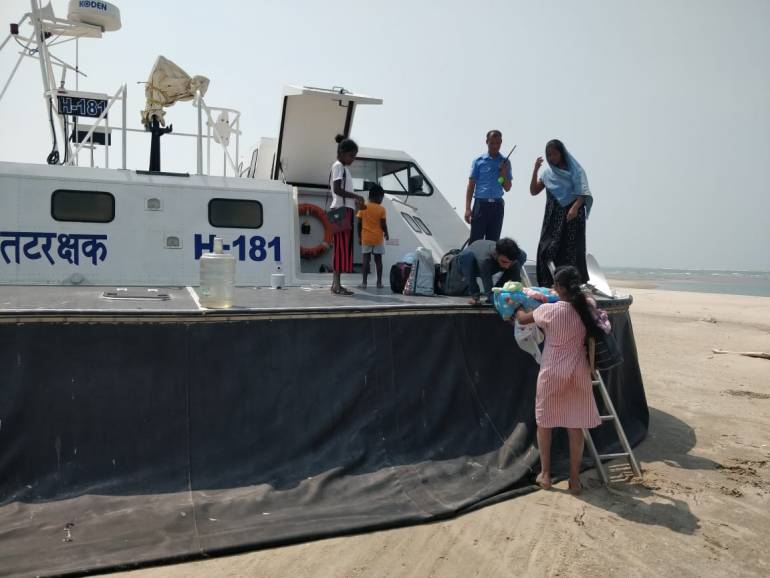 For decades, groups of Sri Lankan Tamils have come to Tamil Nadu, south India fleeing war, hostilities, and political tensions on the island nation. 
The new refugees from Sri Lanka are driven by hunger, not war.
 
Amid the ongoing economic struggle and unrest in Sri Lanka, on March 22, 2022, as many as 16 Sri Lankan Tamils in two boats arrived on the Rameswaram, a municipality in the Ramanathapuram district of the Indian state of Tamil Nadu. It is about 40 kilometers from Mannar Island, Sri Lanka.
 
They came from the Mannar, Jaffna coast in the north of Sri Lanka.
 
As of April 2022, about 19,000 Sri Lankan families — or 58,822 individuals, including about 10,000 children below the age of 8 — live in 108 refugee camps set up for Sri Lankan Tamils in Tamil Nadu.
 
In the aftermath of this development, RVA News talked to a Sri Lankan refugee in Tamil Nadu to know more about Sri Lankan refugees in India and their life challenges.
 
A hero of his world Vinoth Ruksand is a 27-year-old young refugee in India. His family lived in India for 32 years at Integrated Rehabilitation Camp for Srilankan Tamils in Dindigul, Tamil Nadu.
 
He is a son of Singareyar (58), a daily wage labourer, and Mrs. Catherine (54), a homemaker. Vinoth has a sister Rosanthini Veronika (30), a nurse in a private dispensary.
 
His family came from Sri Lanka by boat in 1990 to Rameswaram, Tamil Nadu. The war between Tamil Eelam and the Sri Lankan government was the reason to sail to India with great risk.
 
Unlike other citizens of India, they are not free to move around the country. With required documents in their hands within their camp-placed district, travelling is possible. Outside of that district, they should obtain permission from the commissioner's office.
 
Life in the camp is simple. They are provided with houses, monthly groceries, and stipends. The Revenue inspectors monitor them every month. If a person is not present in it at the time of inspection, then the ration is cut off.
 
Life outside of the camp is not what it appears to be. Often they do not receive periodic provisions for various reasons. One of them is being absent at the time of random inspection by the concerned government officials, says Vinoth.
 
But on arrival or meeting of national leaders and important leaders in the camp, the refugees are supposed to be present scrutiny. Otherwise, they may face legal issues. 
 
The daily maintenance of the family is apathetic. Though they have good knowledge about the working fields with required educational qualifications, they are still being unemployed or under-employed.
 
Not from all, but the sceptical perception of Indian citizens toward Sri Lankan refugees is another factor that bothers them.
 
The refugees are required to follow a camp rule that within the day they should return in case they went to another location for some errands. Their travel beyond the district is restricted and it may cause them adversely to employer and employee.
 
Based on the information about job opportunities, they would apply for permission from the government and a job from the provider and they would get it.
 
But if the adverse information is received at the last moment then the untimely received permission for any activity beyond what is stipulated may entail punitive action on the refugees.
 
They need to obtain permission always in advance, including when one has to go for a job interview or exams for employment. No permission is granted at the neck of the moment, even some are not granted though they applied earlier.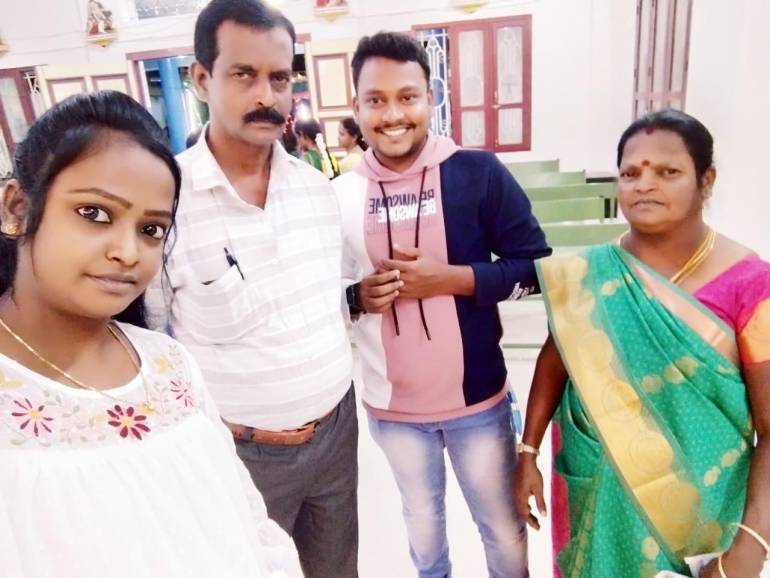 One important factor they need to remember is that they cannot appear for government jobs.
 
So, they accept all kinds of menial jobs like daily wage workers or porters. And in the evening all have to return to the camp mandatorily.
 
"We have our relatives in Sri Lanka but their life is also in crisis because of the country's current economic situation," said Vinoth.
 
According to him, the family has a piece of cultivation land in Sri Lanka. With the cultivation and taking informal sector jobs, they used to survive there.
 
The Sri Lankan Civil War was from 1983 to 2009. The Velupillai Prabhakaran-led Liberation Tigers of Tamil Eelam (LTTE), an insurgent group, fought against the Sinhalese-dominated Sri Lankan government to create an independent Tamil state called Tamil Eelam in the north-east of the island. The war was due to the continuous discrimination and violent persecution against Sri Lankan Tamils by the Sinhalese-dominated Sri Lankan Government.
 
"As a refugee in Tamil Nadu, upgrading our lives here is not easy," says Vinoth. After the family arrived in India, the birth pangs as refugees in India were an untold struggle.
 
There was hardly anyone to help him and his family at Srilanka as well as to travel to India.
 
At the peak of the civil war in Sri Lanka, the neighboring families gathered and collected the money they had and hired a boat, and reached Tamil Nadu, Vinoth recalls.
 
"As they left the country for India in hurry, I do not think anyone carried the documents required for them in India or to return to Sri Lanka," Vinoth says.
 
After reaching Tamil Nadu, many NGOs provided help, though not entire needs but some of the basic needs were provided. Though it was insufficient but fulfilled the meagre needs.
 
Vinoth and other refugees are grateful to NGOs who continually help them in so many ways.
 
Oftentimes, representatives from NGOs would visit the camp to address their concerns, such as to find ways to get provisions for a family or look for potential job opportunities in the vicinity in an informal sector. 
 
Indian government provided them with 'Aadhaar,' a 12-digit unique identity number that can be obtained voluntarily by the citizens of India and resident foreign nationals who have spent over 182 days in 12 months immediately preceding the date of application for enrolment, based on their biometric and demographic data.
 
"We are given Aadhaar cards like other Indian citizens, but our status as refugees is mentioned," says Vinoth.
 
"An another card is issued based on the camp we live in. It makes it easy to navigate the officials and police to our residence and our records," he adds.
 
When asked, if there is any possibility of getting back to Sri Lanka, Vinoth says, it is possible for those who have legal documents to return to Sri Lanka, but for those who do not have any required records, it may be difficult.
 
The Sri Lankan refugees need to red-tape their birth certificates from the embassy and then they can get back to Sri Lanka.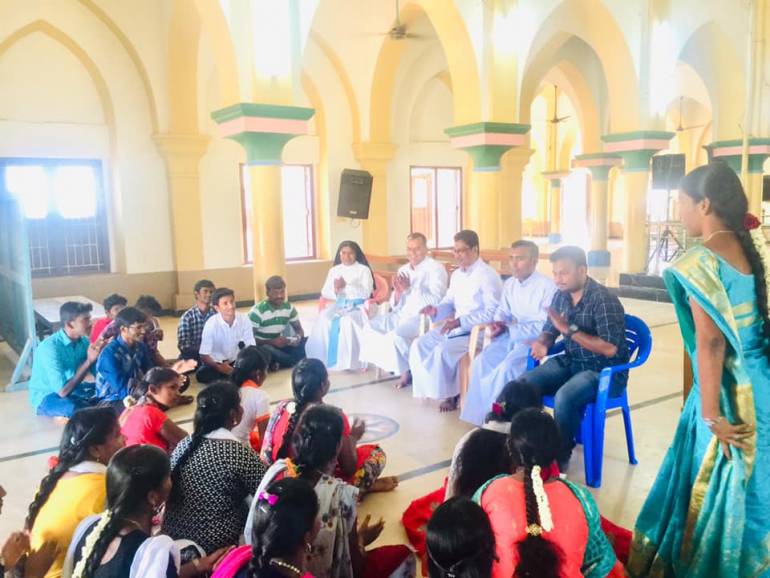 Their life in India as refugees is full of challenges.
 
"Our daily living or survival is a constant challenge. We can study till senior high school without much problem, but enrolling for university degree courses entails a great challenge," Vinoth says.
 
In 2010, Vinoth finished his schooling and he wanted to do a polytechnic in a government college. But there was no quota for refugees to join.
 
"These days this rule is a little relaxed. So, we have to go to private colleges paying a lot," Vinoth says.
 
After graduation with a university degree course, the next hurdle is to get a job.
 
"As I already said the sceptical looks of locals toward the refugees, obtaining permissions from officials and on-time appearance for interviews and recruitment, travel restrictions not beyond the district and not beyond the day, presenting on an official check-up and inquiries are challenges," Vinoth says.
 
"Though we are knowledgeable and skilful, we lack jobs here in India to survive and earn our living," he adds.
 
These days the present government of Tamil Nadu has been helping the refugees well.
 
"What we expect and request is provide us with citizenship. That is enough for us, though we know it impossible at the moment," Vinoth says while crying and with a shaky voice.
 
Churches around and some faith-based organizations do help them.
 
"Since we are refugees and always under the watch of government officials, the church faces some restrictions as well to working for us," says Vinoth.
 
They attend church services in local areas.
 
"We are treated as a parishioner which is a good point," adds Vinoth.
 
"What we expect from the officials of the church is to speak on behalf of us to get jobs even beyond the district, to provide jobs from the diocese and give a few seats in diocesan jobs," he adds.
 
"If the above said is not feasible, church officials may assist to find jobs within the district," he shares. 
 
As he was a youth leader in the common forum, he raised these concerns but the church is yet to reply.
 
"I also wait for a job at the diocesan polytechnic institute," he says. 
 
The word 'refugee' is like stigmata, discriminating, makes us be seen as low degree people and untouchables, Vinoth says.
 
"But, in Sri Lanka, we lived decently. Since we are in India as refugees, we need to put up these challenges," Vinoth adds.
 
Hoping for Indian citizenship is like asking for the moon, he says.
 
Another difficulty, Vinoth says, is about marriage.
 
"As we are Sri Lankan refugees living in India, getting married as brides and bridegrooms is another herculean task. Most people look down and do not look at us for marriage," he says.
 
"I do not know what sin I have done, to be called here as a refugee, which is painful and discriminating," Vinoth adds. - Budhali Prakash / RVA Tamil
---
Radio Veritas Asia (RVA), a media platform of the Catholic Church, aims to share Christ. RVA started in 1969 as a continental Catholic radio station to serve Asian countries in their respective local language, thus earning the tag "the Voice of Asian Christianity."  Responding to the emerging context, RVA embraced media platforms to connect with the global Asian audience via its 21 language websites and various social media platforms.