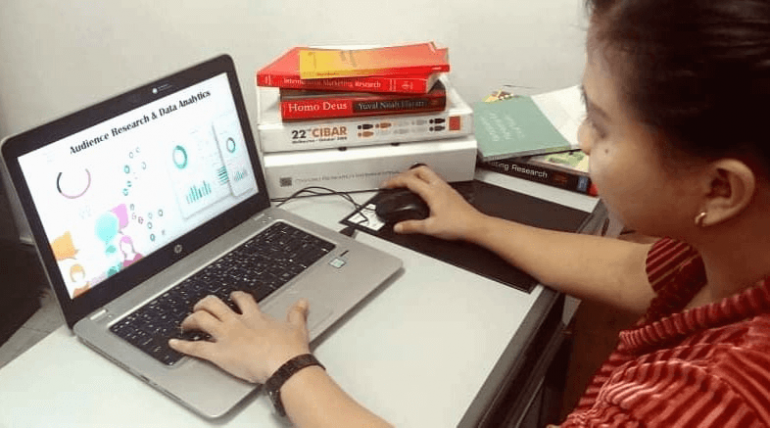 Women are "as capable as males," says Arlene A. Donarber, a data analyst and assistant program Director at Philippines-based Radio Veritas Asia (RVA).
She worked as a telecommunicator for Phil Wireless before serving at RVA, a pan-Asian Catholic radio station owned by the Federation of Asian Catholic Bishops' Conferences (FABC).
"Women outperform men in all areas of skill. The topic of this year's International Women's Day event, 'Gender Equality Today for a Sustainable Tomorrow,' is determining a world free of prejudice and bias," she told RVA News.
Person like Donarber, women play different roles in the media, the church's mission, society, the family, and more.
That realization came as she looked for meaning in her work to follow the mission, goals, and values of being a missionary to share God's words, learn how to communicate in a multicultural and global environment, and build strong relationships with people from diverse backgrounds.
As a research analyst, Donarber has helped determine the RVA's audience size and reactions to the program's content.
When asked in line with the mission of the Catholic Church and her role as a data analyst, the message for all women in the Philippines and around the world, Donarber, said, "I think I am empowered and equipped by God's grace," adding, "Assume you have data analyst traits like inventiveness. In that situation, you must be able to offer statistical data, strategic infographics, and essential insights with a creative attitude."
All men and women have a sense of "curiosity" as a quality, which should help to understand and interpret "what's behind the figures and know how to fix it. "Practical communication abilities should be present in a communicator," she added.
In terms of lifelong learning, women and men should be proactive. "Proactiveness at work and home means always planning and preparing for the future. It implies acting today to improve tomorrow," Donarber explained.
"We can regulate our actions to attain success. We must learn to recognize our flaws and turn them into assets," she says.
Above all, integrity should always be present, especially when working with large amounts of data and releasing them.
She takes "genuine pride in being a woman. She is simultaneously a wife, a mother of two, a daughter, a sister, and a friend.
"I stand up for myself, my family, society, faith, and the Philippines, my country with my struggles. No woman, no matter her age, should ever doubt her abilities. We are just as capable as males," she says firmly.
Donarber has served as a research analyst and prepared descriptive and analytical reports.
Describing her job in media companies and the experience that she has gained over the years, she has noticed that media research and data analytics have a bright future for transforming content personalization. Media companies can use research reports and data analytics to learn about their audiences' preferences, likes, favorites, and interests.
"I have had to work in the media industry many times. Personalizing content is changing now. It helps media companies better understand their audiences, refine their audience-focused strategies, and strengthen their relationships with them," Donarber says.
According to her data is now rampant in the media. Analytics and audience research are also highlighted. This allows the media to plan content, distribute it, and track product or program performance in new and exciting ways.
But significant data challenges remain. There is always a challenge in incorrectly interpreting massive data sets to produce meaningful and valuable insights or actionable insights. The media must dig deeper into what the data tells us and what opportunities it holds, she says.
"I like this job because I can help improve the (RVA) organization by preparing reports. I enjoy working with data and seeing its impact on organizations. Robust information includes projections, meaningful data interpretation, trends, and discoveries. This is the most exciting aspect of big data," Donarber adds.
She has learned a lot about data and analytics. The data is about people. "The knowledge is in your hands. For example, one of the most critical aspects is managing the station's data," she said.
She is in charge of the station's over 100 data sources from websites and social media. In this context, she would like to quote Yuval Noah Harari, an Israeli historian, and professor who wrote "Homo Deus: A Brief History of Tomorrow" in 2016. "If you get my data, the data should be used to help me and not manipulate me," he said. He was referring to modern social media algorithms.
Data should be used to turn numbers and information into valuable insights, like audience behavior and trend analysis.
As a result, data integrity is critical to any organization's decisions and potential. Data manipulation attacks are avoided at all costs.
"We spend so much time on social media, online shopping, and Google searches. Harari claims that by analyzing patterns, social media can reveal a person's entire self. We can all reveal our locations, meetups, products, videos, and even our true gender," Donarber says.
"Most importantly, we must handle data with care. We must never forget that data affects people's lives and must be treated with transparency, fairness, and respect," she adds.
Donarber was selected as a judge for RadioStar, an international talent search in 2021 that included ten professionals from the Middle East and Asia.
"I was thrilled and honored when I learned via LinkedIn that I had been chosen to serve on the final judging panel of an international talent search, RadioStar, representing the Philippines and Radio Veritas Asia," she recalled.
This contest would give her a chance to share her opinions and knowledge with other men, which would make her a stronger competitor.
"What made me more excited was seeing the judging panel members from all over the world. I was pleased to see many female directors, programmers, or radio managers from other countries," she said.
This RadioStar is about connecting with great people worldwide and discovering their talents and passions. "I could help them achieve their goal of becoming a program host. On my behalf, the five finalists auditioned audio clips and CVs (3 females and two males)," Donarber adds.
The female from the United Kingdom received the highest scores out of the five possible.
"I voted for her at the end of the scoring. I knew 'she' would win from the start of the audio demo," she said.
Besides working in RVA, Donarber also serves the Catholic Church through her involvement in the Marriage Encounter (ME) organization.
Explaining the need and importance of ME for Catholic families and the mission of the Catholic Church, she said that the ME community has nearly 500,000 members nationwide.
"We joined ME of the Philippines in 2016, and I learned the value of dialogue for married couples and their families from this community. We are one in our message of helping our community. We are united to achieve the primary goal of protecting the already damaged environment," she says.
With empathy, reconciliation, and marital unity, the ME is true to its vision. This vision of mutual understanding and dialogue through compassion, reconciliation, and marital unity is constantly emphasized in the weekend seminar for couples.
The community offers pastoral care, spiritual retreats, and Christian parenting for peace. In addition, the couple's relationship with God is examined.
The prayer meetings have become a place for many couples to meet God in their relationships. The ME members enjoy seeing couples express their emotions, hopes, and dreams and, most importantly, listen to one another in whatever situation they are in.
So, the program that teaches couples loving communication skills that they can use for the rest of their lives is working.
The Catholic Church affirms and supports couples in the life they have chosen and entered into through this beautiful experience and encounter with God. This is a lovely gift from God to strengthen the bond and enjoy life with children.
Through the ME community, the ME members and others can present and highlight Pope Francis's second encyclical 'Laudati Si' (praise be to you, 2015) and realize that each couple has a significant role in taking care of the creations of God, especially the only mother earth.  
"We lead the Laudato Si sector and the youth ministry. We are preparing our Laudati Si Action Plans and making a project called 'Plant a Tree,'" Donarber says.
The project has helped shape the knowledge to address environmental problems and climate change threats for the next generations.
"On my note, I am also hoping and praying that other communities, parishes, other organizations, and all families may share their contributions in responding to the Pope's call for environmental protection," she adds.
"We are all living on just one planet, our typical home, so altogether, especially with the involvement of the youth and even business people and big corporations, we should have one voice to revive our typical home from destruction," Donarber stresses.
Speaking on women's roles in the Philippine Catholic Church, she says that many Catholic women are active in pastoral activities.
"I have seen women serve their parishes in meaningful ways." They serve on parish councils, finance committees, and parish offices. In administrative sections, they coordinate people. They are the mass commentators and readers.
In the Church, canon lawyers, ecclesiastical lawyers, and judges exist. They assist the priest in distributing Holy Communion at Mass. They also teach children and youth catechism. In the church, a female pastoral associate is a nun who helps a priest with spiritual and clerical tasks.
"I serve in two roles in the ME community. Women have an equal voice in the Catholic Church. The Church needed to build schools, hospitals, and retreat centers. I believe I am fulfilling my role," Donarber says.
"While we have traditionally served the church in supportive roles, our greatest joy and sense of accomplishment came from being wives and mothers. As stated in the Bible, wives must submit to their husbands as part of the plan," she adds.
---
Radio Veritas Asia (RVA), a media platform of the Catholic Church, aims to share Christ. RVA started in 1969 as a continental Catholic radio station to serve Asian countries in their respective local language, thus earning the tag "the Voice of Asian Christianity."  Responding to the emerging context, RVA embraced media platforms to connect with the global Asian audience via its 21 language websites and various social media platforms.