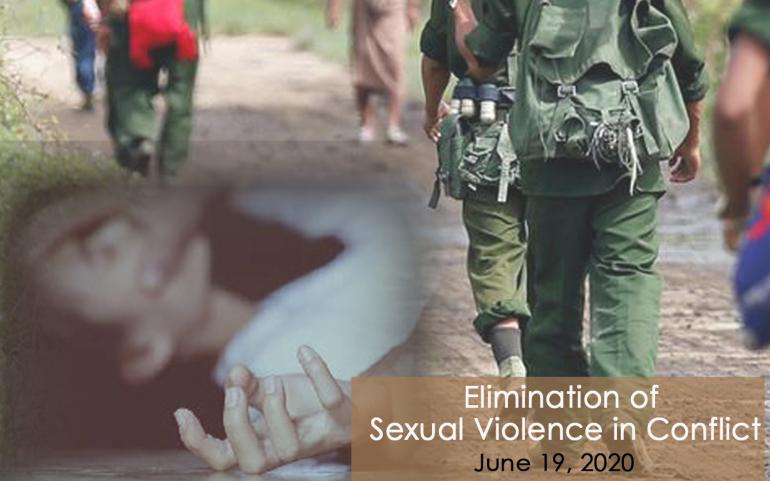 Saw Hubert
"Conflict-related sexual violence" refers to rape, sexual slavery, forced prostitution, forced pregnancy, forced abortion, enforced sterilization, forced marriage and any other form of sexual violence against women, men, girls or boys. 
The term also involves trafficking in persons when committed in situations of conflict for the purpose of sexual violence or exploitation.
On June 19, 2015, the United Nations General Assembly declared June 19 of each year the "International Day for the Elimination of Sexual Violence in Conflict" to raise awareness of the need to put an end to conflict-related sexual violence, to honor the victims and survivors of sexual violence around the world, and to pay tribute to all those who have courageously devoted their lives and lost their lives in standing up for the eradication of these crimes. 
The date was chosen to commemorate the adoption on June 19, 2008 of a Security Council resolution in which the council condemned sexual violence as a tactic of war and an impediment to peace-building. 
Rape and other forms of sexual violence committed against women and girls are very frequently found in military operation zones especially in countries where conflicts between the government and ethnic armed groups take place.
 
In 2020, sexual violence is like a hidden consequence of the COVID-19 pandemic. 
As communities around the world are forced to stay at home, women and girls are at a heightened risk of domestic violence, intimate partner violence, child abuse, and other forms of sexual violence.
Sexual violence in conflict is a threat to our collective security and a stain on our common humanity. It is used as a tactic of war, to terrorize people and to destabilize societies. Its effects can echo across generations through trauma, stigma, poverty, long-term health issues and unwanted pregnancy.
On the International Day for the Elimination of Sexual Violence in Conflict, we must hear the survivors, and recognize their needs and demands. They are mostly women and girls, but also men and boys, calling for our support to access life-saving health services, justice and reparation.
Today we also honor those working on the frontlines, directly assisting victims to rebuild their lives. 
"Our global response must include more concerted action to ensure accountability for the perpetrators – and to address the gender inequality that fuels these atrocities," said Antonio Guterres, UN secretary general.
Some possible ways to eliminate sexual violence in conflict zones:
the establishment of victim-centered services and treatment for the victims of sexual violence through the cooperation of governments and non-government organization.
improve the safety of those in conflict zones and monitor the situation of the people under the governmental and any possible programs. 
suitable punishments should be imposed upon perpetrators and renewal courses for their mental health and morals should be set up. 
Conflicts between and among the people create different sorts of unwanted consequences including sexual violence. 
Governments, non-government organizations, all people of good will and individuals should take part in eliminating sexual violence especially in conflict areas.