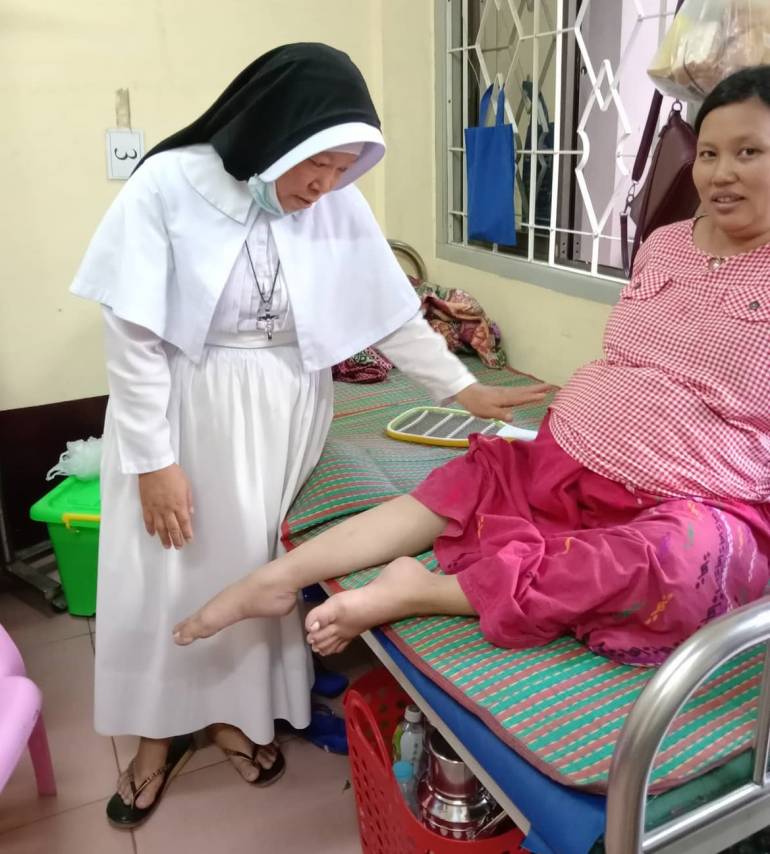 Sister Ann Rose Nu Tawng, who was a victim of war and a migrant in Kachin State in the northern part of Myanmar, becomes a courageous and generous nun.
In sharing her story, Sister Nu Tawng, a member of the Sisters of St. Francis Xavier, recalled, "In January 1992, we were evicted from Kho San village. We left our homes, farms, buffaloes, and cows."
"They would burn down if the entire village was not relocated, and moved from Kho San village to Mile Ywae village," she added.
Sister Nu Twang who has 13 siblings told RVA News, "The following year, we rented a house and went to school. There were various difficulties. In the past, no one gave us a grain of rice when we fled the war. Even a shirt was not given. That was long ago."
"Many people now help refugees in various ways. They also provide a place to live, eat, drink, and wear. They help, whether they have enough or not," noted the nun.
In the past, all villagers were forced to leave their village. In fact, the whole village was composed of the Catholic majority, according to her.
Her father was a pastor. There was no more church in her old village. 
"I cannot go back. If villagers return to their homes, the whole village will be burned. Even people would be killed, they (soldier) claimed," said Sister Nu Tawng.
In visitation to her old birthplace, the nun said, "When I went back to my former village, there was no one, no more house, and church there."
"Proudly to say, I lived in the bush and in the forest when I was very young."
Recalling the struggle of her parents, the nun who is the fifth child out of 13 children shared, "Many siblings worked with our father who was also a catechist. My mother was very tired of striving for the family with little support from her husband. For this, I also thank my mother." 
When the nun and her family members were living in Kho San village, they fled when soldiers came into the village to get porters, arrest many people, and recruit them, according to the nun.
"As a child, I had to flee into the jungle and dig holes and hide. They took whatever they want in the village. We had to return to the village only after they had already left," recalled the Sister.
When she saw the soldiers, she was shocked and scared. It hurt her. Soldiers also fired at and killed her uncle who was walking in the field. It's quite cruel. She feels so sorry for retelling her story.
She said, "It hurts so much to think about life as a child. When I saw the military and police uniforms, I felt cold and scared. When I was young, I was evicted and fled my birthplace. I was happy living there."
Their house was a two-story building. At that time, she was attending Grade 4 at the elementary school.
According to the nun, sometimes village elders and young people were arrested. Then youth were forced to carry the military belongings. The women in the village were married by soldiers in pretension. But when military soldiers were transferred to another battalion, they left the women with pregnancy there. There was such a thing that happened. If villagers did not do what soldiers asked them, they were beaten and even killed.
"They (soldiers) threatened and beat us. I was always afraid of them. I forgive them for what happened in my life, but I will always remember what they had done. The children ran away when they saw the soldiers coming into the village. I cried. If they came, it would be like a tiger coming. Everyone was scared," she said.
The persons who must protect the civilians threatened, beat, and killed them. For this reason, she would never forget when she was young. She thought the same thing would happen to her peers. 
She feels sad. It was very difficult to start a new life after leaving behind all the belongings and everything.
"I also felt sorry for my parents. We lived in someone's house as refugees. I lived a life of homelessness. In the past, I was underestimated because I did not own a house to live in when I was a refugee. My whole village was at war."
Some of the Catholics fled to Myitkyina which is the capital city of the Kachin State. Those who had a few properties and paddy fields left theirs behind and ran away. Some who saved some amounts of money moved to Myitkyina.
The poor villagers who had no traveling expenses remained in the safe area near the village. Many Catholic faithful moved to Myitkyina. Some moved to Bhamo town. Only those who could not move were left with difficulties.
Father La Nu who is a priest from the diocese of Myitkyina proved, "When Sister Nu Tawng thinks that people who are sick, especially those who need her help for their health, she has a strong desire to help all walks of life regardless of race and religion."
"And when it comes to the truth, if she thinks she is right, she dares to speak out without risking his life. She dares to do it. She has such courage," added the priest.
The BBC Worldwide media listed her as one of the 100 most influential women in the world in 2021 for her courageous kneeling apology in front of the Myanmar security forces to protect the protesters.
Sister Ann Rosa Nu Tawng became a Catholic nun in 2005. She is currently working as a nurse Sister at the Mali Gin Dine private clinic under the Diocese of Myitkyina. - Mahn Jim/Karen Pwo Service 
---
Radio Veritas Asia (RVA), a media platform of the Catholic Church, aims to share Christ. RVA started in 1969 as a continental Catholic radio station to serve Asian countries in their respective local language, thus earning the tag "the Voice of Asian Christianity."  Responding to the emerging context, RVA embraced media platforms to connect with the global Asian audience via its 21 language websites and various social media platforms.