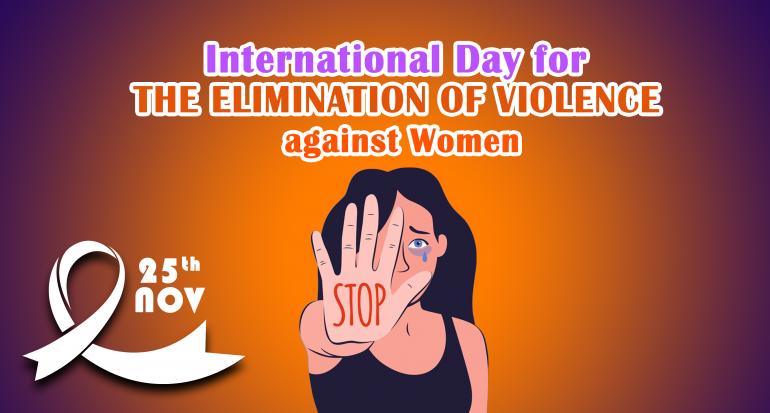 Violence against women and girls is one of the most widespread violations of human rights.
In 1981, activists at the Latin American and Caribbean Feminist Encounters marked November 25 as a day to combat and raise awareness of violence against women more broadly. On December 17, 1999, the date received its official United Nations resolution.
To raise awareness and trigger action to end this global scourge, the UN observes International Day for the Elimination of Violence against Women on November 25. The date marks the brutal assassination in 1960 of the three Mirabal sisters, political activists in the Dominican Republic.
Every year, November 25, and the ensuing 16 Days of Activism against Gender Violence that follow, provide individuals and groups a chance to mobilize and call attention to the urgent need to end violence against women and girls.
The main causes of the violence is an extreme form of aggression, such as assault, rape or murder. Violence has many causes, including frustration, exposure to violent media, violence in the home or neighborhood and a tendency to see other people's actions as hostile even when they're not. 
Violence can lead to premature death or cause non-fatal injuries. People who survive violent crime endure physical pain and suffering and may also experience mental distress and reduced quality of life. 
Repeated exposure to crime and violence may be linked to an increase in negative health outcomes.
"We can avoid violence by using common-sense tips to reduce your risk of being a crime victim. Stay in well-lighted, busy areas; travel with a friend if possible; walk in a confident, assured way," said one woman. 
The call is to strive to prevent and combat rape and sexual violence, to challenge the gender stereotypes and the negative attitudes and behaviors that underlie and perpetuate such violence, and to support and provide redress to women who are willing to speak up.
Experts said that rape is one of the most under-reported crimes, and even when it is reported it is rarely prosecuted. This is due to a number of factors including gender based stereotypes, as well as criminal justice systems which define rape based on the use of force. These present the key obstacles for needed change.
"The persistence of widespread and systematic rape and sexual violence against women and girls, even in States that have proclaimed zero tolerance on violence against women, demonstrates that sexual violence is deeply entrenched in our still predominantly patriarchal societies," the experts said.
Power and control continue to create a social environment whereby such violence is normalized, and gender-based stereotypes on the role of women in society undermine and devalue women.
These factors contribute to the unacceptable tolerance of rape, including within criminal justice systems, often resulting in impunity for perpetrators.
 
Moreover, criminal justice systems that adopt force-based definitions of rape often require evidence that the perpetrator used coercion and that the victim failed to fight back. 
As such, the burden is placed on the woman to prove that she resisted. If unable to do so, the perpetrator would walk free while the victim is left stigmatized.
So, only together we can eliminate violence against women and girls in this world. - Nikhil Gomes