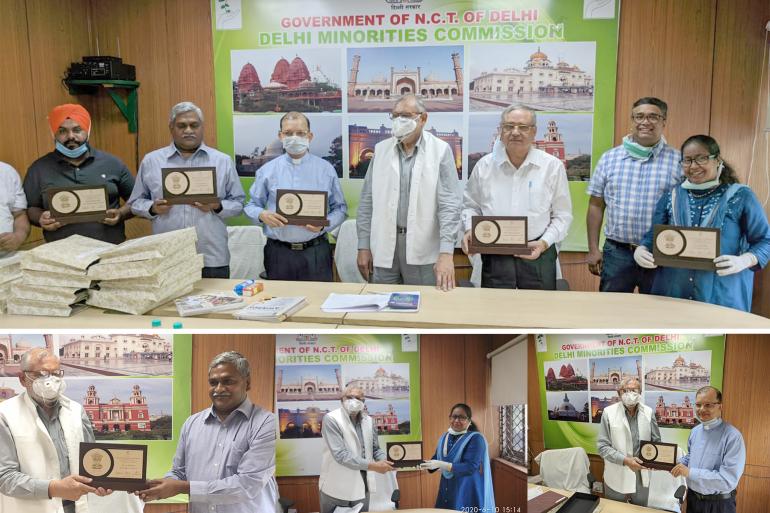 New Delhi (Veritas Asia News) The Minority Commission of Delhi awarded three Christian leaders among others with "Human Right Award", June 10 in Indian capital New Delhi for their achievement in promoting human rights and dignity.
The awards were given for outstanding services rendered by these individuals to society at large. They include Fr. Denzil Fernandes SJ, Fr. M.D Thomas, Mr. A C Michael and Mrs. Anna Pinto. Due to the Corona pandemic, the Commission did not hold any public function as planned but conferred the awards privately by summoning the awardees separately and conferring them with the award.
Fr. Denzil Fernandes SJ is the Executive Director of Jesuit-run Indian Social Institute, Delhi. He was conferred with Human Right Award for being a "reputed social scientist working for the human, civil and minority rights in the country and for having served as a member of a Delhi Minority Commission fact-finding committee. He has been actively involved in organising various programmes for the dissemination of Delhi Government schemes for the welfare of minorities. Fr. Denzil told RVA News that he has been active in supporting social activists and human rights activists in their struggle to protect the Constitutional values in our country.
Mr. A. C. Michael, a Delhi-based Catholic layman told our correspondent that his entire education was sponsored by a Hindu Brahmin family. For nine years from 2011 he served as a member of Delhi Minorities Commission. He has served as the national coordinator of the United Christian Forum (UCF), national coordinator of the Minority Affairs of All India Catholic Union (AICU), and vice chairman of Media and Communication, National Council of YMCAs of India. In the Archdiocese of Delhi he has served the Commissions for youth, laity and pastoral council.  He recalled how a deep bond exists between him and the archdiocese and the Christian community of the national capital since 1985.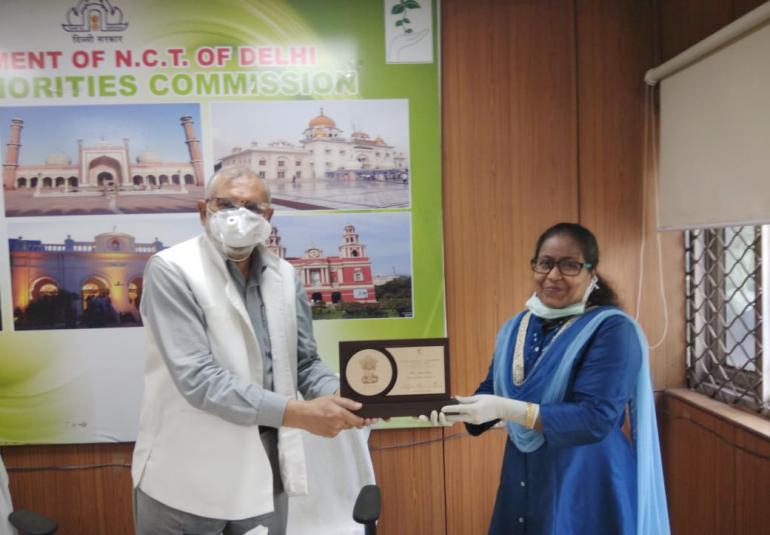 Mrs. Anna Pinto is a teacher of the Presentation Convent Senior Secondary School for twenty two years. She has been conferred the award in recognition of her service in the field of Human Rights by providing awareness among the students through the Human Rights Clubs and other programs. She made the students aware that Human Rights are international norms that help to protect people from political, social and legal abuses. She also made a very special effort to make children read and watch documentaries on Human Rights to help the students to not only enjoy their rights but also to understand each other and live in peace and harmony letting all enjoy their rights as well as fulfilling their duties.
Fr. M. D. Thomas is the Founder Director of Institute of Harmony and Peace Studies in New Delhi. He has been awarded for his work in the field of communal harmony and interfaith dialogue. Fr. Thomas is a specialist of languages, cross-cultural perspectives, religions, cross-scriptural values, interfaith relations, communal harmony, national integration and social fellowship. He has been involved in the mission of interfaith harmony for 40 years.
The Human Right Award by Minority Commission of Delhi was also conferred on Jesuit priest and activist Fr. Cedric Prakash. He was conferred life time achievement award for his work to promote human rights, peace, interfaith and reconciliation. He is a writer, speaker and trainer on justice and peace issues.
Fr. Varghese Kunnath was awarded for his outstanding service in teaching moral values and ethics to children. He is also known for conducting seminars for youth, teachers, principals, parents in different states as well as in abroad. He promotes the justice and peace among the children and youth.
Fr. P. R. John, the principal of Vidya Jyothi college, Mr. Henri Sequeira, an active Social worker, Mrs. Lucy Gabriel Chattopadhyay, an outstanding media person and broad caster, Mrs. Grace David, a teacher at St. Columba's School, Delhi Mrs. Magdalene Bhat, a teacher and Mrs. Maria Rodrigues were the other notable persons who received the Human Right Award conferred by the Minority Commission of Delhi.
Mr. Joseph Lobo from Mumbai commenting on the Social Media said that at least now the works of the church is being recognized. This kind of recognition is an inspiration to work with more zeal, he noted.
(Anthony Swamy, RVA News)