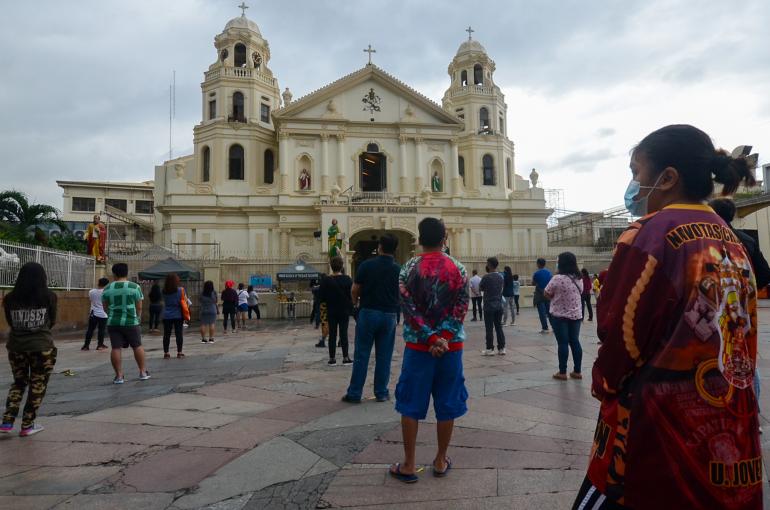 All public celebrations of religious rituals and activities will be suspended in the Archdiocese of Manila from August 3 to 14 as a response to calls made by the country's medical professionals to implement stricter quarantine measures against the new coronavirus disease.
In a pastoral instruction, Broderick Pabillo, Apostolic Administrator of the Archdiocese of Manila, instructed all churches and shrines to revert to measures implemented during the "Enhanced Community Quarantine" in April.
On Saturday, August 1, at least 80 medical associations and societies in the country called for a "time out" for a period of two weeks and appealed to the government to implement more strict measures to curb the spread of the virus.
The Philippines posted a record upsurge in new coronavirus cases — with 4,963 new cases — for the third straight day on Saturday, August 1, bringing its total cases past 98,000..
Bishop Pabillo said the Church also "heard"  the call of the medical professionals.
"We share the compassion of the medical frontliners for the many sick people being brought to our hospitals. We have witnessed their dedicated service to those who come to them," said the prelate.
"Many among them are tired and even discouraged by their heavy responsibilities. So we support their appeal for a 'time out,'" he added.
The Manila bishop noted that the current responses made by the government on the pandemic "are not working because cases are rising after four months and a half of quarantine."
"So all the stakeholders really need this time to come together to evaluate and improve our approaches to fight this pandemic," said Bishop Pabillo.
He said that as response to the call, churches in the Philippine capital "will not hold public religious activities from August 3 to August 14" although online Masses will continue.
The prelate asked the faithful to help stop the spread of the virus by taking seriously the health protocols, such as the proper use of face masks, the required physical distancing, the frequent hand washing, and not to go out of their homes unless necessary.
Bishop Pabillo, who announced on Sunday, August 2, that he was already free of the new coronavirus disease, appealed to the faithful for generosity.
"We all suffer from this pandemic economically. However, there are many families who are more badly impacted than others. So we appeal for generosity," said the bishop.
"Let us give whatever we can, however little it may be, so that no one may suffer the pangs of hunger," he added.
He also asked the faithful to intensify their prayers that our "frontliners may be kept safe, that those who are sick may get well soon, and that all our families be protected from the virus."
On Sunday, August 2, Bishop Honesto Ongtioco of the nearby Diocese ofCubao also announced the suspension of all public liturgical services to "allow our frontliners to breathe (and for) our government to assess and proactively respond to the situation."
He said the Church also needs to evaluate "how we can better help our brothers and sisters who are suffering in this situation."
Bishop Ongtioco called on the public "to be diligent in practicing" the minimum health protocols, saying that "our compliance will help save lives and stem this virus."
The bishop said that the call for a "time out" by the healthcare workers is necessary to allow them "to get their bearings back, to breathe, and to energize for the burgeoning task ahead."
The prelate expressed alarm over the country's overwhelmed health system, which he said "is creaking at a critical stage, with hospital beds for coronavirus patients running out."
"Your understanding, compassion, and generosity are key in helping us tide these challenges and alleviate our people's suffering," he called on the faithful. - LiCAS.news