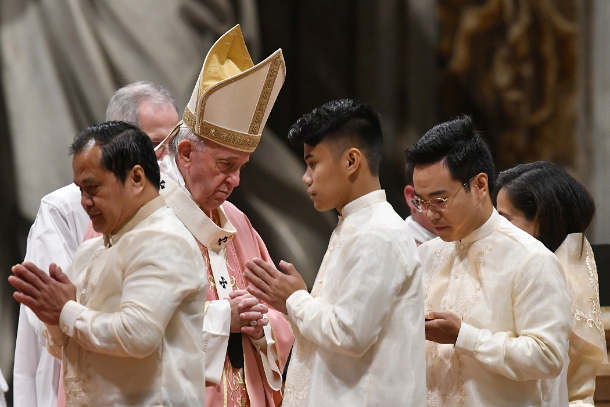 Pope tells Filipinos 'to continue being smugglers of the faith' [photo can also be taken from the ucanews.org site with proper credit]
Pope Francis has called on Filipinos, especially those who are living and working abroad, to "continue to be smugglers of the faith."
He made the call at the end of a traditional "Simbang Gabi" Mass that he celebrated with the Filipino community in Rome on Dec. 15.
The "Simbang Gabi," or night Mass, is a devotional nine-day series of masses celebrated by Filipinos in anticipation of Christmas.
It was the first time in history that a pope officiated a "Simbang Gabi" Mass, although such celebration has been held in the Saint Peter's Basilica four times before.
The pope's remark acknowledged the role of Filipinos, mainly migrant workers, in the spread of the Catholic faith.
He was alluding to how Filipino migrant workers practice their faith even in places where it is dangerous to show their religious affiliation openly.
More than 86 percent of the Philippines' some 80 million people are Catholics.
In his homily, Pope Francis thanked Filipinos for bringing the "Simbang Gabi" devotion to other countries.
He told migrants "who have left your land in search of a better future" that they have a "special mission."
Read full story at ucanews.org