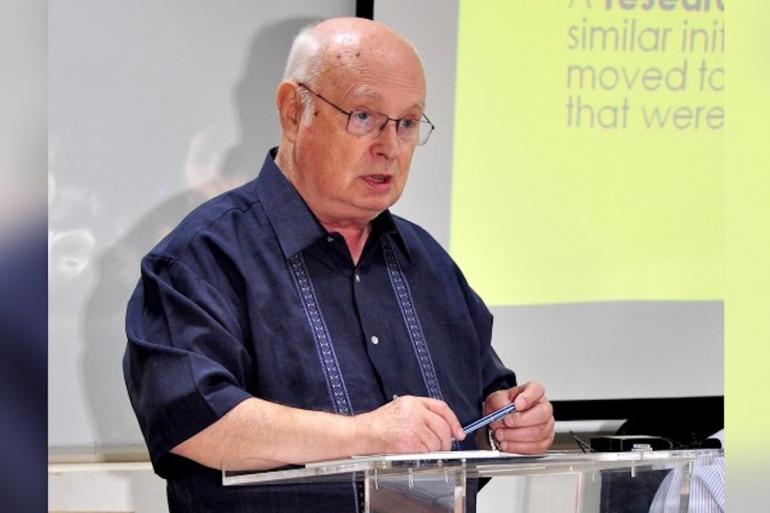 Fr. Bernard Dashi Tang
Program Director, Radio Veritas Asia
I'm very grateful to Father Victor, general manager of Radio Veritas Asia, for extending to me the privilege to deliver the homily at this funeral Mass for Father Franz-Josef Eilers, SVD.
I met Father Eilers for the first time in 2010 when I came here to study. I met him in his room at Catholic Trade, the provincialate community of the Society of Divine Word. 
Later I was allowed to stay at Catholic Trade while studying in UST as his student. His room is 202 in the first floor, and my room was 302 in the second floor of the same building. 
For almost three years I also had the chance to be with him in the same building; celebrating daily Mass with him in the same chapel, and having dinner at the same dining hall. In this way I became very close with Father Eilers, and I came to know about him more.      
Father Franz-Josef Eilers, a member of the Society of the Divine Word, was born in May 1932 in West Germany. He was ordained priest in Germany in 1959.
In 1968, he founded in Germany the journal "Communicatio Socialis," which was the very first academic publication for Christian communication. The journal still exists today after more than 50 years of publication.
Father Eilers served as executive secretary of FABC-OSC from 1995 to 2010 for 15 years. He also helped in the development of Radio Veritas Asia.
He also served for many years as Consultant to the Holy See's Pontifical Council for Social Communication. He was also the founder-director of the Catholic Media Council in Aachen, Germany. 
As director of Cameco, and as a member of the Pontifical Council for Social Communication, he contributed richly to the communication ministry of the Church globally and in Asia in particular.
He was a highly esteemed teacher who taught for many years in different universities including the Pontifical Gregorian and Salesian universities in Rome. 
In 2001, Father Eilers initiated a graduate program in social and pastoral communication at the Pontifical Royal University of Santo Tomas in Manila. He retired from teaching at UST only in 2018 at the age of 86.
Today, there are many MAT-SPC Licentiate graduates that included priests, religious and laity from Asian countries like China, India, Vietnam, Thailand, Myanmar, Korea, Bangladesh and Indonesia. 
He also served as the director of the Asian Research Center for Religion and Social Communication at Saint John's University in Bangkok, Thailand.
He authored several books and scholarly articles including "Communicating in Ministry and Mission." He has written extensively on human and social communication and helped developed the concepts of "pastoral and evangelizing" communication, especially for the Church in Asia.
The last book he wrote, "The Church and Social Communication in Asia," was published last year. He talked about communicating the Gospel in the digital world. He also mentioned about globalization and culture, and topics like "Intercultural Communication and New Evangelization in Asian perspective." 
He felt that the Church must be abreast with the latest in communications technology to make the Gospel fresh in this digital age.   
This pioneering German missionary, Father Frank-Josef Eilers, who worked to develop media and communication systems in the Asian Church, passed away in the Philippines on Jan. 13. He was 89.
Archpishop Chacko of Indore, India, former president of the FABC-OSC said: "We have lost a great friend, motivator, teacher and leader who spent most of his years as a priest in developing a strong church media."
Father Gerge Plathottam, current FABC-OSC executive secretary, said: "Father Eilers was also a great communication luminary, author and teacher. He contributed richly to the communication ministry of the Church globally and in Asia in particular."
His students were often touched by his heart of gold. According to them, his kindness, generosity, and cheerful nature won him a large network of adoring friends.
A former student said even noted Catholic Trade Room 202 served as the "spiritual space" for any priest, religious, seminarian or lay who sought for a "co-pilgrim in this interior spiritual journey to God."
Now, Father Franz-Josef Eilers, SVD, meets the ONE he has shared and communicated in his life and mission across cultures, traditions and generation.
In today's Gospel, Jesus not only proved that his authority came from God, he also showed the great power of God's redeeming love and mercy by healing the cripple of his physical ailment. 
The Lord is every ready to bring us healing of body, mind, and spirit. This is how Jesus communicates to us. Jesus is the best model for all the communicators.
Father Eilers, who taught how to communicate like Christ, that is through pastoral communication, was a respected leader in the field of social and pastoral communication in the Catholic Church. He was a man with a strong love for social communication. 
For me, he was the best mentor, guide and a father. I will always remember him as an energetic and very punctual man with a great sense of humor. 
May the soul of dearest Father Eilers rest in the Peace of Christ. Amen.