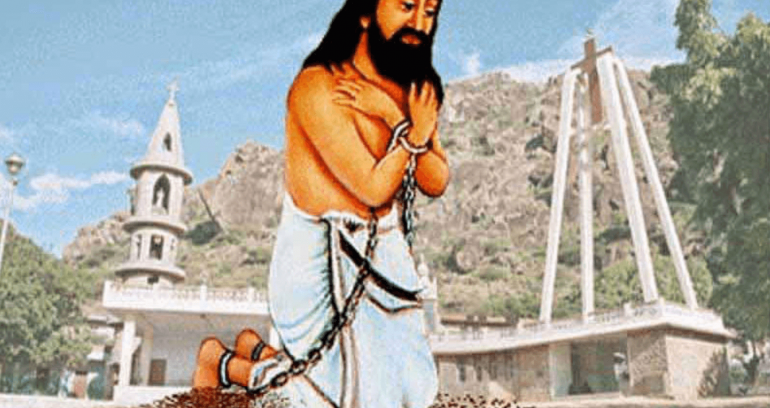 Pope Francis approved the Sainthood of an Indian martyr, Blessed Lazarus, called Devasahayam Pillai. The Congregation for the Causes of Saints announced the canonization on November 9.
Pope Francis will canonize Blessed Devasahayam Pillai and six other Blesseds during a Canonisation Mass in St Peter's Basilica in the Vatican on May 15, 2022.
Who is this Devasahayam Pillai?
The saint-to-be Devasahayam Pillai is an 18th-century Hindu married man who converted to Catholicism.   Devasahayam Pillai was born in 1712 in the hamlet called Nattalam of Vilavancode Taluka,  the present district of Kanyakumari. His parents Vasudevan Namputhiri and Devaki Amma named him Nilam, also expanded as Nilakandan, both being two forms of the same name of the Hindu God Siva.
When Nilam grew up into an adult, he had a position in the king's royal court.  People added "Pillai" to his name. "Pillai was a suffix added to the names of those born in a high caste  and who also rise to a high position in the society. That is how Nilam was also known as Nilam Pillai or Nilakandan Pillai. The family of Nilam was rooted in the Hindu faith and his father was serving as a priest in the Siva temple at Nattalam.
Where did  Devasahayam Pillai get so skilled?
As a youth of the Nair caste, Nilakandan was trained in the art of warfare, together with the study of the languages Tamil, Malayalam and Sanskrit. As a Nair by birth, he spoke Malayalam at home. But he was living in a region where Tamil was the spoken language of the majority.
Besides the languages, Nilakandan was like all the Nair youth of his days, probably taught archery, varmasastra (the South Indian martial art based on the science of human physique), and weapons of war. It is possible that during his Education, which was mostly private, in some way he came in contact with the Catholic faith.
What was the Devasahayam Pillai work experience?
Nilakandan Pillai started his career as a soldier. He did well in that profession and excelled his fellow soldiers in the maturity of judgment and firmness of mind. Later on, he was also an official in the Nilakandaswamy temple at Padmanabhapuram. He was a palace official, working in the king's treasury.
The job later brought him to Udayagiri fort as in one charge of accounts, while the modernization of the fort was in progress under the efficient leadership of Eustache de Lannoy between the years 1741 and 1745. Nilakandan Pillai was the paymaster to the construction labourers of the fort.
What are Devasahayam Pillai's distinctive qualities?
Nilakandan Pillai was by nature active, energetic and committed to his duties. Therefore, he was also dear to his superiors, especially to the king. He was a good person: enthusiastic, ingenious, and natural inclination to oppose evil and do good. He was remarkably regarded for his high education, sharp intelligence and his upbringing in martial arts.
Did you know about Devasahayam Pillai's virtuous Married Life? Nilakandan was wealthy and possessed rich wealth in terms of properties. He was educated and well-placed in society and did not have any habits unbecoming of a good person. The near and dear ones admired him that many families came forward to offer him their daughter's hand. But he finally married Bhargaviammal, a woman from a traditional family. Nilakandan Pillai married Bhargaviammal of the village of Mekkodu, near Eraniel, belonging to his caste.
How did Devasahayam Pillai encounter Christianity?
It is possible that some of those who trained him in the South Indian martial art and varmasastra were Catholics. It is possible that ,he came in contact with the Catholic faith in his dealings with them somehow. As an educated person, he could have read some Christian books on Malayalam and Tamil, with both of which he was very well-versed.
During the first months after he joined the Travancore army, De Lannoy fought under general Duijvenschot on the side of Travancore. De Lannoy also served as an instructor in the use of flintlocks. In 1742, De Lannoy reorganized the palace guards and got them fully trained in three months. The palace guards were so trained that they came to be armed and dressed like the Europeans. Marthanda Varma was pleased with that and made De Lannoy commander of the palace guards. De Lannoy trained the palace guards in three months so well that Marthanda Varma could send back the Madurai troops, thus saving 60,000 Rupees per month for the king.
The king was so pleased that he appointed De Lannoy successor to Duijvenschot as Venattu Kapittan (Captain of Venad).
The work of Nilakandan Pillai brought him in touch with De Lannoy again. Frequent high-level contacts brought them together and an intimate friendship blossomed between them. They would often spend time in personal conversation, which sealed their friendship.
Devasahayam Pillai  in crisis mode.
In 1744 by God's Providence, he had been submitted to heavy trials. Then he was not in a position to understand the nature of this recovery.
Nilakandan Pillai shared with De Lannoy about the losses he had incurred. Nilakandan Pillai wondered whether the gods were angry with him even though he performed all his religious duties. He was also afraid if some persons were against him and had carried out some sort of black magic against him, whereas, in reality, he had no enemies at all. Thus Nilakandan Pillai was beset with a lot of doubts and fears.
De Lannoy consoled his friend Nilakandan by sharing with him his faith as a Christian. He narrated to him the story of Job in the Old Testament, a personification of unconditional trust in God in the face of unbearable tragedies. Nilakandan listened to him with great consolation. He was impressed by Job's sense of absolute confidence in God, which was not evident in his knowledge of the Hindu faith.
Thus the Word of God was sown on the soil of Nilakandan's heart. The ongoing discussions between both convinced Nilakandan Pillai of the truths of the Christian faith and he decided to get baptized. He expressed his decision to his friend De Lannoy. It is an eloquent example of the evangelization ministry of a layperson.
Conversion Starting with His Wife.
 The first Objection against the baptism came from his wife. After about three months by the grace of God and from the instructions from Devasahayam Pillai, she agreed to embrace Christian Faith. She was given the Christian name Theresa (Gnanapu was her old name).
What were the result of Devasahayam Pillai's conversion?
He underwent both mental and physical tortures. Mental Tortures are those which are aimed at causing mental fatigue, mental strain, and shame. Physical Tortures are the kinds of physical tortures inflicted on the Servant of God Devasahayam Pillai during the three years of his long wait to martyrdom.
When he was arrested, he was put in a narrow prison, as small as an oven: five palms high, one cubit broad and a little more than one cubit long. The prison's door was just two palms high.
He was paraded on buffalo with hands tied behind and sitting backward. It was a shameful South Indian way of treatment meted out to persons to be punished. All along the way, some people mocked him and cursed him.
He was given thirty blows with canes each day. Once there were thirty-five wounds or scars on his body. The laceration of the skin was done by means of "a certain thorny scourge resembling a file" to make the application of the chilli powder. They also tormented his face. He was locked in a Prison cell with a few pots of boiling water kept around him with red hot chili powder in it, that he might suffocate and change his mind.  he was thrown into a prison which was full of biting ants called kadierumbu (red ants) and also he was thrown with poisonous Snakes and scorpions. He survived miraculously.
How the Mid-night Execution happen?
At the dead of midnight on January 14, 1752, he was shot dead. The place for the execution was on the fringe of the wild Aralvaimozhy forest. It was a deserted place, inaccessible to ordinary human beings. The spot was called Kattadimalai (now called "Devasahayam Pillai Mount), meaning the mountain with an unceasing flutter of winds.
The dead body of Devasahayam rolled down to the ground. From this ground, pious Catholics have been taking out a handful of the earth as medicine for their ailments. Touching this blood-stained sacred ground stands a cluster of hillocks, which when the one near the sacred ground is a rock when struck by an object produces in the pleasant sound of a bell as it were to express its joy in having witnessed the death of a courageous Christian. In Tamil, the hillock is called mania dichan parai -  the rock with the sound of a bell. It is said that this rock came rolling down from the mountain top, making a bell-like sound at the time of his death.
What were Devasahayam Pillai's Canonization Efforts?
According to the report submitted by the then Bishop of Cochin (under whom Kanyakumari church was then functioning) in 1756, the Christian martyrdom of Devasahayam Pillai was promptly intimated to the Vatican. Prominent witnesses to his saintliness and martyrdom include Paremmakkal Thoma Kathanar. In 1780, Kariattil Ouseph Malpan submitted a petition to the Vatican for canonization of Devasahayam Pillai.
In 1984, a group of laypersons from the diocese of Kottar, especially members of Nagercoil Catholic Club, once again took the initiative to seek the beatification of Devasahayam. This is unusual for a layman, but he is regarded as one who was devoted to Christ.
After a series of initiatives by the diocese of Kottar and much deliberation, the Catholic Bishops' Conference of India (CBCI), Tamil Nadu Bishops' Council (TNBC), later in 2004, duly recommended his beatification, following scrutiny of available historical evidence, in consultation with others.
In June 2012, Pope Benedict XVI officially recognized a decree from the Congregation for the Causes of Saints stating that he lived a life of "heroic virtues" – a major step towards beatification – and Pillai was then referred to as "Venerable." He was declared a Martyr and Blessed on December 2, 2012, at a solemn ceremony held in the Diocese of Kottar at Carmel Higher Secondary School Grounds, Nagercoil, near his burial. The Prefect of the Congregation for the Causes of Saints, Angelo Cardinal Amato, presided at the function as Delegate of Pope Benedict XVI. Now Pope Francis approved his Sainthood and will be formally canonized on May 15, 2022.
A Prayer To Blessed Devasahayam
Blessed Devasahayam, for the love of Christ, you have willingly and patiently underwent torments and tortures for three years, and willingly sacrificed your life and obtained the joy of eternal life and the veneration at the alters as God's great reward. We praise and thank God for blessing you with this glorious life.

You set apart your whole life for preaching on the Kingdom of God, leaving behind all the worldly pleasures of wealth, status, name, fame and glory. You as a true Disciple of Christ, faithfully put into practice the values of the Gospel, the equality and Fraternity of all people on earth.

Assist us to follow you in leaving behind all the worldly pleasures and help us to live as children of the kingdom of God and put into practice faithfully the values of the Gospel so that we may one day enter into eternal life to be with God and your company forever and ever.

O! Blessed Devasahayam, Glorious Martyr! Pray For Us!
(Courtesy: https://blesseddevasahayampillai.blogspot.com)
---
Radio Veritas Asia (RVA), a media platform of the Catholic Church, aims to share Christ. RVA started in 1969 as a continental Catholic radio station to serve Asian countries in their respective local language, thus earning the tag "the Voice of Asian Christianity."  Responding to the emerging context, RVA embraced media platforms to connect with the global Asian audience via its 21 language websites and various social media platforms.