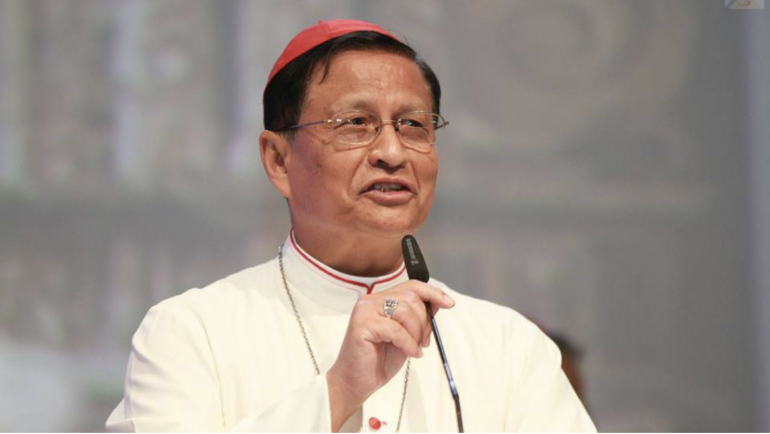 After all the Easter and Feast Days celebrations we have come to Ordinary Sundays of the year. Let us come to some simple reflections.
I. "Whoever does not take up his cross and follow me, is not worthy of me. Whoever finds his life will lose it; but whoever loses his life, for my sake, will fine it."
Now I would like to stop the world for just one minute and ask you to think back. Think back with me to the first century. Think about those 50 years after Jesus' death and what it must been like for Jesus' disciples. Before the last one died their efforts had brought 500,000 men, women, and children into the ranks of the Church. But what they had to suffer in order to accomplish this task is seldom discussed. We like the outcome of their discipleship but we don't want to hear the cost of discipleship. 
So for the record here is the cost: History tells us:
John died of extreme old age exiled to the island of Patmos. He was put into boiling oil but miraculously saved.
Peter was crucified; head downward, during the persecution of Nero.
Andrew died on a cross at Patrae, a Grecian Colony.
James, the younger, son of Alphaeus, was thrown from a pinnacle of the Temple, and then beaten to death with a club.
Bartholomew was flayed alive in Albanapolis, Armenia.
James, the elder son of Zebedee, was beheaded at Jerusalem.
Thomas, the doubter, was run through the body with a lance at Coromandel, in the East Indies.
Philip was hanged against a pillar at Heropolis.
Thaddeus was shot to death with arrows.
Simon died on a cross in Persia (what we now call Iran.)
Matthew was first stoned and then beheaded.
What sacrifices! And I ask you why? Why did they choose to die this way? Why desert your father and mother, your wife and child, and your home? Why put up with the constant humiliation, and hunger, and persecution, and defeat town after town after town?
I'll tell you why, because, in the words of Apostle Paul, they were held captive by the words and teachings of Jesus Christ. It is Paul's way of saying they were slaves to Christ.
Paul himself was beheaded.
II. Whoever Welcomes You, Welcomes Me
Recently I was sent this story.  He was in his mid-70's with thinning silver hair and a neat brown suit. Many times in the past I had invited him to come to church. He was well respected, honest, a man of good character. He acted much like a Christian would act, but he never came to church. After I got to know him well and we had talked about a wide range of subjects I asked him if he had ever been to a church service.
He hesitated. Then he told me of an experience he had as a boy. He was raised in a large family. His parents survived the depression but they struggled to provide food and clothing for the family. When he was around ten years old a friend invited him to go to church with his family.
He went – the Sunday School class was great. The songs were fun to sing and the stories, oh the great Bible stories, were exciting to hear. He had never heard anyone read from the Bible before. As class ended the teacher pulled him aside and said, "Son, please don't come again dressed as you are now. We want to look our best when we come into God's house."
He thought about that for a moment and said softly, "No ma'am I won't ever." Then he looked at me, the author wrote and said, "And you know what… I never did." It was clear that he was done with that conversation.
I am sure that the Sunday School teacher meant well and in fact was representing the feeling of the majority of the folks in that church. But what if, what if she had put her arms around the dirty little boy in the ragged overalls and said, "Son, I am thrilled that you came this morning and I hope you will come every chance you get to hear more about Jesus because he loves you so much." What if that church would have thought, Whoever welcomes you welcomes me, and whoever welcomes me welcomes the one who sent me."
The story ended like this: Yes I saw him in the church house for the first time on Wednesday and I cried as I looked at the immaculately dressed old gentleman lying there in his casket. He was looking his best. But all I could think of were those words of an impressionable little ten-year-old boy echoing in my mind, "No ma'am I won't ever."
III. "If anyone gives even a cup of cold water to one of these little ones, because he is my disciple, I assure you, he will not go unrewarded"
I cannot help but think of an old story told about Mother Teresa of Calcutta. She was asked how it was that she could continue to tend the sickest and most wretched of the poor in the slums of Calcutta, India. Mother Teresa said that as she looked at each person for whom she was caring she tried to imagine that she was tending the Lord Jesus' wounded body – His nail-scarred hands, feet, and side. And so it was that in each act of caring, the Kingdom of God embraced and even reached out through Mother Teresa as she welcomed Christ in her neighbor and as she embraced the neighbor as if that person were the Lord Himself! God remembers each act of hospitality.
For treating the patients, Mother Teresa asked her sisters if possible not to use the gloves, because they are touching the body of Christ.
A Morning Greeting
James is 72 years old. Every single morning, unless the weather is very bad, James stands at the corner of the road, and what he does is he simply waves to the passing motorists, waves "good morning" to them. He has become a kind of self-appointed ambassador of goodwill on that corner, and every day at 7:15 he's there and he stays until 9:00 A.M.
Because he's not so young as he used to be, he has to often use his cane as he stands there. In an interview, James said that women are generally more generous in responding to his greeting than men are. One day he counted 180 women who waved back and only 75 men. A guy kind of thing, I guess. James went on to say, "You know, I just do it for the fun of it, and what I have found is if you are nice to people, welcoming to people, they respond to that and they are nice in return."
Now that's such a simple kind of thing, isn't it, but how profound that is. Hospitality is simply the ability to make another person feel welcome in a sincere kind of way. In a lonely world where people are rushing to one place or another, these busy motorists were made to feel welcome in the world by this man who stood there on the corner waving to them — someone who dared to break through that barrier of isolation and dared to offer a sign of hospitality.
Especially during this time of COVID, people are nervous, people are lonely and some committed suicide. We need one another, we need to welcome each other.
"He who welcomes you,  welcomes me. And who ever welcomes me, welcomes him who sent me."
 
---
Radio Veritas Asia (RVA), a media platform of the Catholic Church, aims to share Christ. RVA started in 1969 as a continental Catholic radio station to serve Asian countries in their respective local language, thus earning the tag "the Voice of Asian Christianity."  Responding to the emerging context, RVA embraced media platforms to connect with the global Asian audience via its 21 language websites and various social media platforms.