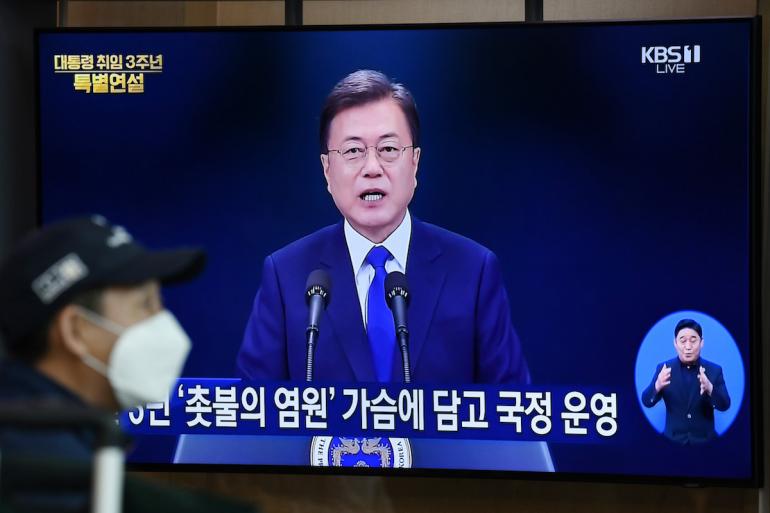 South Korean President Moon Jae-in lauded the Catholic community in the country for taking swift action at the start of the new coronavirus outbreak in late February.
In a meeting with church leaders on Aug. 20, the president also asked the Catholic Church "to become a role model in curbing transmissions," reported Yonhap.
"I want you to take care of people's hearts, beaten down by COVID-19 being prolonged, and impart the courage and leadership needed to unite people for safety (from the virus)," said Moon, himself a Catholic.
The president said he is taking the current situation "very seriously."
He said should the ongoing quarantine efforts fail, the government would have no other choice but to elevate the level of social distancing, which will then have "unspeakable economic damage."
Cardinal Andrew Yeom Soo-jung, Catholic archbishop of Seoul, promised the president of the Church's cooperation in fighting the pandemic.
"We will be with you and advise people to faithfully do their parts in their own places," said the cardinal.
During the onset of the first wave of the pandemic in late February, all 16 Catholic dioceses in the country suspended the public celebrations of Masses until April.
It was the first time Masses came to a complete stop in the 236-year history of Catholicism on the Korean Peninsula.
Catholic church leaders have earlier announced that it might again suspend public religious celebrations due to the recent surge in virus infections.
The country's new daily virus infections reached 288 on Aug. 20, the seventh day in a row the daily tally increased by a triple-digit number.
South Korea has a total of 16,670 confirmed COVID-19 cases with 309 deaths, and 14,120 recoveries.
The country's coronavirus infections came back "in full swing" after members of a Christian church attended a political demonstration.
The country was one of the first nations outside China to see an explosive spread of the new coronavirus, but intensive tracing and testing had brought infections under control.
The latest outbreak is driven by hundreds of infections among members of a church run by a conservative preacher who attended an anti-government protest in Seoul on Aug. 15.
Kwon Jun-wook, deputy director of the Korea Centers for Disease Control and Prevention, said the demonstration may have been a "catalyst" for the nationwide outbreak.
At least 53 of the new infections are linked to the Sarang Jeil Church, bringing the group's total to 676. Hundreds more members of the Presbyterian church are being traced for testing.
The government has banned in-person church meetings in the greater Seoul area — an urban sprawl of 25 million people — and closed other high-risk locations, including nightclubs, karaoke bars, buffets and cyber cafes.
The Seoul city government restricted rallies there to fewer than 10 people from Aug. 21 through the rest of August. - LiCAS.news with Reuters