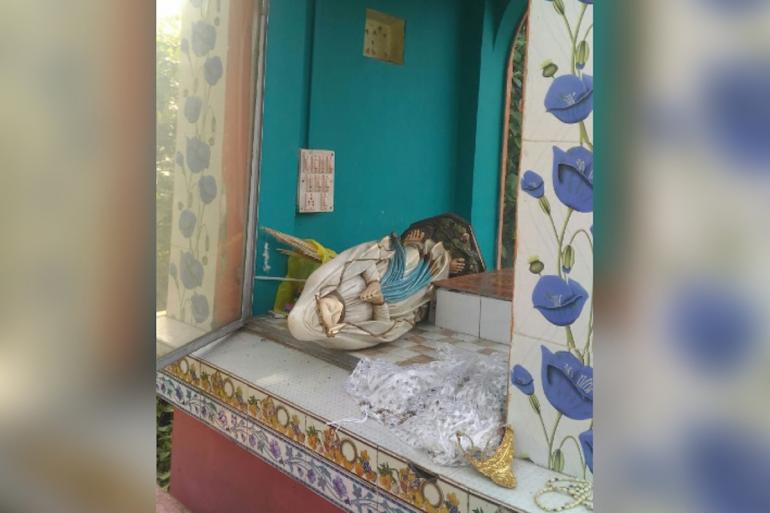 Statues of Blessed Virgin Mary and St. Mother Teresa have been vandalized at a church in India's east.
Unidentified individuals removed the two statues from grottos at the Sacred Heart Church at Morapai in West Bengal state and then broke them into pieces.
The damage was first discovered on the morning of Nov. 28.
Bishop Shyamal Bose of Baruipur said the culprits tried to vandalize other statues but did not succeed.
"We don't know who is behind this crime, but we have the cooperation of the administration," Bishop Bose told LiCAS.news
"Two members of the legislative assembly, including a minister, and officers from the police station have visited the site," he said.
Parish priest, Father Phillip Durlov Bar, said the statues were desecrated in the dead of night.
"[The vandals] threw the broken pieces on the road, but parishioners collected these and kept them in their homes so that nobody trampled over them," Father Bar said.
Bishop Bose, with vicar general Father Kanuj Roy, visited the church to take stock of the situation; there he talked with a crowd of 300 anxious people who had gathered.
The bishop asked them to maintain the peace and then prayed over them.
The authorities have assured church leaders that they will arrest those responsible for the damage and replace the destroyed images, the bishop said.
New statues were reinstalled at a ceremony on Nov. 30.
The prelate said Minority Affairs Minister Giasuddin Molla has promised to install high-powered lights in five locations around the church and convents.
The incident has occurred as the state approaches state assembly elections April-May next year and some in the community fear the vandalization has been done to foment trouble; pitting one group against another.
West Bengal is currently ruled by the Trinamool Congress but the pro-Hindu Bharatiya Janata Party (BJP) is trying to wrest power from them in the coming polls. Traditionally the state was a Communist Party bastion.
Christian persecution in India has been on the rise ever since the BJP has been in power at a national level since 2014. - LiCAS.news