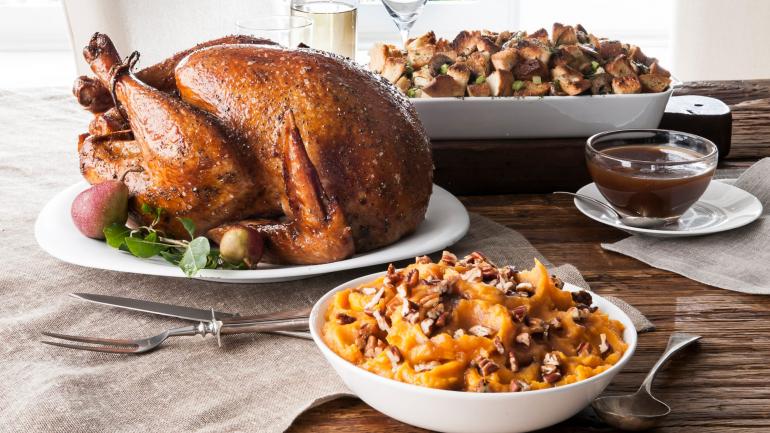 Thanksgiving Day is a national holiday in the United States, and Thanksgiving 2020 occurs on Thursday, November 26.
In 1621, the Plymouth colonists and Wampanoag Native Americans shared an autumn harvest feast that is acknowledged today as one of the first Thanksgiving celebrations in the colonies. For more than two centuries, days of thanksgiving were celebrated by individual colonies and states.
It wasn't until 1863, in the midst of the Civil War, that President Abraham Lincoln proclaimed a national Thanksgiving Day to be held each November.
Thanksgiving Traditions
In many American households, the Thanksgiving celebration has lost much of its original religious significance; instead, it now centers on cooking and sharing a bountiful meal with family and friends. Turkey, a Thanksgiving staple so ubiquitous it has become all but synonymous with the holiday, may or may not have been on offer when the Pilgrims hosted the inaugural feast in 1621.
Beginning in the mid-20th century and perhaps even earlier, the president of the United States has "pardoned" one or two Thanksgiving turkeys each year, sparing the birds from slaughter and sending them to a farm for retirement. A number of U.S. governors also perform the annual turkey pardoning ritual.
But what is the origin of this holiday?
The Pilgrims came to Plymouth on a ship called the Mayflower. They were the first English settlers in America. And they had a big feast with Indians, and that was the first Thanksgiving.
The Puritans who came to Plymouth in 1620 almost didn't survive. Half the settlers died the first winter. They were saved by a Native American named Squanto, who taught them how to hunt and fish and grow corn.
But here's what is really interesting:  Squanto was a Roman Catholic.
In 1614, he had been captured by an English party led by Captain John Smith and taken on a ship to Spain where he was to be sold as a slave. He was rescued by some Dominican friars who instructed him in the Catholic faith. He told them he wanted to return to his people in America. They helped him get to England, where he met John Slaney, who taught him English and arranged for him to get to Newfoundland. Squanto served as an interpreter between the English and the Indians.
After he came to the aid of the Plymouth settlers, helping them grow their own food, he arranged for a joint harvest feast with the local Wampanoag tribe. It was this event that is the basis of the Thanksgiving holiday. So, Thanksgiving was started by a Native American Catholic. Ironically, the Wampanoag tribe later took Squanto hostage because they distrusted him, and he was rescued by the English. It is possible that the Indians poisoned him, which led to his death shortly afterwards in 1622.
So, the Catholics deserve the credit not only for the first Thanksgiving, but for the first real religious freedom in America.
Source: https://www.catholicworldreport.com/2019/11/27/the-catholic-origins-of-thanksgiving/