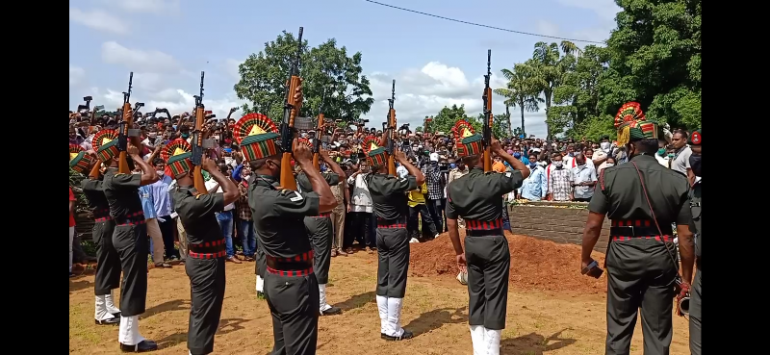 Purushottam Nayak
A village in Odisha's Kandhamal district on June 19 witnessed heartrending scenes at the funeral of a Catholic young man, who was among 20 soldiers killed in the India-China border clashes.
Slogans such as "Bharat Mata ki jai" (victory to Mother India) and "Chandrakanta amar rahe" (Let Chandrakanta remain immortal) rent the air as the body of Chandrakanta Pradhan arrived in the morning at Bearpanga, his native village.
The collector of Kandhamal, local members of parliament and state legislative assembly, Odisha police officers, representatives of the Indian Navy, and Bihar Regiment were among some 15,000 people who flocked to the village to pay their tributes to the 28-year-old soldier.
After Pradhan's body arrived at Raikia, the nearby town, it was taken in procession to Bearpanga, 4 km away. Pradhan's parents accompanied the flower-decked cortege along with guests and dignitaries.
The entire Kandhamal district mourned the death of its brave son.
Pradhan and 19 other Indian soldiers were killed on June 16 at Galwan Valley in the disputed Asai Chin-Ladakh. He was a native of Bearpanga village under the Our Lady of Charity Church, Raikia, a parish of the Archdiocese of Cuttack-Bhubaneswar.
Father Prabodh Pradhan (no relation), pastor of neighboring Sukanada parish, led the funeral Mass, assisted by four priests.
"We live in deeds not in years. Chandrakanta, our dear son, had great faith in Christ. He sacrificed his life for the country's safety and security. He learned how to sacrifice for others and the nation from our redeemer who sacrificed His life for the salvation of mankind," Father Pradhan said in his homily during the funeral Mass.
Father Trinath Kanhar, associate priest of St. Sebastian Parish, Kurtumgargh, led the funeral rites. The burial was done with the military honor in a special grave dug in the backyard of Pradhan's house.
A message from Bishop Niranjan Swalsingh of Sambalpur, secretary of the Odisha Catholic Bishops' Council, was read out during the Mass.
"Condolences and spiritual closeness to the parents and dear and near ones of martyred soldier. May God grant him eternal rest for the sacrifice he has made to the nation. He made our Catholic Church proud for his profound faith in God and sacrificing love for the India," the bishop said on behalf of prelates in the eastern Indian state.
"Loss of hero Chandrakanta brings tears but cause of his death brings joy and pride to our Catholic faith," said Sister Jayanti Singh, one of the four Daughters of Charity who attended the funeral.
Purnima Pradhan, a woman neighbor of Pradhan, noted that he was kind and "very loving to everyone in our village."
Juano Digal, a village catechist who taught Pradhan catechism, said the brave youth always stood for justice, truth, and for common good of society. "He had special devotion to Mother Mary," the 57-year-old man told Matters India.
"He is not only a proud son of Bearpanga but entire Kandhamal district, Odisha state and India," he added.
Father Bhanjakishore Nayak, the associate priest of Our Lady of Charity Parish, Raikia, said Pradhan's martyrdom has brought tears to all people of Odisha.
The "teary final farewell to the martyr of Galwan Valley will remain forever in the minds of people irrespective of caste, creed and religion," the priest told Matters India. - Matters India