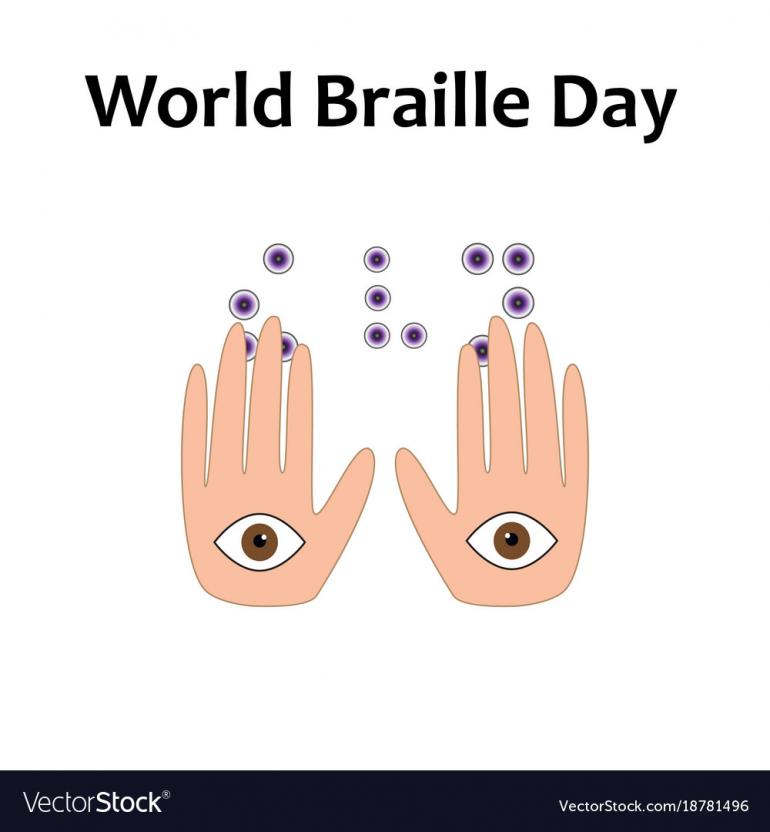 World Braille Day, celebrated since 2019, is observed to raise awareness of the importance of Braille as a means of communication in the full realization of the human rights for blind and partially sighted people.
What is Braille?
Braille is a tactile representation of alphabetic and numerical symbols using six dots to represent each letter and number, and even musical, mathematical and scientific symbols. Braille (named after its inventor in 19th century France, Louis Braille) is used by blind and partially sighted people to read the same books and periodicals as those printed in a visual font. 
Persons with vision impairment
Eye conditions are remarkably common. The World Health Organization estimates that globally 36 million people live with blindness and 216 million people have moderate to severe visual impairment. 
Persons with vision impairment are more likely than those without to experience higher rates of poverty and disadvantage. Not meeting their needs, or fulfilling their rights, has wide-reaching consequences: vision loss often represents a lifetime of inequality, poorer health, and barriers to education and employment.
Celebrate Braille Literacy
World Braille Day is a reminder of the importance of accessibility and independence for those who are blind or visually-impaired. The reality is that many everyday establishments — restaurants, banks, hospitals — aren't equipped with braille menus, statements or bills. That means people with blindness or a vision impairment aren't given the freedom to choose their own dinner … or to keep their finances private.
World Braille Day spreads awareness about braille and other accessible forms of communication. Everyone deserves (and is legally entitled to) the same accommodations and service, regardless of ability. On World Braille Day, let's remember that and do our part to make our workplaces more accessible for everyone.
Louis Braille didn't get to see just how helpful his invention became. He died in 1852, and it wasn't until 2 years later that the school he attended as a child, France's Royal Institute for Blind Youth, began teaching it to students. In 1916 it was used widely at schools for the blind in the United States. Today in United State, braille is on objects that people use every day—signs, ATMs, elevators, calculators, and more. Rubix cubes, watches, legos, and other innovations are constantly changing the way that Braille is used.