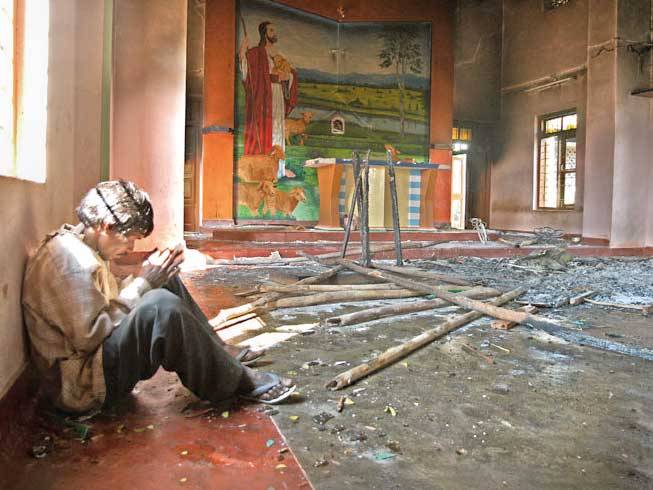 The United States Commission on International Religious Freedom (USCIRF) has produced an assessment of religious freedom in several nations including some countries in Asia that underline the continued systemic violations of religious minorities.
On April 25, 2022, the USCIRF released its yearly report on the religious freedoms of various nations. 
USCIRF describes itself as "an independent, bipartisan, and separates from the U.S. Department of State U.S. government advisory body that monitors religious freedom worldwide and makes policy recommendations to the president, secretary of state, and Congress."
USCIRF defines religious freedom as the right to believe or not believe as one's conscience leads and live out one's beliefs openly, peacefully, and without fear.
Freedom of religion or belief is an expansive right that includes freedom of thought, conscience, expression, association, and assembly, stated USCIRF. 
The report noted the serious regression of religious freedom in the countries assessed, particularly among minorities. 
"Religious minorities have faced harassment, detention, and even death due to their faith or beliefs," said the report. 
The report classified the evaluated nations into two distinct groups. The first group consists of the nations that USCIRF recommends the State Department identified as "countries of particular concern" (CPCs). 
According to the report, "CPCs are countries where the government engages in or tolerates "especially severe" violations of religious freedom, such as torture and long-term incarceration without trial."
Afghanistan, Burma, and Pakistan are the countries that fall into the first category. This group includes China, Eritrea, India, Iran, North Korea, Nigeria, Pakistan, Russia, the Kingdom of Saudi Arabia, Syria, Tajikistan, Turkmenistan, and Vietnam.
The second group consists of nations that USCIRF recommends be placed on the State Department's Special Watch List (SWL). The report said that the SWL is for countries where the government acts in or tolerates "serious" and pervasive breaches of religious freedom. 
The report said that Algeria, Armenia, Cuba in the Central African Republic, Ethiopia, Indonesia, Iraq, Kazakhstan, Malaysia, Nicaragua, Turkey, and Uzbekistan were all part of the second category group.
USCIRF highlighted several aspects of Asian countries' religious freedom.
The report redesignates Burma (Myanmar) as a "country of particular concern" for engaging in systematic, ongoing, and egregious violations of religious freedom, as defined by the International Religious Freedom Act (IRFA). 
The report also said that in 2021, religious freedom conditions in Burma declined significantly. 
"Conditions for ethnoreligious minorities, such as the mostly Muslim Rohingya and the Christian Chin, worsened as order broke down and civil and political rights were violated," says this report.
IRFA says that religious freedom is being violated in China, an atheist country. These violations are systematic, ongoing, and very serious.
The report indicated that religious freedom conditions in the most populous country deteriorated due to the government's continued implementation of its "sinicization of religion" policy. 
The policy "demands that religious groups and adherents support the Chinese Communist Party's (CCP) rule and ideology," the report explained. 
Religious freedom has considerably deteriorated in India, the world's most populous democracy, with an estimated population of over 1.3 billion, of which 79.8 percent are Hindu.
The Indian government has intensified its advocacy and enforcement of policies that advance a Hindu-nationalist agenda at the expense of Muslims, Christians, Sikhs, Dalits, and other religious minorities.
Also, the Indian government continued to implement its utopian goal of a Hindu state at the national and state levels by implementing new and old legislation and structural changes that were detrimental to the country's religious minority.
Meanwhile, USCIRF designated Vietnam with an allegation of engaging in systematic, ongoing, and egregious violations of religious freedom. 
According to the report, the Vietnamese government continued to enforce the 2018 Law on Belief and Religion, which, as written and implemented, contravened international human rights standards. 
The report also mentioned that the authorities persecuted members of unregistered independent groups and subjected believers and religious freedom advocates to long-term imprisonment. 
"Authorities continued to persecute independent religious communities, including Protestant Hmong and Montagnard Christians, and adherents of other religious movements," said the report. 
On the other hand, Indonesia, the world's most populous Muslim-majority country, with Muslims comprising 87.2 percent of Indonesia's 267 million citizens' religious freedom, is trending the same as the previous report. 
The report acknowledged that despite ongoing rhetoric from national leaders—including President Joko Widodo (Jokowi)—promoting Indonesia's moderate version of Islam, there was minimal to no progress in addressing parts of the legal system.
"Authorities actively enforced blasphemy laws," the report says. "Most charges and allegations stemmed from what people saw as insults to Islam."
Based in the USA, USCIRF monitors the universal right to freedom of religion or belief (FoRB) abroad; makes policy recommendations to the President, Secretary of State, and Congress; and tracks the implementation of these recommendations. 
USCIRF's analysis is based on international standards. Article 18 of the Universal Declaration of Human Rights affirms that: 
"Everyone has the right to freedom of thought, conscience, and religion; this right includes freedom to change his religion or belief, and freedom, either alone or in community with others and in public or private, to manifest his religion or belief in teaching, practice, worship, and observance." - Kasmir Nema 
---
Radio Veritas Asia (RVA), a media platform of the Catholic Church, aims to share Christ. RVA started in 1969 as a continental Catholic radio station to serve Asian countries in their respective local language, thus earning the tag "the Voice of Asian Christianity."  Responding to the emerging context, RVA embraced media platforms to connect with the global Asian audience via its 21 language websites and various social media platforms.