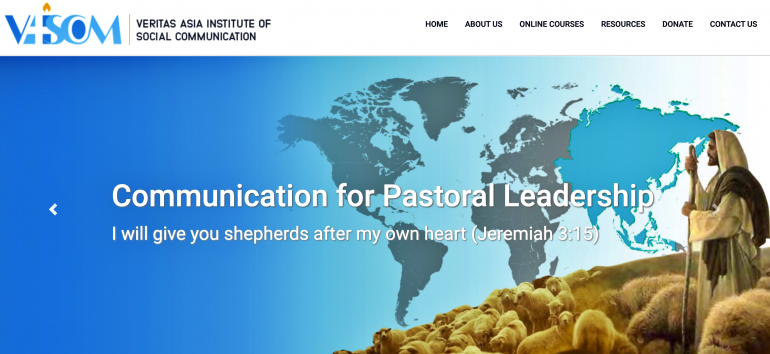 A top Vatican official, Pope Francis' climate change desk man, stressed the importance of journalists in disseminating information about environmental issues.
 "We need you," said Salesian Father Joshtram Isaac Kureetadam, coordinator of Ecology and Creation at the Vatican Dicastery for Promoting Integral Human Development. Environmental scientists, advocates of climate change, promoters of ecology and others need journalists to get the message across," he said.  
He was speaking at the conclusion of a two-week online training workshop on reporting and documentation on environment issues organized by the Federation of Bishops' Conferences - Office of Social Communication (FABC-OSC) in collaboration with Veritas Asia Institute of Social Communication (VAISCOM), and 'Living Laudato Si' Philippines.
Father Kureetadam explained Pope Francis' concern about climate change and the urgency to act in favour of people who bear the brunt of the devastation the earth is facing due to the behaviour of rich and powerful nations. 
Bishop Roberto Mallari, Chairman of the FABC-OSC, inaugurated the workshop. Bishop Mallari said climate change affects everyone, and all of us must do whatever is in our power to respond to the call of Pope Francis to care for the earth and enable people to live with dignity.  
The course was in response to the Pope's call to promote a healthier environment and build the capacity of church personnel to report and document stories related to the environment in the spirit of 'Laudato Si' (Praise Be to You).
Salesian Father George Plathottam, Executive Secretary of the FABC-OSC and course coordinator, urged the participants to use media skills to draw people's attention to Pope Francis' call to ecological conversion and responsible use of the resources of the earth. 
The aim of the workshop was "to report news and write features to showcase what goes against 'Laudato Si' and to tell stories that provide inspiration, said Father Plathottam. "Communication skills and tools can be effectively used to highlight stories related to the environment," the priest said.
Participants were taught to identify story ideas and how to report and build basic data and documentation. Besides reporting skills, they learned to monitor how the church organizations and NGOs respond to the significant issues identified in Laudato Si and international bodies like United Nations.
Adrian Tambuyat, a media trainer, said we need to be digital shepherds in our work. "More than simply using communications technology, we must make the faithful feel the presence of the Good Shepherd in the digital peripheries," he added.
The introductory course enriched the participants with experiences like practical skills in reporting, identifying story ideas, building data, and documentation on environmental issues, focusing on the Church's engagement in this regard in Asia.
"Our course was an interiorizing experience for me. I got much as it was a 'hands-on' program," said Salesian Sister Lohri Ophriini, an Indian missionary in Cambodia. We got an overview of environmental issues, training in reporting news about the environment, building up story ideas, and newsgathering.
"Reporting news and documenting is a skill and at the same time. I learned to appreciate and enjoy reading the news," added Sr Ophriini, after the 22 hours session during the seven days.
Another participant, Emiliana Saptaningsih, who works for a non-profit organization (NGO) in Denpasar, Indonesia, said, "the journalism course and Laudato Si will contribute a lot to my future writing." 
Sr Robancy Helen said that this course made me recommit myself to make known the story of the simple yet powerful faith of the Indian Christians.
Rodne Galachia, who heads the 'Living Laudato Si' Philippines, an organization committed to environmental issues, challenged the participants to think about one's contribution to ecological education and spirituality. 
Father Santosh Digal taught the participants how to report news on environmental issues and write and publish stories in Church and secular media. He called for advocacy through their writing. Care for the earth is urgent since "We may have a plan B, but we do not have a planet B."
Catholic journalists Joe Torres Jr and Mark Saludes enlightened the participants about data gathering, writing news, features and photography. 
Fr Bernard Dashi Tang, Radio Veritas Program Director, introduced the major themes in Laudato si, which journalists can highlight. 
Twenty candidates, including clergy, nuns, laity, and youth from seven countries, participated in the workshop. - Lissy Maruthankuzhy dsp