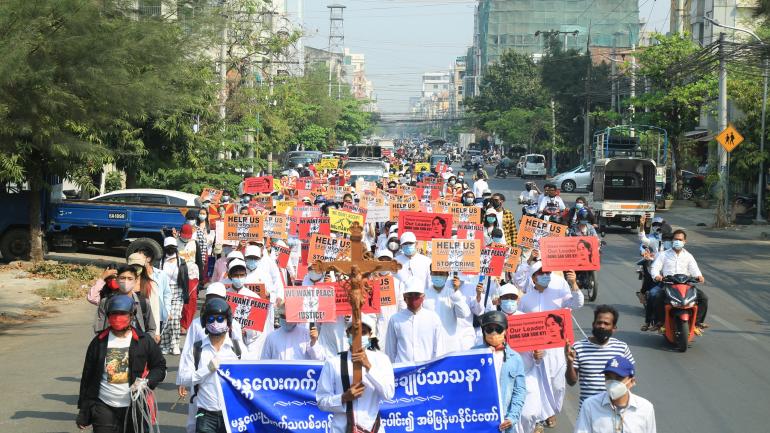 Cardinal Charles Maung Bo of Yangon called for patience and tolerance amid growing violence in Myanmar a month after the military took over the government in a coup.
At least 18 anti-coup protesters were shot dead by security forces on February 28, the bloodiest day since the coup.
"Let us all believe in the power of love and reconciliation," Cardinal Bo said in his homily on Sunday.
"We are all sons and daughters of the same land, same mother Myanmar, and we need to exercise patience and tolerance," he added.
The Catholic prelate reminded the people of Myanmar, especially those who want to lead the country, to "serve."
"Service is the greatest power, not guns. Make peace our destiny, not conflict. Arms are useless. Rearm ourselves with reconciliation and dialogue," said Cardinal Bo.
Hundreds of Catholics, including priests and nuns, marched in the streets of Mandalay on Sunday while praying the rosary and calling for a peaceful solution to the crisis.
People started to gather at the Sacred Heart Cathedral as early as nine o'clock in the morning before marching around the city. 
Police and soldiers, however, fired on the peaceful demonstration.
The United Nations human rights office said at least 18 people were killed and more than 30 were wounded. Some media reports said that as many as 26 people died.
Tear gas was also reportedly used in various locations as well as flash-bang and stun grenades. - Peter KyiMg/RVA News