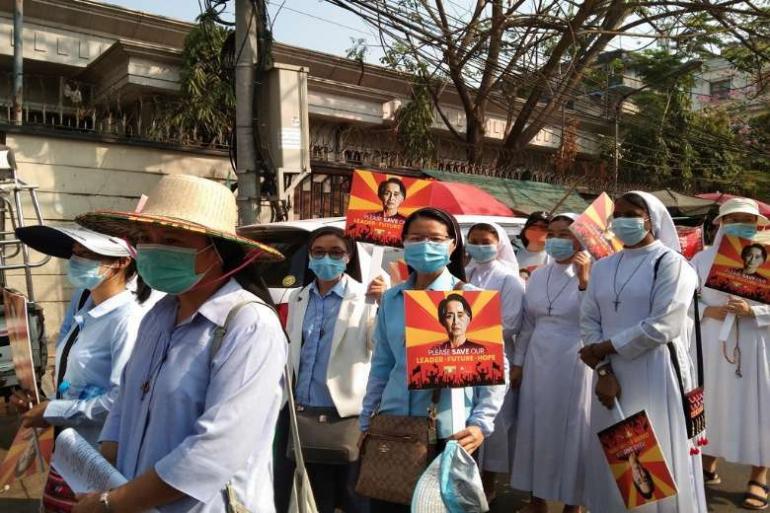 Catholic nuns, seminarians and laypeople have marched on the streets to pray for peace as pro-democracy protests intensify in Myanmar three weeks after the Feb. 1 coup.
Nearly 1,000 Catholics, mostly young people, marched on the streets of Yangon on Feb. 21 while hundreds were on the streets in Mandalay on Feb. 20 to recite prayers and the rosary.
Last week nuns, priests and laypeople also took to the streets in Kayah state, a Catholic stronghold in northeastern Myanmar, to pray for peace.
Christians from other denominations joined Catholics on the streets in several cities in Kachin and Chin states to pray for peace.
Nuns have provided food and drinks to protesters in Yangon while some have organized prayer meetings at their convents.
On Feb. 19, dozens of Catholic youths held a demonstration in front of the US embassy in Yangon while thousands of anti-coup protests gathered in front of the embassies of China, Japan and Singapore.
Myanmar has seen daily protests from urban cities to remote areas including Christian strongholds where ethnic groups have showed their support for pro-democracy rallies.
On Feb. 20, two people including a teenager were killed and more than 20 injured in Mandalay, Myanmar's second-largest city, during a violent crackdown by security forces on protesters.
The latest bloody crackdown has sparked strong condemnation from the United Nations, the US, Britain and the European Union.
Huge anti-coup protests were being held in several cities on Feb. 22 to show the strong public opposition to military rule.
All supermarkets, shops and markets were closed and the public were urged to join a general strike.
Protesters noted the significance of the date 22.2.2021, which follows a similar pattern to 8.8.1988 when an uprising against military rule led to a bloody crackdown.
Good Shepherd Sisters in the US and Canada have condemned the military coup as they are gravely concerned that conditions in Myanmar will drastically decline with "this blow to democracy."
"We pray for the people, for their strength and safety. They are a courageous and faith-filled people who seek and deserve respect and freedom and whose rights are being violated in this military coup," the sisters said in a Feb. 18 statement.
"We join with the international community, unanimously standing with the people of Myanmar on the side of democratic, fair and just elections and the rule of law."
Some 640 people have been arrested, charged or sentenced since the coup, according to the Yangon-based Assistance Association for Political Prisoners. - UCA News