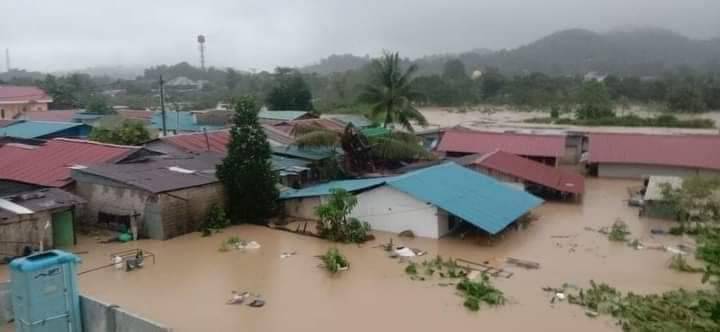 Numerous sub-districts in Batam City, Riau Islands, Indonesia, were flooded on December 31 and January 1 due to two consecutive days of torrential rain. 
 
Among the flood victims were 133 residents of Kampung Aceh in Batam City's Muka Kuning subdistrict who were forced to abandon their homes when stagnant water reached a one-meter height.
 
"At least 57 families, totaling 133 individuals, have been safely evacuated to St. Hilary's parish hall in Batam," Father Korinus Budaya, the assistant parish priest, told RVA News.  
 
Furthermore, the priest claimed that the flood occurred because the river could not cope with the quantity of rainfall it was receiving and overflowed, inundating residential communities. 
He stated that heavy rains caused flooding and landslides in some locations.
 
Due to the continued flooding on Batam, most of the island's residents remain stranded in refugee camps, including the St. Hilary Parish hall, as their homes have not been entirely restored.
 
St. Hilary's parish team collaborated with parishioners and volunteers to provide service and care to the refugees at the parish hall.
 
The parish hall served as an instantaneous refugee camp to rescue flooding victims from Catholic and non-Catholic families who had been displaced. Since New Year's Eve, residents displaced by floodwaters have stayed at the parish hall as temporary homes.
 
Apart from the Protestant family, Fr. Korinus said among the 57 households that remained in the hall, "there were six Muslim families." Regardless of their origins, he emphasized that the parish welcomes all flood-affected residents.
 
Meanwhile, in dealing with the refugee inflow at the hall, Fr. Korinus noted, the parish has been assisted by Catholics from St. Hilary's parish, parishioners from neighboring parishes, and others.
 
The church also received donations from many people who contributed food, beverages, and other necessities to the refugee families.
 
From December 31 to January 1, St. Hilary's parish council prepared ready-to-eat meals in collaboration with parishioners from the parish's community-based groups.
 
Meanwhile, on January 2, parishioners from adjacent Batam parishes were responsible for food preparation and delivery.
 
Beginning January 3, continuing throughout their stay in the hall, and with the assistance of St. Hilary's parish and donors, refugees will be responsible for preparing their meals.
 
Despite their longing for their homes, most refugees are still in good health. Nevertheless, some of them are deliriously ill. According to Fr. Korinus, Saint Hilary's rescuer team has contacted health authorities to arrange to treat ailing flood victims.
 
While rain continues to fall in Batam, potentially affecting the flood and lengthening the refugees' stay at St. Hilary's parish hall, residents remain hopeful that they would return to their homes shortly, the priest said. 
 
Flood Control in the Long Run
Like many other cities in Indonesia, Batam is prone to annual flooding. Fr Korinus hopes that the government will develop a long-term flood management strategy to relocate displaced residents. 
 
He added that future floods affected by such a strategic plan would be better accommodated with the help of such a plan.
 
While he wishes to return flooded victims to their homes, he anticipates that the government will quickly rebuild impacted individuals' homes and build housing to prevent future floods.