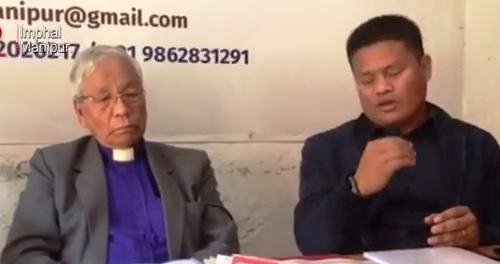 Christians in the northeast Indian state of Manipur have expressed concern over the state government's order to evict at least nine churches.
The All Tribal Students' Union Manipur (ATSUM) and the All Manipur Christian Organisation (AMCO) protested the decision to to clear out the churches despite repeated appeals to the state government.
On December 24, state officials issued eviction orders to 13 establishments for "encroaching on government land."
The sub-divisional officer of Porompat in Manipur served the churches a show cause notice under a 42-year-old local government law, the Manipur Public Premises (Eviction of Unauthorised Occupants) Act, 1978. 
The notices were served to four garages and nine churches — eight churches constructed at the Tribal Colony in Imphal East district and one at the Leimakhong area.
Mr. SR Andria, general secretary of ATSUM, protested the "arbitrary manner" in which the orders were handed out.
He said a 2009 Supreme Court order mandated that all religious structures constructed within the premises of public parks, streets, public places etc. must be regulated. 
The order allows the government to formulate a policy regarding the removal, relocation, and regularization of unauthorized constructions.
In 2010, the state government constituted a committee under the "Manipur policy" for the review of "unauthorized construction of religious nature on public places." 
The committee, chaired by a former chief secretary, was supposed to decide on which buildings could be legalized, and which were to be relocated or removed.
 
In 2011, the committee came out with a list of 188 religious buildings to be granted regularization (legalization). 
"They regularized 188 worship places (but) not even a single church was included," said Mr. Andria.
He said the regularization process should not be done "on the whims and interest of a few people." 
"The process must include all religious communities in the state," he said. "Why are only Christian churches or structures are systematically victimized?" he added.
Mr. Andria said the "principle of secularism" is at stake, adding that secularism is enshrined in the Indian Constitution. 
"We urge the state government that the order of regularization should be amended, and an inclusive list of religious structures should be made," he said.
Rev. S Prim Vaiphei, president of AMCO, questioned why the principle of equality and equitable justice not applied to Christians.
"Why is not the Christian religion also considered or taken as a religion of our people? Why only Christian religious structure or churches are systematically victimized?" he asked.
He called on authorities to look into the matter and legalize Christian places of worship like what has been done to the places of worship of other religions.
He said it is unfortunate that authorities seemed to be targeting Christian churches.
A 2011 census show that 41.29 percent of the population in Manupur State are Christians. - Frank Krishner/RVA News