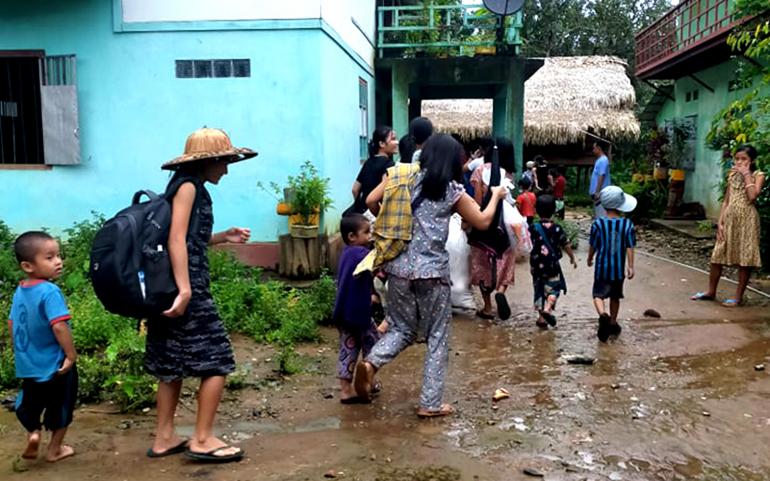 More people have been displaced in Myanmar's Karen state and in Tanintharyee division, said reports reaching Radio Veritas Asia.
Residents said fighting between Myanmar's military known as the Tatmadaw and the Karen Nation Union Brigade 4 in Duyinpin Shawn in Palaw Township, Taninthayee Division, on September 7 affected the communities.
"Before the start of the fight, villages in Palaw Township began to move to the safer places as they foresaw the possibility of the disaster," said a resident who asked not to be named for reason of security. 
"After the fight, more villagers began to leave their residences behind for safer places and to hide in the jungle," added the resident.
About 120 elderly people, the sick, and children from several villages have already sought shelter in K'de' Parish Church in Palaw Township under the Diocese of Mawlamyaine.
Residents told Radio Veritas Asia that more than a thousand people have already been displaced.
Heavy rains in the area have also added to the difficult situation. "Most people could not sleep. They transfer from one place to another to hide," said one resident.
"They try to have time for rest only during the day because they hide in the evening," said a villager.
Meanwhile, two senior commanders from an ethnic Karen armed group have admitted last month that soldiers under their command detained and killed 25 men in June.
General Ner Dah Bo Mya denied any wrongdoing and claimed the victims were Myanmar army "spies."
The order to kill the men came from a "captain of intelligence" at the Karen National Union (KNU), the political group that controls the KNDO.
The KNDO detained 47 people — 31 men, six women and 10 children — in Kanele village in Myawaddy township, Karen state, bordering Thailand on May 31.
On June 1, the group killed 25 men among the detainees and released the rest between June 1-9.
The killings came to light when junta-controlled state media published pictures in June showing what it said were the bodies of 25 construction workers massacred by the KNDO in Karen state.
The KNU said it will form an investigation team to probe the massacre.
The KNU has engaged in sporadic clashes with the Myanmar military in Karen state and along the Thailand border since the Feb. 1 coup.
The mountainous region in southeast Myanmar has some 1.5 million people, mostly ethnic Karen, also known as Kayin. Government records show that 9.5 percent or 142,000 are Christians.
More than 100,000 people in Karen state have been forced to flee their homes since March when Karen fighters seized a military post and the army retaliated with air strikes, the first in more than 20 years in the region.
The military's brutal crackdown against protesters and civilians continues unabated and at least 1,000 people including children have been killed since Feb. 1. - Saw Hubert / RVA News